AIRAH's first official journal was published in 1947. That means the July 2022 edition marks Ecolibrium's 75th birthday.
The official journal of AIRAH is celebrating its 75th anniversary, a remarkable achievement, even if we do say so ourselves.
AIRAH first published a journal in July 1947. Its original name was The Refrigeration Journal, published by the Australian Institute of Refrigeration (the moniker before AIRAH came into effect).
Written by England-based Joseph Raymond, the very first editorial  mused that it had taken the catastrophe of the Second World War – remember this was only two years after that terrible conflict concluded – to help advance refrigeration technology.
"It is a pity that it takes a world war to confer such a benefit,"  Raymond wrote.
"War, like necessity, is the mother of invention, and the drive of  refrigeration engineers in both hemispheres in the late war produced refrigerating equipment that was essential to the successful conduct of hostilities on land and sea and in the air … it preserved the very lives of our soldiers, sailors and airmen in keeping them well fed in  the most far-off climes and in supplying them with blood  transfusions on the most distant fronts."
We know what to do
Today HVAC&R engineers are again challenged to embrace  innovation in their battle against a seemingly implacable foe. This time it's climate change.
UN Secretary General Antonio Guterres recently called upon the world to change course and end its "senseless and suicidal war against nature".
"We know what to do," said Guterres, speaking at a conference in Sweden. "And, increasingly, we have the tools to do it. But we still lack leadership and cooperation. So today, I appeal to leaders
in all sectors: Lead us out of this mess.
"The 17 Sustainable Development Goals and the Paris Agreement show the way. But we must act on these commitments. Otherwise, they are nothing but hot air. And hot air is killing us."
In fact, a heatwave hit South Asia in May, with temperatures reaching 46.1°C in India and 48.9°C in Pakistan, where, according to the New York Times, the heat melted enough of the Shipsher glacier to produce a "glacial lake outburst flood," destroying two power stations and the historic Hassanabad Bridge.
Rebirth in the early 2000s
The name Ecolibrium dates from the early 2000s.
For about 20 years before this the journal had been published externally. Wishing to protect and promote the AIRAH brand, then CEO Jennifer Pelvin brought the journal back in house, and the new masthead was minted.
With our new digital version now launched and available, Ecolibrium will continue to tell the stories that matter for the Australian HVAC&R community at this most critical time.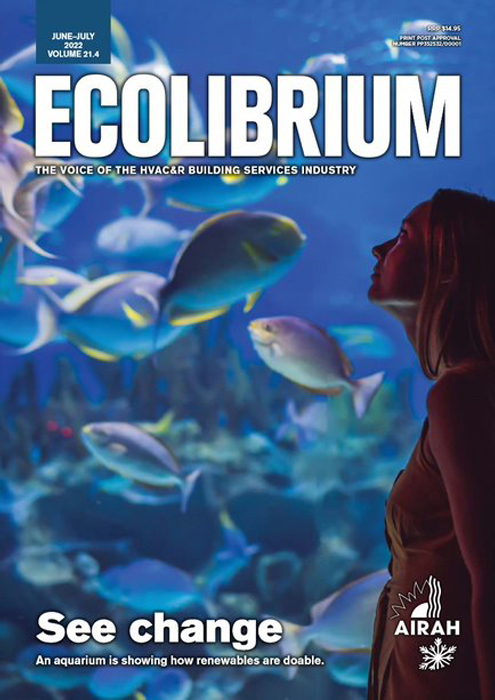 This article appears in ecolibrium's June/July 2022 issue
Want to read more?
 
AIRAH MEMBERS
Click here to view our archive of issues and features.
NON-MEMBERS