A new ASBEC report confirms electrification "unlocks the pathway" to net zero buildings. 
Sections of the HVAC&R industry will very likely disagree, but 100 per cent electrification is the lowest-cost, fastest-emissions-reduction pathway for Australia's built environment.
So says a new report from the Australian Sustainable Built Environment Council (ASBEC). According to the report, 100 per cent electrification for Australia's built environment represents the fastest and lowest cost emissions reduction route to net zero.
Unlocking the pathway: Why electrification is the key to net zero buildings, finds electrification would save $49 billion between 2024 and 2050 over the "business as usual" strategy of electrification, gas and offsets. It would also save 199 Mt Co2-e before offsets.
"The built environment has the technology to decarbonise now, but we must transition the Australian economy at the least cost," says Ken Morrison, chair of ASBEC's Net Zero Buildings Task Group.
"This report finds 100 per cent electrification is the lowest-cost option to decarbonise our built environment, but lowest cost does not mean no cost. Our detailed analysis by building type, geography and life-cycle reveals that electrification, while necessary, is not always cost-beneficial. Failing to acknowledge and address these costs will significantly impede the transition to net zero building operations."
Elevated commitment
ASBEC executive director Alison Scotland acknowledges the elevated commitment from Australian governments to act.
"But as our grid decarbonises, we must turn our attention to other sources of emissions," she says. "The built environment is responsible for a quarter of Australia's emissions. This means decarbonisation of our buildings is an essential strategy to cut emissions and strengthen Australia's future as a renewable energy superpower."
ASBEC's report, an output of the Rapid and Least Cost Decarbonisation of the Built Environment project, is backed by a building-level technical report by DeltaQ and modelling of least-cost decarbonisation options by SPR.
Model behaviour
SPR modelled three "plausible but divergent" decarbonisation scenarios: 100 per cent electrification; a combination of electrification and green hydrogen; and a "base case", representing "business as usual" of electrification, fossil gas, green hydrogen and carbon offsets.
The modelling was applied to new and existing residential buildings and commercial buildings (hotels, offices and retail) in Victoria, New South Wales and Queensland. The three scenarios were modelled over the period FY2024 to FY2050.
"ASBEC's work confirms that relying on a business-as-usual approach to decarbonisation will require investment in offsets," Morrison says. "A strategy based on offsets is the most expensive and uncertain option for the economy and the worst outcome for emissions reduction."
Don't wait for hydrogen
The report also recommends that electrification, which is available now, should be pursued rather than waiting for green hydrogen to drive transformation. By electrifying buildings now, hydrogen can be reserved for industries with high intensity energy requirements.
The report includes six clear policy recommendations including an upgrade to the National Construction Code, a national plan to phase out fossil gas, and incentives to address capital cost constraints.
ASBEC also calls on governments to upgrade their own assets and embed electrification in procurement standards, to invest in training and education, and to develop strategies that ensure vulnerable communities are not left behind.
"Electrification is the least-cost option to drive down emissions, but it is not a no cost option," Morrison says. "The built environment must electrify, and public policy can smooth the pathway so this happens at speed."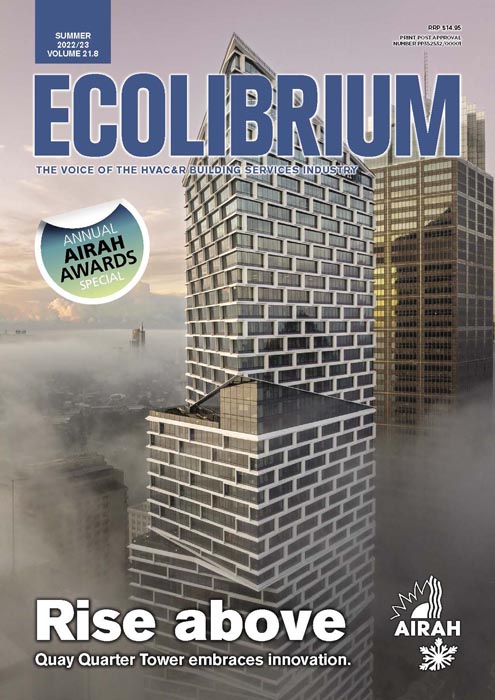 This article appears in ecolibrium's Summer 2022/23 issue
Want to read more?
AIRAH MEMBERS
Click here to view our archive of issues and features.
NON-MEMBERS