A major urban renewal project in South Australia is transforming the former Royal Adelaide Hospital site into a $2.2 billion world-class innovation district. As Sean McGowan reports, Lot Fourteen is bringing curated, collaborative research and business enterprises together to solve complex global challenges. 
The premise of Lot Fourteen is to use the power of collaboration and co-location to drive innovation and the translation of ideas in emerging industries, into commercialised products and services to help deliver economic, social and cultural prosperity for South Australia. 
These big ambitions are matched only in size by the seven-hectare site currently under urban renewal. 
Located in the heart of Adelaide's CBD, Lot Fourteen already provides a range of diverse workspaces for start-ups, research organisations, global companies and national bodies, supporting employment of more than 1,430 people from 137 businesses. 
This community has, and will continue to be, curated from the defence, space, technology and creative industries where South Australia sees itself as having established a global advantage. 
By 2028, the innovation hub is expected to be home to a workforce of more than 6,000 people. 
Lot Fourteen is supported by the government of South Australia and the Australian government, with a combined investment of $757 million. It is estimated that by 2028, capital and operational expenditure in Lot Fourteen will generate $3.5 billion in economic activity for the state. 
Made of many
Since the decommissioning and early site activation of the Royal Adelaide Hospital commenced in 2017, the development of Lot Fourteen has been guided by a range of strategies (see breakout: The strategic imperatives). 
Sustainability and wellness are embedded into Lot Fourteen's design – both in the refurbishment of these buildings and in the construction of new facilities. 
Lot Fourteen aspires to be a world leader in wellness in the workplace, and is as the first pre-certified WELL Communities project in Australia. 
"The district is being developed to deliver more thoughtful and intentional spaces that recognise the importance of wellbeing, health and fitness, and social engagement and cohesion in sustainable communities," Lot Fourteen administrators say. 
Based on its liveability, governance, economic prosperity and environmental impact, Lot Fourteen has also earned a 6 star Green Star Communities rating from the Green Building Council of Australia (GBCA).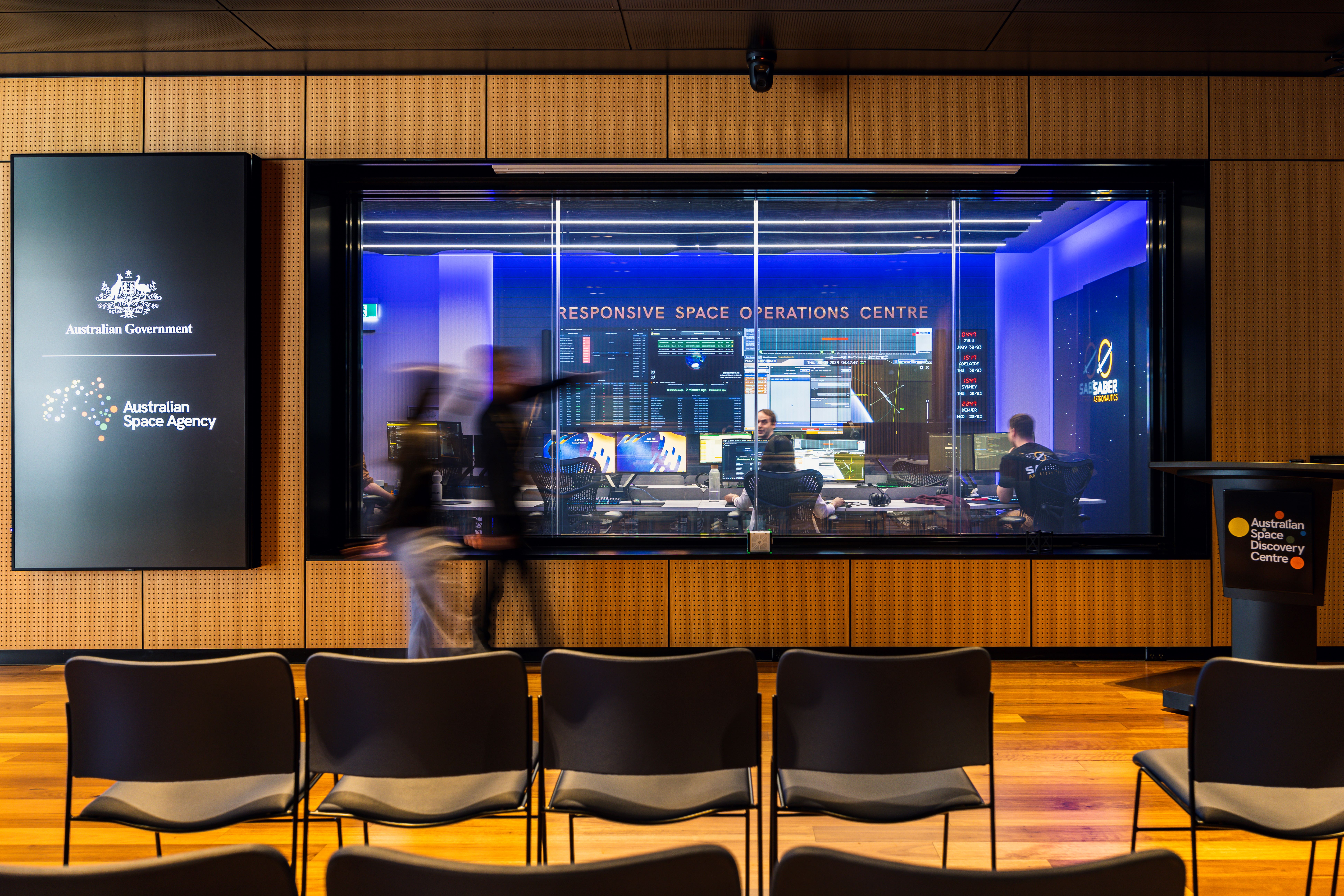 Mission control inside the Australian Space Discovery Centre.
A familiar face
Since 2013, multi-disciplinary consulting firm WSP has provided advisory and consulting engineering services to Renewal SA on its journey to developing the vision of Lot Fourteen. 
But following the closure and relocation of the Royal Adelaide Hospital in 2017, the firm's role accelerated to include developing a mechanical services design for the precinct as a whole. 
This led to an all-electric mechanical services solution being adopted, with precinct-wide, new chilled (CHW) and heating hot water (HHW) infrastructure featuring simultaneous heat recovery equipment – said to be an Australian first. 
This air-cooled plant is split across two locations at Lot Fourteen. 
The first – atop the refurbished McEwin building – consists of two cooling-only chillers and two heat recovery (four-pipe) simultaneous, multifunction heat pumps. 
A "satellite plant" behind the Australian Institute for Machine Learning building consists of one heat recovery chiller and one low-load heat pump chiller serving a nominal total of ~2.6MW of cooling and ~1.4MW of heating. 
These two systems are interconnected via a network of primary pumps and pipework installed underneath the site's old catacombs. There, each heritage building incorporates a plantroom, with dedicated heat exchangers separating an internal building secondary system. 
Krishna Narapuraju, M.AIRAH, is an associate – building services at WSP. He says the design offered several operational benefits including thermal energy, independence and staged commissioning. 
"This design recognised thermal energy benefits " he says. "Different load profiles were expected across the different buildings, particularly across the shoulder seasons where simultaneous cooling and heating demands existed. 
"Additionally, the primary/secondary systems allowed each building to be operated and maintained independently alongside being able to adhere to a staged installation – critical for constructability and program.  
"And the staged commissioning of the buildings was also possible without disruption to the central plant of other operations." 
Narapuraju says mismatched flows between the buildings and the main plant was something that could be accommodated. 
"Following the closure and relocation of the Royal Adelaide Hospital in 2017, the firm's role accelerated to include developing a mechanical services design for the precinct as a whole"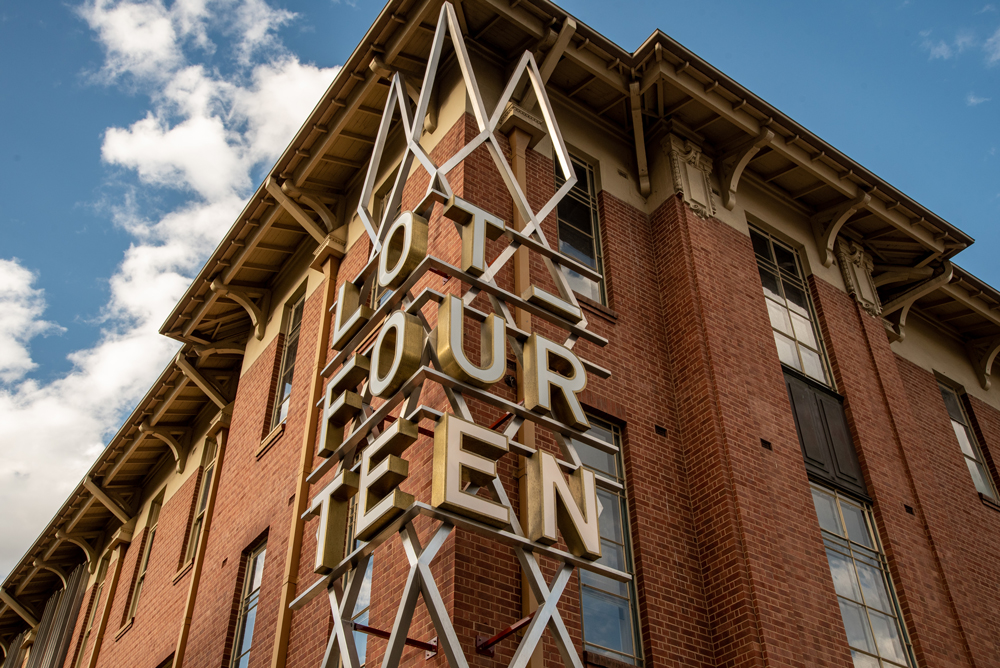 Buildings that are aged 90 to 100 years were not designed to cater for HVAC&R and have been completely refurbished.
Understanding heritage
A significant portion of WSP's work to date has focused on the demolition and refurbishment of the site's existing buildings, particularly those located in the Heritage Precinct. 
These buildings have all had complete refurbishments of all building services including mechanical, electrical, fire protection and hydraulics. Some have undergone modification or upgrades, including to their structure to ensure seismic stability in their adaptive reuse. 
"Buildings that are 90 to 100 years old were never designed to cater for air conditioning systems," says Narapuraju.  
The refurbished buildings now incorporate a combination of CHW and HHW air handling units (AHUs) alongside ducted fan coil units (FCUs). Some concealed, joinery-type, high wall and cassette water-based units were also selected and are fed via the secondary pump sets.  
These are connected primarily to exposed air conditioning ductwork, with a combination of sidewall, multi-stream perforated and swirl diffusers throughout.  
A number of specific and bespoke ductwork designs were also created for the project. 
For example, the upper floors of the McEwin building – home to the Australian Space Agency and SmartSat CRC – incorporate a unique three-in-one ductwork design where different thermal zones were merged into a large, single line of ductwork.  
Although it  appears as one singular element externally, the duct has been divided internally and thermally separated into three insulated sections. 
"This solution required a careful design of air diffusion to ensure occupant user comfort was very much in line with today's modern office, A-Grade building expectations," says Narapuraju. 
The exposed underside of slabs also created a number of challenges from an acoustic perspective, with bespoke fan coil box-out details fabricated to minimise breakout noise. 
"One of the challenges of the project more generally has been to remove old hospital ward designs from the buildings' internal layouts and create new working, dynamic mixed-use environments that promote collaboration, creativity and engagement," Narapuraju says. 
Narapuraju says the architectural and interior design for these refurbished buildings has re-established the existing, inherent heritage characteristics of each. The 4m-plus underside of slab heights have been left exposed and large open working spaces created, as demanded by tenants.  
This meant buildings services were required to be minimised as much as practicable, serving as sympathetic additions to the spaces. 
Lighting designs were also carefully considered, with the selection of fittings undertaken to ensure integration into heritage refurbishments. 
"Our long involvement with the project has provided us with an unmatched understanding of the existing site conditions, (thus) providing opportunities in designs shaping the precinct towards sustainable and modern solutions," says Narapuraju. 
"The viability of multiple design options were able to be quickly resolved and decision-making accelerated to maximise opportunities as a consequence of our familiarisation of the site." 
He says WSP's site-wide infrastructure strategy and masterplans originally undertaken from 2013 to 2017 laid a blueprint for what was to follow. Future-ready designs guide engineers to ensure the precinct remains relevant to the generations to come. 
CULTURAL SIGNIFICANCE 
For more than 60,000 years, the land now occupied by Lot Fourteen – between the banks of Karrawirra Parri (River of the Red Gum forest, River Torrens) and the waterholes of Kainka Wirra (Eucalypt forest, Adelaide Botanic Gardens) – was an integral site to the Kaurna people as a place for camping and ceremony. 
The areas around the site continued to provide refuge for the Kaurna community and were a place to practice culture for many years after the arrival of colonial settlers. 
To showcase the past, present and future of Aboriginal cultures, while supporting contemporary art practices and events, the Tarrkarri – Centre for First Nations Cultures will be grounded on Kaurna land at Lot Fourteen. 
In October 2022, the Premier of South Australia Peter Malinauskus, launched a review to examine how best to deliver Tarrkarri as a place of international significance. The review will ensure the scope, program and budget of the centre is benchmarked to a world-class standard able to attract global visitors. 
More to come
Though not yet the finished product, the Lot Fourteen precinct has entered its Growth Stage, where national and international collaborations are taking their place in the hub. There is a focus on future investment, opportunities and problem solving. 
In the years to come the construction of buildings including the Entrepreneur and Innovation Centre (EIC) and Innovation Hub, the Digital Technologies Academy and Tarrkarri – Centre for First Nations Cultures, will complete Lot Fourteen.  
At that point, Lot Fourteen will offer more than 100,000m² of workspace, 35,000m² of open space and 20,000m² of First Nations cultural space, and have a 6,000-strong skilled workforce on site. 
About 700,000 visitors are expected to visit Lot Fourteen annually, confirming the district's place on the world stage. 
A SPACE FOR SPACE
Taking tenancy in the fully refurbished McEwin building at Lot Fourteen are the Australia Space Agency, the Australian Space Discovery Centre, and SmartSat CRC. 
The Australian Space Discovery Centre also houses the Mission Control Centre, a responsive space operations centre featuring facilities to provide real-time control and testing of small satellite missions. 
With 24/7 operation and a focus on user comfort as high priorities, WSP was called on to gain a full understanding of the tenant's operational requirements prior to completing the building services design. 
"We also had to understand the future industries involved in the creation of advanced telecommunications and IoT connectivity solutions for intelligent satellite systems and earth observations in order to best design building systems (for the facility)," says WSP's Krishna Narapuraju, M.AIRAH. 
A high internal equipment load characteristic led WSP to design solutions that focused on air diffusion with return airflows sized to capture multiple heat rejection sources.  
As well as HVAC, a large focus in the design of building services was placed on communications and ICT (information and communications technology). 
The building services design of other buildings, such as the Tech Central (Eleanor Harrald) building that is home to the Australian Cyber Collaboration Centre, required protective security policies to be implemented for secure zones.
Demolition reveals
Only during demolition was the true condition of certain sections of the McEwin building's structure able to be identified. 
"This required significant rectification alongside the creation of a new lift core and upgrades to suit seismic requirements to suit adaptable floorplates and the proposed central thermal plant atop," Narapuraju says. 
LEARNING LESSONS
WSP associate – building services Krishna Narapuraju, M.AIRAH, offers some of the key lessons to have emerged from WSP's experience on the Lot Fourteen urban renewal project. 
Prefabrication for space
With plantroom space at a premium, prefabrication was undertaken to ensure precision. 
"Factory assembly was adopted for most systems, with precision fabrications undertaken by the mechanical services contractor, O'Connors," Narapuraju says. 
"Their partners Industrial Medical Piping Systems (IMPS) and Brown & Moodie undertook prefabrication of large sections of pipework and pumps in order to meet the accelerated project completion."  
The strategic imperatives
The development of Lot Fourteen has been guided by a range of overarching strategies. 
The Adelaide City Deal and individual sector plans for space, defence, creative industries and technology, as well as the South Australian Science and Innovation Strategy, have all contributed to the direction for the district. 
This has made the hub a destination of choice for globally recognised organisations that have taken occupation of a number of fully refurbished buildings – many with a rich heritage. 
These include the Australian Institute for Machine Learning on the corner of North Terrace and Frome Road, the Australian Cyber Collaboration Centre in the Tech Central (Eleanor Harrald) building, and the Australian Space Agency and SmartSat CRC in the McEwin building. 
Key partners also established on site include Stone & Chalk, Google Cloud, Microsoft Azure, Amazon Web Services, Airbus, Commonwealth Bank and the Australian Submarine Corporation (ASC).  
Project at a glance
The Personnel
Developer: Renewal SA on behalf of the government of South Australia 
Consulting Engineer (multidisciplinary): WSP
Controls: Alerton 
ESD Consultant: dsquared Consulting 
Head Contractors: Hansen Yuncken, Lendlease, Built
Landscape and urban design: Oxigen 
Mechanical services contractor: O'Connors with FMS, DCM Services
Others: Baukultur, COX, JPE Design Studio, Mossop, McMahon Services, Schiavello, SHAPE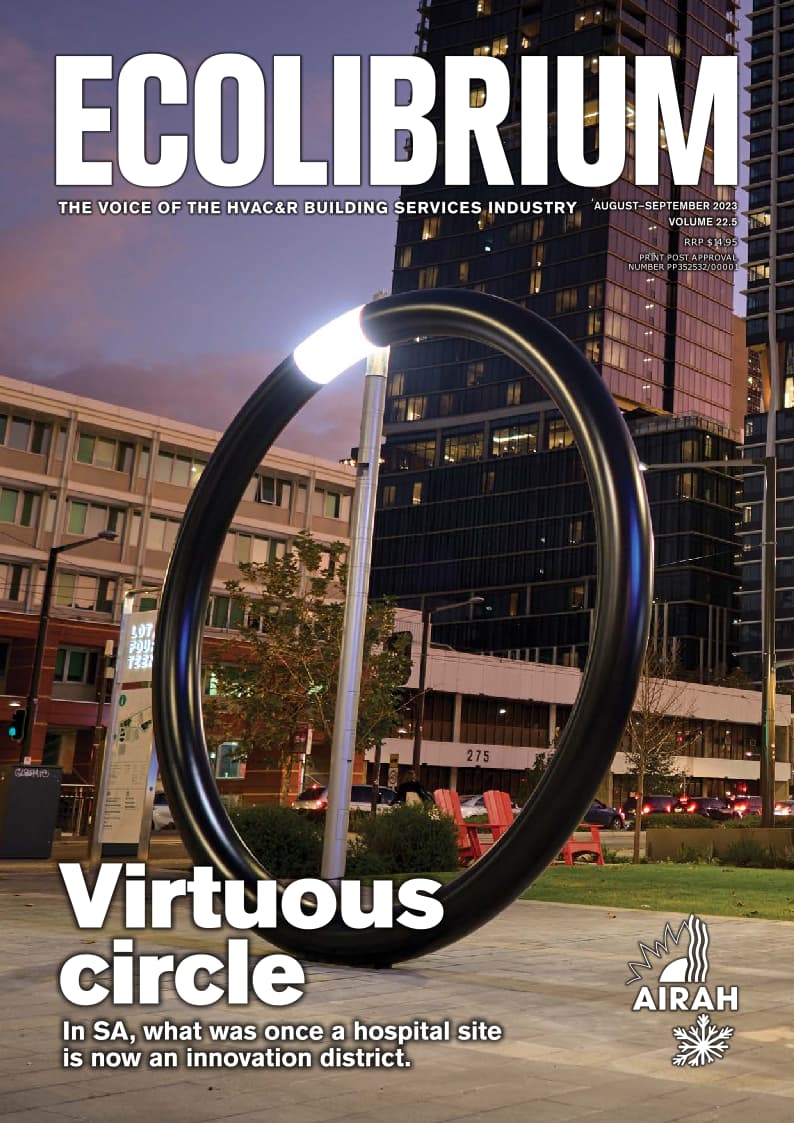 This article appears in ecolibrium's August-September 2023 issue
Want to read more?
AIRAH MEMBERS
Click here to view our archive of issues and features.
NON-MEMBERS