Chris Wright, M.AIRAH, is a director of HVAC&R contractor TCM, based in Moonah, a northern suburb of Hobart.
Responsibilities
I have worked at TCM for 41 years and have been an active director for 35 years. My work involves practical design checking and equipment selection for our projects, day-to-day managing of the business, estimating and proposals, and managing the final commissioning of the installations.
Passions
I am passionate about our mechanical services contracting Industry for the opportunities it has given me over the past 50 years; for the AMCA, our industry association; for the TAB Industry group TACA, with the exciting opportunities ahead for a very committed group of Australia-wide commissioning people. I also have a passion for my family, my four grandchildren, and I love the mighty Geelong Cats.
Finest professional hour
Too many to name, but my term as the first Tasmanian to be the AMCA national president, my admission to the ARBS Hall of fame in 2022, my role as NEBB Australia and now TACA chairman for the past 13 years is up there, along with the great 41 years at TCM shared with Angus MacLeod who founded the company in 1967, Todd Booth, Affil.AIRAH, who joined us in 2000, and new shareholders Dan Bell and Justin McNeill, along with a wonderful team of talented tradesmen and technicians.
Important lessons
I am very big on the team approach, and with a long family history in footy I have learnt that team culture and personality is what a business is  all about. We employ on instinct and the feeling that this person will fit in to our team. Our associations AIRAH, AMCA and TACA are very important to promote and develop our industry, and they bring everyone together to help develop the best training models.
Whom do you most admire?
My mum Margaret, who is 94 and going strong, and my family. Also, Brother Bill Wilding, my matric physics teacher and mentor.
Dream sabbatical
I have already been on many of mine but in the future a nice Tasmanian east coast beach trip, and a cruise across northern Australia would be great.
What is your motto?
Someone to love, something to do and something to look forward to." I do have another good one from my Grandfather's diary, June 30, 1912 on my wall at work: "Patience is a virtue, Possess it if you can, Never found in a woman, Seldom in a man." And I am patient.
Greatest personal achievement
Raising five great kids, 18 years and still going on my old school, St Virgil's College, Advisory Council, Life Member of the Hobart Football Club, and the recent admission to ARBS Hall of Fame.
Favourite book
I am a fan of the Lee Child books and Jack Reacher, Ian Flemming's Bond series, and my daughter convinced me to read all of the Harry Potter books.
Favourite film
Bond, James Bond, and don't mind a chick flick.
How would you describe yourself?
Just like my Grandfather Bresnehan according to my mum, very laidback, enjoy the small things in life, dotes on family especially my grandkids Teddy, four; and Daphne, two; Freddy, one; and Alfie, six months. Love the water, I'm a passionate Tasmanian, and I love seeing those around me succeed.
Define success
Contentment and being able to give, seeing friends and people I work with living their dreams.
What does AIRAH membership mean to you?
I have been a member since 1982 and have always appreciated the quality of technical resources provided by AIRAH. Seminars and training programs provided by AIRAH are always supported by my company, together with the bringing together socially of the industry.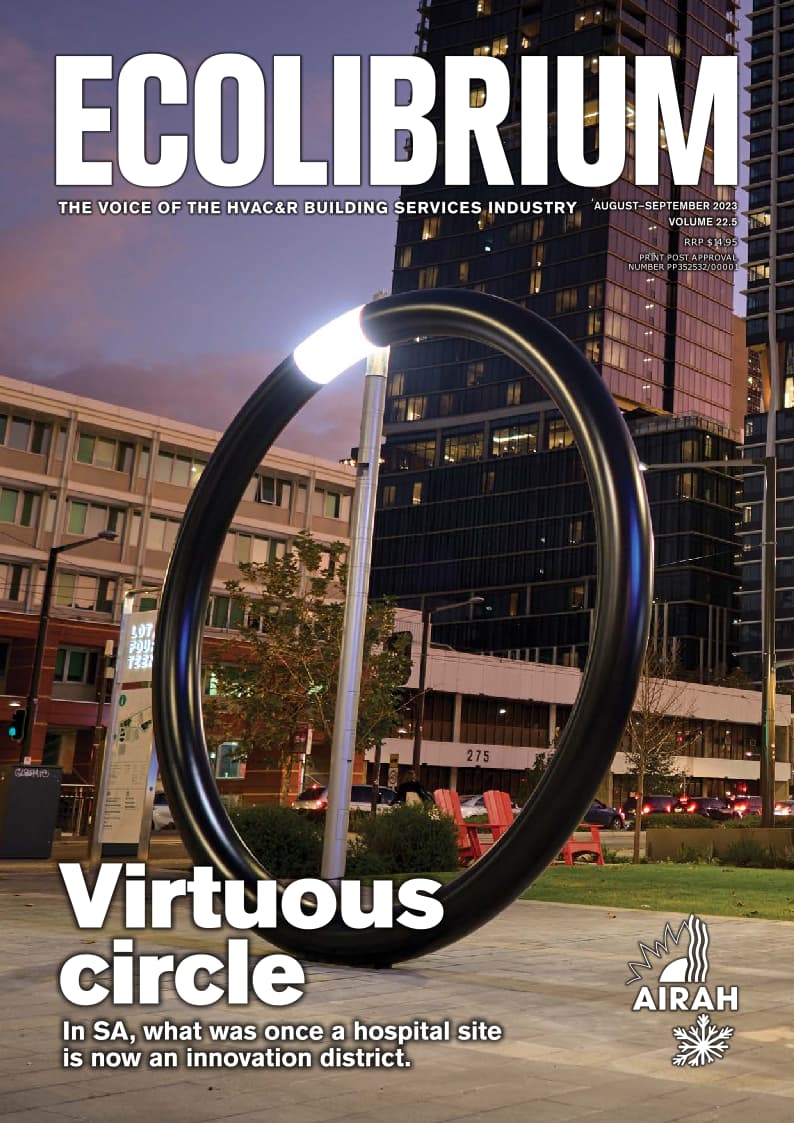 This article appears in ecolibrium's August-September 2023 issue
Want to read more?
AIRAH MEMBERS
Click here to view our archive of issues and features.
NON-MEMBERS