A remote Canadian factory is constructed from the very products made under its roof: Eco-friendly prefabricated wall panels.
Located in Pemberton, British Columbia, the 1,500 m2 BC Passive House Factory is the perfect advertisement for the efficacy of prefabricated super-insulated wall panels intended for eco-friendly Passivhaus construction. The breathable wall panels have been used in the Factory's construction.
"The main inspiration for the design came from the belief that the industrial, everyday buildings that make up a vast amount of our built environment can be just as important, and well-considered, as our 'public' buildings," says Hemsworth Architecture, the firm responsible for the building's design.
Conceived as a "simple, light-filled wooden box", the Factory helps promote BC Passive House's aim to promote wood construction, prefabrication, energy efficiency and sustainable design.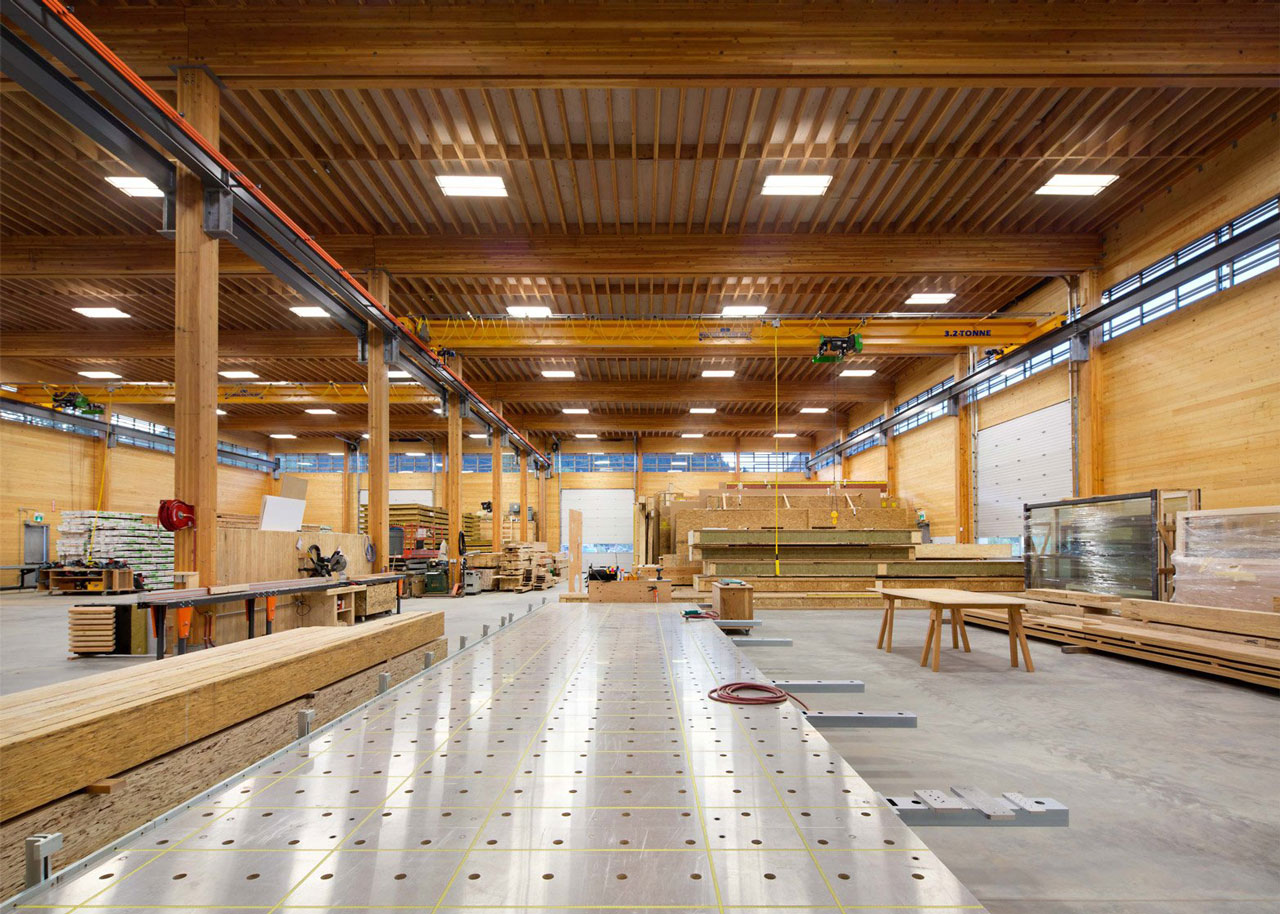 Two-by-four slats, a standard building material, were used throughout. The spacing of the slats varies depending upon exposure to the sun. On the south and west facades, they are placed closer together to provide a higher level of solar shading, while still preserving views of the scenic landscape.
"The abundance of daylight on the exposed wood finishes transforms a typical factory floor into a warm, comfortable and inviting space to work," say the architects.
A corner of the building has been set aside for a glass-enclosed entrance area, which doubles as a conference room. The ceiling is made of reclaimed cedar milled from trees felled by a forest fire.
Above the entrance area are offices accessible via interior stairs made of cross-laminated timber (CLT). Glu-laminated Douglas fir has been used to construct the post-and-beam structure. Solid wood walls are made of CLT panels, and the factory ceiling consists of plywood and prefabricated timber boards. Made of prefabricated wood boards, the ceiling has plywood sheathing that spans from beam to beam.
A high-efficiency, heat-recovery ventilation system helps reduce carbon emissions.
In fact, when comparing the structure to a similar building made of concrete, the firm estimates the BC Passive House Factory will emit 971 less tonnes of carbon dioxide per year.