In becoming the first regional NSW project to achieve 6 star Green Star Design and As-Built rating certification, the University of Newcastle's Q Building has set a new sustainability benchmark for the Hunter region. Sean McGowan discovers how mass timber construction and a smart glass façade contribute to the achievement.
As the first stage of the University of Newcastle's new Honeysuckle City Campus, the $25 million Q Building is the creative and entrepreneurial hub of the city. It is home to the School of Humanities, Creative Industries and Social Sciences (HCISS) and Integrated Innovation Network (I2N).
Featuring a unique and innovative design by EJE Architecture, and constructed by Hansen Yuncken, the building is proof that a strong sustainability brief from the client combined with a willingness to be bold with technology can deliver world-class outcomes.
"The University of Newcastle's Q Building is a brilliant, world-leading example of how Green Star can be applied within the education sector and is testimony to the University's commitment to sustainability," says Davina Rooney, CEO of the Green Building Council of Australia.
This is evidenced in the University's determination to pursue a mass timber construction.
Fast beginnings
Having had limited experience in the delivery of mass timber projects, the Hansen Yuncken team embarked on a steep learning curve when it commenced on the project in early 2020.
"This is probably our 20th project for the University of Newcastle," says Jonathan Russell, senior project manager for Hansen Yuncken, the head contractor.
The university's Nuspace and ICT Laboratories are two innovative spaces on which the contractor has worked.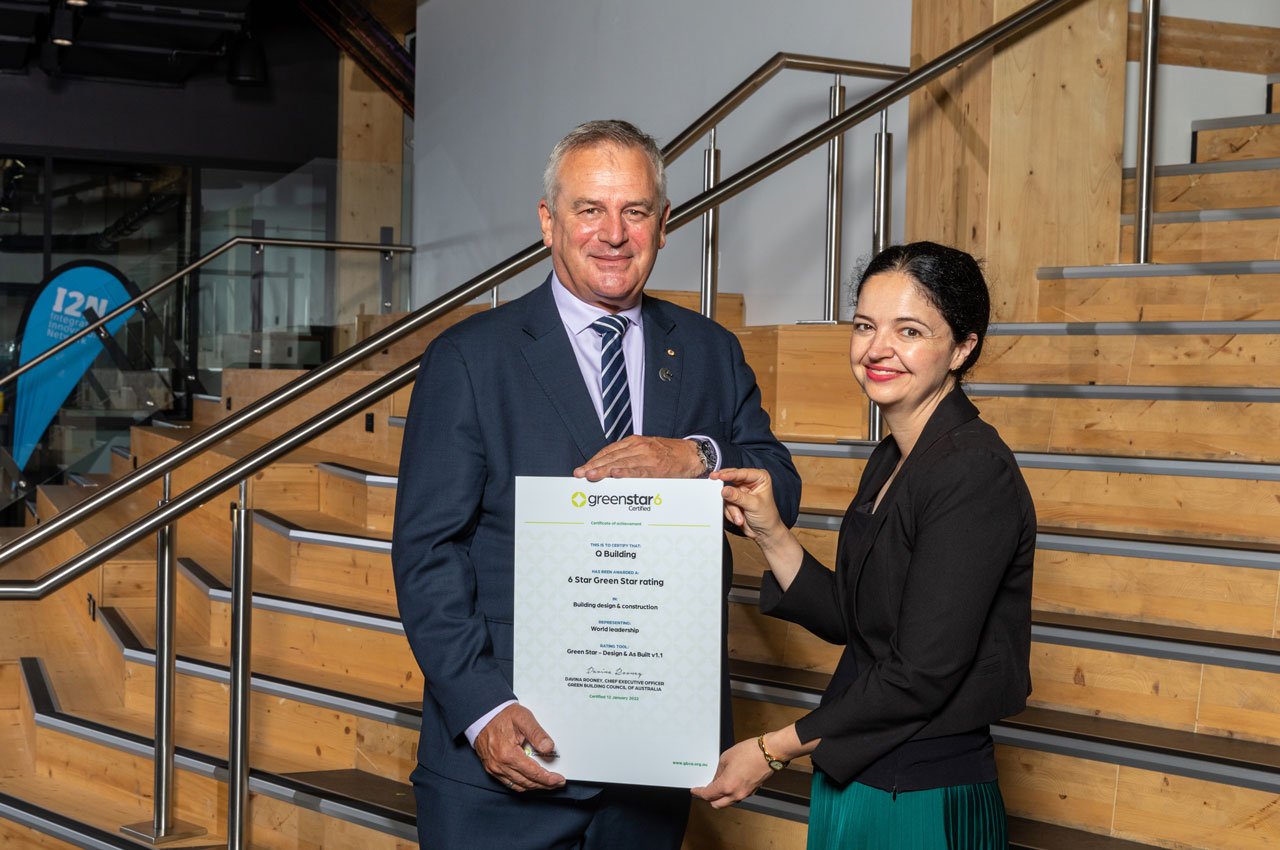 Davina Rooney (right), CEO of the GBCA, with the University of Newcastle vice-chancellor, Professor Alex Zelinsky.
Yet the Q Building was different entirely due to its mass timber and clear glazing design.
"The design was relatively well progressed but in need of additional services and structural coordination when we commenced," says Russell. "And this was a critical issue for a mass timber building with a relatively high level of services integration."
Hansen Yuncken immediately set about managing the design team through detailed model coordination sessions, with building information modelling (BIM) becoming a critical tool in progressing the design effectively and efficiently.
"Close collaboration between the head contractor, architect, project consultants and subcontractors helped identify a pathway from 5 to 6 stars without significant modification to the existing design"
Following development of a structural design by structural engineers Northrop and Austrian mass timber specialist Binderholz, a rapid design finalisation programme was established. Despite some hurdles, the final coordination model was issued to Binderholz in June 2020.
This rapid approach facilitated completion of the first timber shipment by mid-August – arriving on site prior to the installation commencing in early October.
"The final coordinated model was then used to run consultation and design briefing sessions with the university and its stakeholders, which was very well received," says Russell.
He says the process, while intensive, engaged the Hansen Yuncken team in its entirety, and led to it being fully across the coordinated design including all disciplines. 
"The design coordination required for the mass timber design finalisation facilitated a high-quality level of coordination across all disciplines," he says, "especially services trades using BIM workflows."
The tight management of procurement and the shipping logistics process for the timber from Austria provided a high level of cross-over for the management of several other imported supply items, including lifts, facades and plant equipment.
Consequently, the mass timber was installed on program. The lifts, façade glass and mechanical plant – all from various overseas origins – arrived to site on time.
"The build methodology and design finalisation moving well facilitated a rapid move through procurement," says Russell. "These two aspects, coupled with our good market coverage, enabled negotiations with preferred subcontractors on many of the major trades." 
Over 20 key trades were identified for the structure, and these subcontracts were effectively resolved within the first eight weeks of Hansen Yuncken commencing on the project.
"Our holistic and detailed approach has been very effective in keeping the entire project focussed on time, and has been critical to maintaining an ahead-of-programme status – even though over 43 days were lost to wind and rain."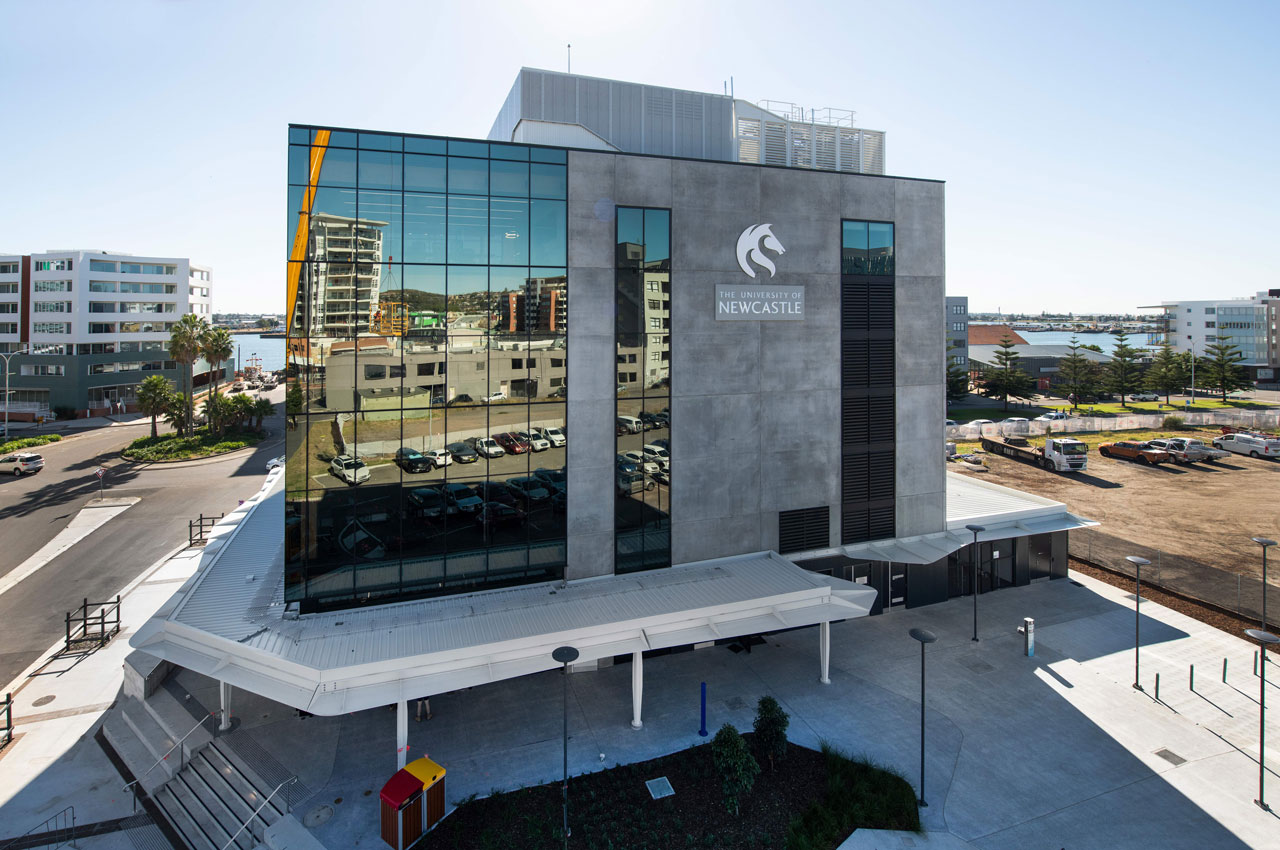 Three sides of the building that have the highest exposure to solar gain have been glazed with an electrochromic smart glass system, which automatically changes its tint in response to heat and glare.
Sustainability focus
Although the pursuit of NSW's first regional 6 star Green Star rating was not driven as a contractual requirement, close collaboration between the head contractor, architect, project consultants and subcontractors helped identify a pathway from 5 to 6 stars without significant modification to the existing design.
"It was achieved through the trust of each various party, a sustainable culture across the project, and the desire to celebrate sustainability," says Sean Holmes, associate director of sustainability with the project's sustainability consultant, WSP.
Having also been previously involved with a number of University of Newcastle projects – including the development of a bespoke sustainability project delivery tool for capex projects – WSP partnered with EJE Architecture in a successful bid for the project design.
Engaged from project inception to practical completion, WSP's role was to drive and inspire sustainability, as well as integrating, demonstrating and supporting certification of sustainability on the Q Building.
The firm also completed NCC Section J compliance and provided a solar PV design.
"We integrated with the various design consultants to push performance outcomes, drive designers to stretch the design, and encourage the delivery team to take a whole-of-life approach to decision making," says Holmes. 
Accommodating the I2N innovation hub (part of NSW government co-funding), the university aspired to have innovation displayed in the built form so as to inspire innovation in the building use. Consequently, WSP was given licence to explore innovative technologies and sustainable solutions.
Such encouragement became infectious because the entire design process was looked at through a sustainability lens.
According to Holmes, the outcome reflects the highest level of sustainability performance that any designer, consultant, contractor or client has embarked on upon in the region.
This includes the adoption of a mass timber glulam (glued laminated timber) structure, which demonstrates the client brief of achieving a high level of innovation in sustainability within the built form, trial the unexpected, and showcase other sustainability features.
The mass timber structure replaces what would traditionally be concrete with reinforcing steel in the beams, columns and slabs.
"While a reduction in environmental impacts can be achieved with concrete and steel, the degree of reduction is limited," Holmes says.
"Concrete alone accounts for 7 per cent of global greenhouse gas emissions, and due to chemical reactions in the production of Portland cement, it is a fundamentally unsustainable solution and not part of a decarbonised future."
Conversely, the timber used in the construction of the University of Newcastle's Q Building is sourced from sustainable plantations where it does not displace valuable forests and other critical land uses that support ecosystems and in turn, carbon storage.
"The timber used for this project is FSC-certified, and also had an Environmental Product Declaration," Holmes says. "This ultimately helped to deliver a building with an approximate 58 per cent reduction in embodied carbon impacts."
As well as supporting the HVAC system to moderate interior humidity levels, the use of timber offers benefits to occupant health and wellbeing with a biophilic design creating a feeling of being in nature.
The Q Building is the first multi-storey timber building to be constructed in Newcastle.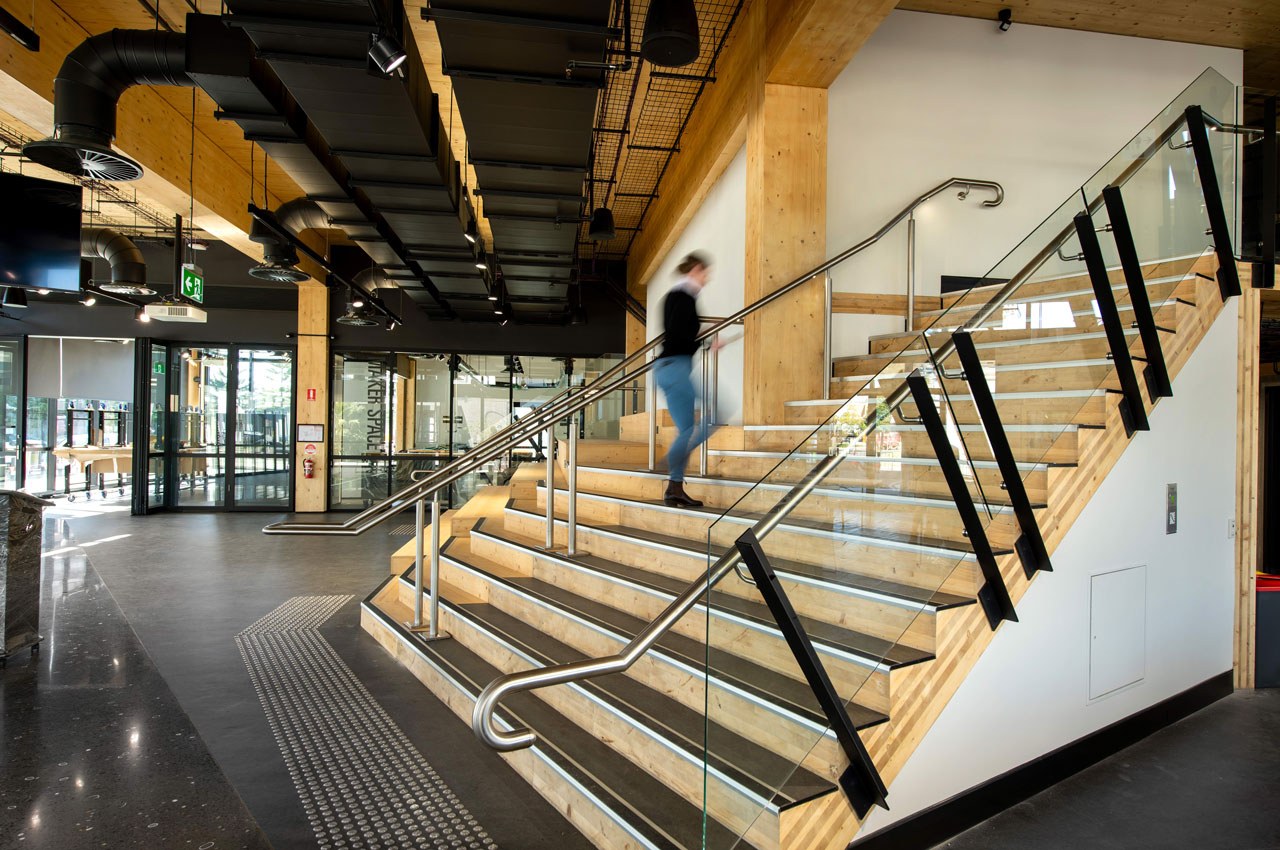 Mass timber replaces what would traditionally be concrete with reinforcing steel in the beams, columns, and slabs.
Sage judgment
Along with mass timber construction, the Q Building's sustainability ambitions required that an innovative approach be taken to the building façade.
The architect's central design intent for the building facade was that it maintain transparency and be open to the public while showcasing the timber structure and university activity inside.
Of course, with such ambition usually comes an associated energy cost of managing an increased heat load, and impacts on occupant amenity in the form of thermal comfort, daylight and glare.
But with the university having granted permission to the design and sustainability teams to seek alternative technologies, an innovative glazing solution was identified to deliver the architectural intent without compromise.
Three sides of the building that have the highest exposure to solar gain (east, north and west) have been glazed with an electrochromic smart glass system, which automatically changes its tint to respond to heat and glare. 
"This electrochromic glazing enables smarter and dynamic management of the building from a number of perspectives," says Holmes.
Compared with a static glazing equivalent, the innovative glass reduces peak thermal loads allowing for mechanical systems to be designed to a lower peak load and bringing energy efficiency improvements all year around as well as lowering capital expenditure. 
It also allows for smart load management by dynamic adjustment of the solar heat gain coefficient (SHGC) across each façade orientation, depending on the direction and intensity of the solar radiation, via a rooftop-mounted solar radiation sensor. This allows for optimisation of building zone loads – lowering the SHGC in zone-cooling mode and maximising the coefficient when in zone-heating mode. 
The electrochromic glazing solution also provides a living laboratory in which students can study optimisation opportunities – allowing the building fabric to be constantly tuned, tested and optimised over time.
"The system currently dynamically adjusts the solar heat gain coefficient between 0.14 and 0.41, and a corresponding visual light transmittance of between 1 per cent and 60 per cent in any given real-time situation that is experienced within the building and its surrounding environment," says Holmes.
Commissioning the unusual
A.G. Coombs Advisory was appointed as the watching brief consultant, and as the independent commissioning agent (ICA) for the project.
"While the involvement of an ICA within the project from design through to post-construction was a direct Green Star credit requirement, our involvement through the design, commissioning and tuning phases provided continuity that might otherwise have been lost," says Andrew Bagnall, leader of technical advice (NSW and ACT) for A.G. Coombs Advisory. 
As well as charged with reviewing the commissioning of all engineering services within the Q Building including mechanical, electrical, hydraulics, fire, vertical transportation, the firm was also (unusually) given the task of reviewing the commissioning of the innovative façade.
"Although in theory this electrochromic technology circumvented any issues with NCC Section J compliance, and was modelled to enable the building to meet the challenging sustainability targets, it had not previously been tested at scale anywhere in the southern hemisphere in this manner," says Bagnall.
The relationship between the operation of the glazing and the mechanical services was key to ensuring that both thermal comfort conditions and energy efficiency targets were met. If the glazing failed to perform as expected, there was a substantial risk of the mechanical services being undersized, leading to poor thermal comfort and high energy consumption.
"The glazing performance also impacted the daylight harvesting system," Bagnall says, "so a careful balance had to be struck between all three of these systems to optimise the performance of the building."
ENERGY MODEL
Early in the design phase, A.G. Coombs Advisory identified the need for an as-built energy model to be produced that would provide a granular breakdown of energy consumption projections by end-use system to match the sub-metering breakdown of the building.
"Being a bespoke educational building with the unusual façade system, there would be no comparable benchmarking data available in order to gauge the performance of the building systems through commissioning and into the tuning period," says Andrew Bagnall.
By raising this concern, the firm was able to obtain updated monthly energy modelling projections that matched the metering structure from WSP on practical completion.
This allowed the ICA team to benchmark the performance of each building system down to individual plant items from the very first month of the tuning period.
"This really proved its worth as the tuning period drew on," says Bagnall.
"A lot of fine-tuning went into the mechanical systems in particular, and mechanical services contractor Benmax really rose to the challenge, providing excellent insights into the mechanical tuning activities each quarter."
Sustainable triumph
As well as the obvious sustainability features of mass timber construction and electrochromic glazing, the University of Newcastle's Q Building is full to the brim with other sustainability features.
These are headlined by the building being operationally zero carbon, with 100 per cent of its electricity needs met by a mix of onsite and off-site renewables.
The sustainable design of the building has also incorporated a number of water- efficiency measures. These include high-efficiency water fittings and a 26kL rainwater capture volume that is used for irrigation as well as to feed the cooling towers.
These initiatives complement a number of other water-efficiency projects across the university.
Importantly, the building layout has also been designed for future reconfigurability, with 5.1m floor-to-floor heights allowing for spaces to be repurposed as required.
According to University of Newcastle vice-chancellor, Professor Alex Zelinsky, the Q Building marks a notable achievement for the University. 
"It shows our commitment to sustainability," he says, "and is evidence we are embedding the UN Sustainable Development Goals, focusing on energy and carbon use, and waste and recycling.
"As an institute, we had set out to achieve a new build being 6 star certified by 2025, so Q Building puts us well in advance of the targets in our Environmental Sustainability Plan. From here on, all new university buildings will be designed and built for 6 star Design and As-Built ratings, which is a significant step on the road toward the University being carbon neutral by 2025."
BUILDING WITH MASS TIMBER
Jonathan Russell, senior project manager at Hansen Yuncken, provides some insights into the mass timber construction of the Q building.
Mass timber projects need a significant level of services model coordination.
Attention to detail in design finalisation is key.
Mass timber goes up quickly, but needs to be handled relatively carefully post-installation.
Subcontractors with modelling experience are key to delivery of our design expectations with mass timber.
Getting the building watertight is of upmost importance for timber to dry out following exposure to weather.
"It was achieved through the trust of each various party, a sustainable culture across the project, and the desire to celebrate sustainability"
"From here on, all new university buildings will be designed and built for 6 star Design and As-Built ratings"
Genuine response
According to Bagnall, any concerns associated with the performance of the electrochromic façade and its interaction with the building's mechanical services have been allayed since the building reached practical completion in late 2021. 
"The building genuinely does respond very differently to ambient conditions and solar loads compared with conventional shading and static glazing designs," he says, "and it has been very interesting in this regard."
Though acknowledging there remains room for further improvement, he says innovation associated with greater intelligence in the way the façade responds in advance to predicted changes in ambient conditions will only maximise the benefits of the system further. 
"This could make an ideal university thesis topic for someone one day," Bagnall says, "befitting of the educational nature of the project." 
The Q Building opened to students ahead of Semester 1 classes commencing in late February 2022.
LESSONS FROM THE SUSTAINABILITY CONSULTANT
Sean Holmes, associate director of sustainability at WSP, offers several lessons from the sustainable design of the Q building.
A strong brief, objectives, and willingness to try new technology from the client give a strong licence to drive sustainability on a project and creates a great culture.
A common desire to deliver the best project we could across the team has delivered better outcomes and strong learning for everyone involved, beyond the project brief.
Strong ambition from the client protects sustainability initiatives from value engineering exercises. In fact, the ambition pushed sustainability harder than the project brief.
Major institutions like the University of Newcastle must take a leadership position on sustainability in order to have transformational change across a region. Others in the regions can now see and learn from this experience – including students who will learn in and from this project.
Project at a glance
The PersonNEL
Client: University of Newcastle
Consulting engineer: AECOM
Head contractor: Hansen Yuncken
Independent commissioning agent: A.G. Coombs Advisory
Principal design consultant: EJE Architecture
Project manager: APP
Mechanical services contractor: Benmax
Sustainability consultant: WSP
FEATURE FACTS
104 solar PV panels
20kL rainwater capture volume
344 electrochromic Sage Glass panels
100% renewable electricity supply
89% reduction in whole of life carbon
58% reduction in embodied carbon
96% recycle rating during construction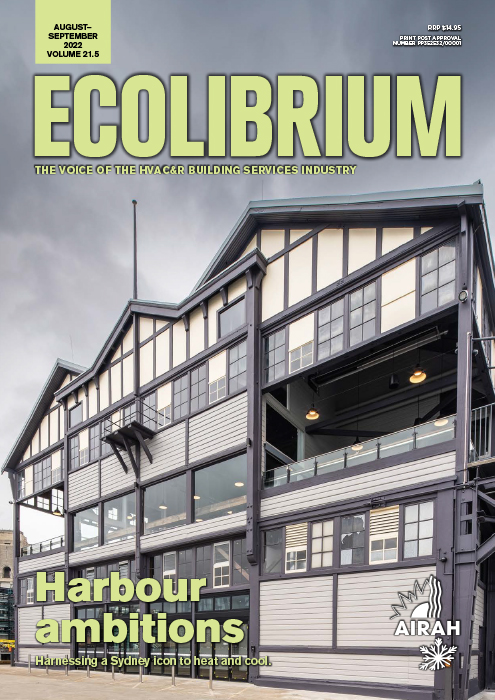 This article appears in ecolibrium's August-September 2022 issue
Want to read more?
 
AIRAH MEMBERS
Click here to view our archive of issues and features.
NON-MEMBERS