How to ensure that budding HVAC&R building services professionals get the support they need? AIRAH firmly believes mentorship is the way forward.
AIRAH has launched a national mentorship scheme for those working in HVAC&R building services. The program connects highly experienced engineers and HVAC&R practitioners with those who are newer to the sector, or at a mid-career stage.
AIRAH CEO Trish Hyde says the initiative is aimed at tackling the acute skills shortage in the industry.
"Research indicates that it's not only about attracting talented people to engineering, but also supporting them," says Trish. "When you can rely on a mentor for advice and guidance, you will be more confident in your role – and more likely to stay in the industry."
Trish says this is especially true for workers from groups who are not traditionally well represented in engineering.
"Women, for example, or people who speak English as a second language, can feel isolated in what has predominantly been a white, male-dominated field," she says. "Our aim is to provide a high-quality, diverse, and inclusive mentorship environment. Ultimately, the entire profession will benefit."
Multiple benefits
In addition to offering career development and CPD opportunities, the program assists participants in building relationships, strengthening industry, and creating cross-generational influence.
Matthew Penfold, M.AIRAH, from GHD participated in a pilot version of the mentorship program. He says he was able to discuss many challenges with his mentor, including leadership and business-managed issues, technical issues, and a variety of soft skill issues that all engineers encounter on a regular basis.
"AIRAH's program has allowed me to develop in my career and I've used it to suit my specific needs," he says. "I would strongly encourage anyone who is in their mid-career to participate and take advantage of the opportunity to develop the skills that will allow them to progress in their career and equip them to become more proficient engineers, managers, and leaders."
AIRAH opened the intake for mentors on April 17, 2023 – James Harrison Day.
"We thought, what better way to celebrate the birthday of an Australian engineering visionary than to launch this program that will support our up-and-coming engineers into the future," says Trish.
"We are starting by looking for mentors. We know there are incredible practitioners in our industry who are keen to share their experience and expertise. I encourage anyone who would like to be involved to get in touch. Solving the skills crisis starts with us."
Find out more about AIRAH's mentorship program
airah.org.au/mentorship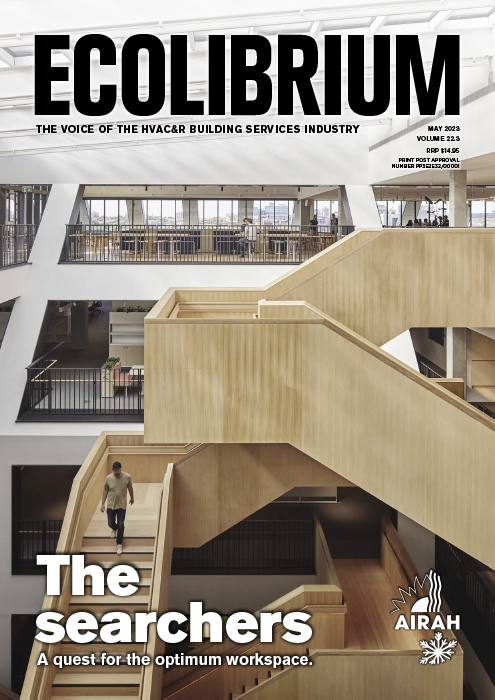 This article appears in ecolibrium's MAY 2023 issue
Want to read more?
AIRAH MEMBERS
Click here to view our archive of issues and features.
NON-MEMBERS