Ecolibrium breaks bread with the Sydney-based CEO of Tempest Solutions.
Responsibilities
CEO, PM, technician, whatever is required. Running a business for over 30 years I have learned I need to wear lots of hats – hard and soft! However, being across all aspects of the business has delivered a wealth of knowledge and means I can see the bigger picture when it comes to clients and service.
Specialty
Building management services. Over the years I have been lucky enough to be involved in countless successful projects from BMS strategy to full installation of HVAC. The dynamics of a building and setting up or re-commissioning for premium operation involve so many different aspects of HVAC. I enjoyed the positive outcome that comes with delivering good performance results for clients. Whether that's better operating outcomes, environmental and energy consumption or the end-user experience.
Passions
I'm passionate about family, my business, motor racing and the planet.
Are things back to normal post pandemic do you think?
What is normal? I don't think it will ever be the same. The world is continually evolving, and so as a society and as a business we need to learn to adapt to what is necessary to survive.
What traits do you most admire in others?
Integrity and honesty.
What would you most like that you don't have?
I would really like to have the skill of surfing.
What do you like about your job?
There are so many things, I really enjoy mentoring our staff. I am especially passionate about how to deliver a professional service and solution for our clients. This focus on developing people is key to ensuring procedures are followed, our teams are safe, and clients and their customers are satisfied.
What do you find challenging?
The mentality of decision-makers – what's best for the shareholder pocket is not always delivering the most sustainable solution. Unfortunately, ignorance prevails at times.
What are you optimistic about?
I believe I'm an optimistic person. In regard to industry, I would like to see proper trade licensing. There are too many people out there who don't really understand our trade or the implications of doing things incorrectly. Price points shouldn't be the only measure of success.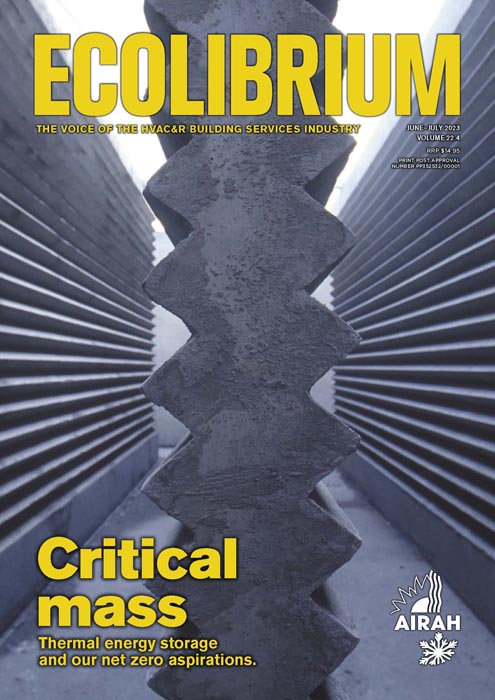 This article appears in ecolibrium's June-July 2023 issue
Want to read more?
AIRAH MEMBERS
Click here to view our archive of issues and features.
NON-MEMBERS