Challenged by site constraints, award-winning architect, builder and developer Oliver Steele pivoted an apartment project to Passivhaus design. As Sean McGowan reports, the decision led to a first in the southern hemisphere.
The Fern apartment building at 7 Wyndham Street in Alexandria, an inner-city suburb of Sydney, is somewhat unassuming from the street – its white magnesium oxide cladding drawing little attention from passers-by on their daily commute to work. 
But as far as the Passivhaus movement in Australia is concerned, The Fern was and remains a pretty big deal. 
What started out as a development opportunity on a constrained site, morphed into a project that was supposed to satisfy Steele's desire to tackle sustainable, high-density living and draw on his training in passive solar design. 
Ultimately, it would become the southern hemisphere's first certified Passivhaus apartment development.
"It was only about six months before we started building that I discovered Passivhaus," says The Fern's architect, builder and developer Oliver Steele of Steele Associates.
With his interest piqued, what followed was a web enquiry here, a phone call there – and considerable assistance from a burgeoning and enthusiastic Passivhaus industry. 
The rest, they say, is history. 
"Someone asked me recently, if I had known what was involved in Passivhaus would I have made that commitment at The Fern?" says Steele. 
"The truth is probably not. We went into it very naïve and optimistic – and I'd never built apartments before. But in retrospect I'm glad that we did it." 
After five years of intense work by Steele and his team, The Fern was sold in late 2019. 
It now operates as boutique, short-stay apartments, offering "Australia's greenest luxury accommodation" where guests can experience Passivhaus living in the heart of Sydney's thriving inner-south.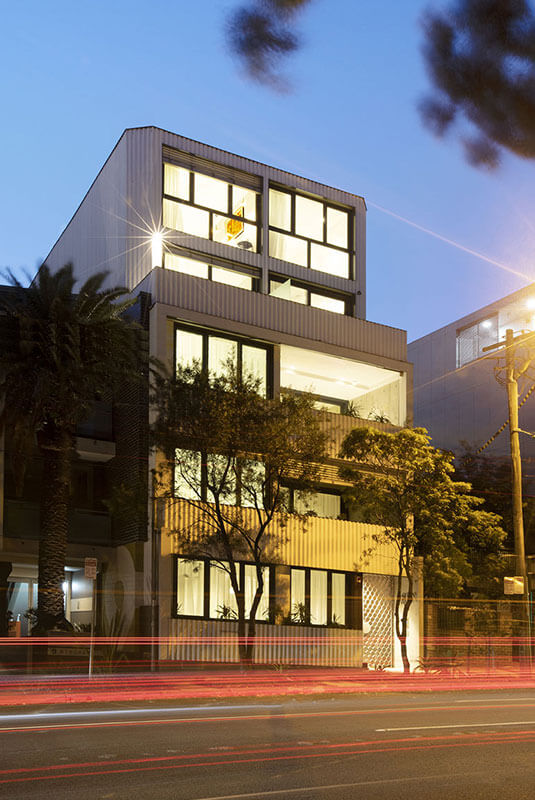 The Passivhaus approach, which demands a much tighter building envelope, helped address issues of inner-city noise and dust.
The discovery
A qualified architect and builder with more than 20 years' experience, Steele has learnt much about building from designing, and similarly much about designing from building. 
After completing the firm's first property development – three sustainably designed terrace houses in Newton – in 2014, he was looking for a new challenge when the opportunity to develop the Wyndham Street property in Alexandria presented itself. 
"We were originally involved at Wyndham Street as the cheapest of three building tenders for a developer who already had a DA (development application) approved for eleven one-bedroom apartments," explains Steele. 
Upon meeting the developer and discussing the site's possibilities, as well as options to reduce costs, Steele was surprised when given the opportunity to purchase the site instead. 
After putting the finance together and finalising the purchase, what followed was months of research on Steele's behalf. He sought to push the boundaries of what could be achieved on the constrained site. 
"I was trained in passive solar design, but this was a very challenging site for that because the long north-facing boundary had to be a blank firewall for fire separation," Steele says. 
"If you've got no northern winter sun, you haven't got much to work with." 
Additionally, the inner-city location presented issues of noise and dust, making natural ventilation a challenge. 
"I was researching how we were going to overcome these problems and all my research kept leading me back to the Passivhaus concept, which I knew little about," Steele says. "But the more I looked into it, the more I realised that it builds on passive solar principles, with a lot more tools in its toolkit to deal with unfavourable sites." 
About six months before construction was due to commence onsite, he made the decision to switch his design to Passivhaus. 
According to Steele, the decision led him and his team to discover a willing community of consultants, suppliers and interested people who would assist him on his Passivhaus journey. 
"I sucked thousands and thousands of hours out of people," he says, "who knew things that I needed to know."
Passivhaus in practice
The Fern consists of 11 one-bedroom apartments, including four two-level "penthouse-type" apartments, two garden apartments, a wheelchair-accessible apartment and single-level balcony apartments with large, semi-enclosed balconies. 
The building also features a main atrium with two, 15m-tall living green walls. 
Like any Passivhaus project, the success of the development relied on the principles of airtight construction, the minimisation of thermal bridges, high-performance glazing and continuous insulation. 
Says Steele: "Australian homes seem to have a problem with air tightness." 
He points to a 2015 study by the CSIRO that found the average home in Sydney has an air infiltration rate of 20.8 air changes per hour (20.8 ACH@50Pa), more than 40 times greater than a home built to Passivhaus standards. 
"One of the real keys to the effectiveness of Passivhaus design," Steele says, "are the stringent air-tightness requirements." 
During construction, Steele and his team undertook thorough blower door testing. This allowed Steele Associates to find and fix any leaks and ensure the interiors of each apartment were properly sealed. 
"This way, we knew that all the efforts we'd made to create a comfortable interior environment wouldn't leak outside." 
The result was an infiltration rate below 0.6 ACH@50Pa for each and every apartment. (See Breakout: "Incremental change"._ 
One of The Fern's most important innovations – and critical to securing Passivhaus accreditation – was the design and construction of thermal breaks to eliminate almost all thermal bridges.
incremental change
Oliver Steele believes the airtightness requirement for Passivhaus certification is the number one barrier for its uptake in multi-residential projects. 
"It is manageable on a house, but when you're talking about a six-storey building with multiple trades it really is a challenge," he says. 
"It's no fault of Passivhaus – it's a cultural, industry-inertia thing. It will require a series of incremental steps, and the industry will need to overcome the law of diminishing returns to get from 20 air changes per hour to 0.6."
With commercially available solutions found to be oversized and cost-prohibitive – particularly for Sydney's benign climate – Steele Associates decided to innovate. 
"We've broken these thermal bridges in all walls and floors with insulated barriers penetrated only by hardened steel pins that are strong enough to carry structural loads," Steele says, "but small enough that hardly any heat passes through them."

This was achieved by using hardened stainless steel acoustic shear dowels at 900mm centres, with 30mm foam insulation separation, stiffened with fibre cement sheets. 
Another innovation was very site-specific. 
Given the site's proximity to a major railway line just a few blocks away, Steele was determined to address the issues of vibration and noise, and to achieve vibration isolation. 
Rather than adopting a typical solution of using large concrete column heads, The Fern uses a system of steel channels and trays that form socket joints. These incorporated high-density rubber pads and insulation, to not only support the five storeys of concrete structure but also provide a thermal break between the building and the foundations.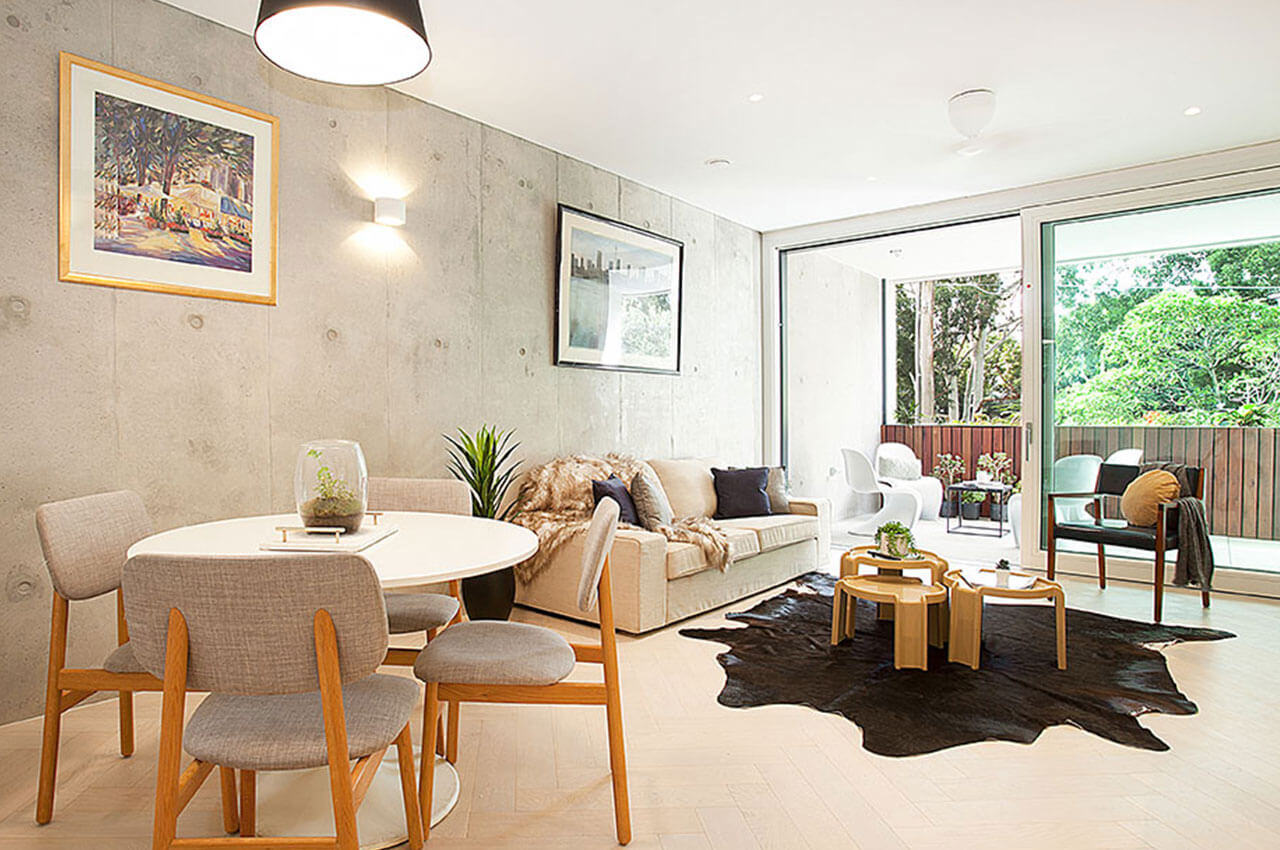 The Fern uses triple glazing – three panes of glass separated with sealed, argon-filled gaps.
Addressing the envelope
The Fern was reportedly the first project of its type in Sydney to adopt triple-glazed doors and windows. 
The European style lift-and-slide doors and tilt-and-turn windows provide excellent air sealing and acoustic barriers, with extra custom deals used to maximise air-tightness. 
A double low-emissivity coating keeps the sun's heat out in summer. 
All glazed doors and windows have U-values of 1.38, with a solar heat gain co-efficient (SHGC) of 0.33. In comparison, NatHERS compliance levels demanded a U-value of 6.7 and SHGC of 0.7, making The Fern about five times more energy-efficient than the Sydney apartments built to NatHERS compliance. 
All door and window frames have been constructed of solid timber with aluminium exterior cladding. This provides thermal resistance and tactility of timber inside, with the durability of aluminium outside.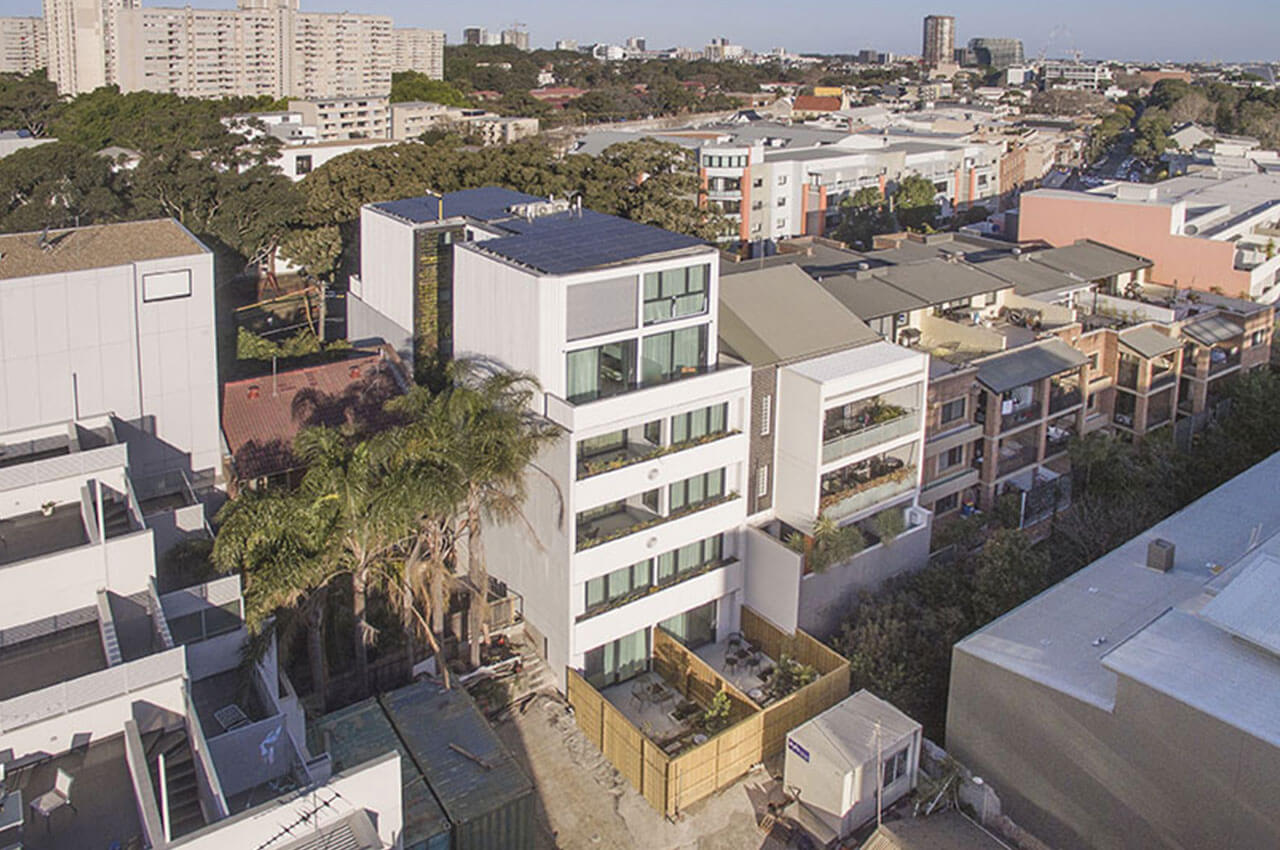 Adjustable horizontal blade blinds on the exterior of The Fern are equipped with timers and light sensors to further reduce cooling and heating loads.
Lessons from the project
Architect Oliver Steele offers several lessons about the Passivhaus journey from The Fern.
Integrate Passivhaus as early as possible, ideally at the concept design stage.
Take advantage of the many experts in the field. Our Passivhaus consultant, various experts and the suppliers we worked with were all very helpful. APHA also been a huge support and encouragement along the way for getting the word out there, so I'm most grateful for all their help.
Plan – and learn from the mistakes of others.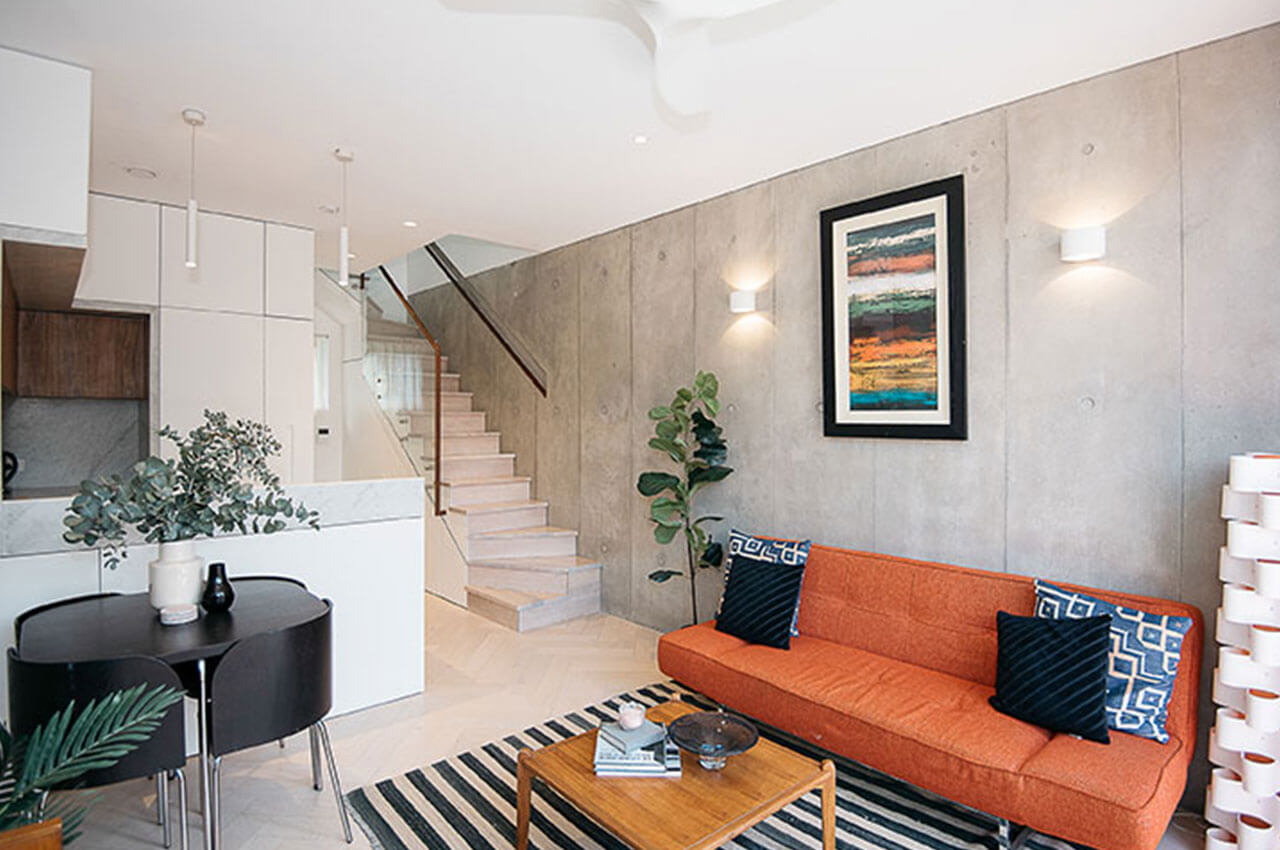 The Fern also features adjustable horizontal blade blinds on its exterior, equipped with timers and light sensors to ensure glazing is further protected from the summer sun while allowing sunlight to penetrate through during winter. 
Insulation at The Fern is about double the level of that typically used in Sydney apartments, and installed as a continuous barrier rather than between structural elements. 
"This eliminates thermal bridges," says Steele, "and acts as a blanket to cocoon the living spaces." 
Insulation values are R7.0 for the roof, R3.5 for the walls and R1.5 for the floors. 
The majority of insulation at The Fern is located externally – inside custom-made structural insulated panels (SIPs) that use tongue-and-groove joins to create a continuous insulation barrier. 
"All the careful detailing and planning of our thermal envelopes has meant that all of our thermal mass, in the form of concrete, is on the interior," says Steele. 
"This not only allows our beautiful exposed off-form concrete walls to shine, but we also anticipate that this will improve the thermal performance of the building – despite the fact the Australian Passive House Association (APHA) doesn't recommend using thermal mass – by maintaining a protected core temperature."
 The project exclusively uses three-point Green Star-compliant concrete, in which 40 per cent of the cement and 40 per cent of the aggregate is replaced with industrial waste products such as fly ash and blast furnace slag. This means the embodied energy of construction materials was significantly reduced.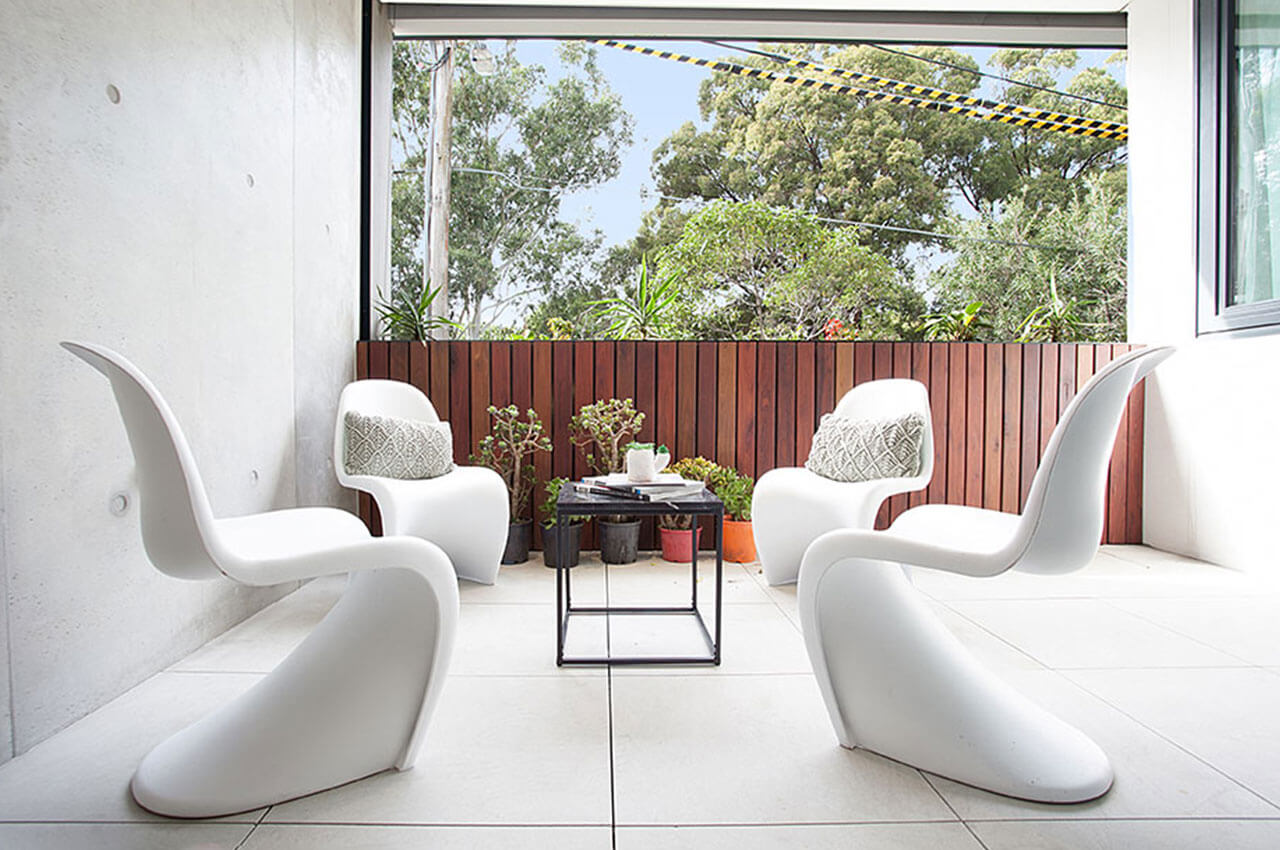 Green Star-compliant concrete is used throughout.
Ventilation
Rather than traditional air conditioning systems, The Fern's 11 apartments are fitted with heat recovery ventilation (HRV) technology to provide fresh, filtered outside air at a comfortable temperature. 
When used in conjunction with the Passivhaus standard airtight building envelope, superior control over internal air quality is achieved with low-energy consumption to create a just-right "Goldilocks" solution. 
"Unlike air conditioning, HRV works by transferring heat from one element to another, through the all-important heat exchanger," says Steele. "This is where inlet air and exhaust air of different temperatures flow past one another to exchange temperatures, without mixing." 
The HRV units at The Fern operate all day, every day but with a lower flow rate than specified in the National Construction Code (NCC). 
"Low-volume continuous ventilation rates used in residential Passivhaus projects haven't always been afforded simple NCC deemed-to-satisfy pathways," says Joel Seagren, M.AIRAH, outgoing director of the Australian Passive House Association (APHA).
 "So APHA played a role in commissioning modelling to demonstrate superior performance and championed the adoption of a simpler compliance pathway in NCC 2022." 
The computational fluid dynamics (CFD) modelling sponsored by APHA revealed that the HRV system is vastly superior to the NCC standard, as well as proving to be a far healthier solution. 
"This is a hugely positive outcome for energy-efficient building design," says Steele. "And now that we've done the hard work, this performance solution is available for use by all builders and developers." 
Indoor air quality
Reliable, continuous ventilation is an integral part of Passivhaus design to ensure healthy, indoor air quality. 
"We know people in buildings generate CO2, moisture and odour, and that furnishings can release VOCs (volatile organic compounds), all of which need to be managed," says Fantech's Joel Seagren, M.AIRAH 
He says Passivhaus seeks to also deliver elevated levels of comfort and energy efficiency, noting that it isn't viable to rely on natural ventilation alone to meet these targets for much of the year. 
Rather, Seagren says HRV units apply heat recovery to a mechanical ventilation system to reduce the energy required to maintain comfort conditions. 
"Importantly, this doesn't prevent you from using natural ventilation, such as operable windows, when occupants feel outdoor conditions are suitable," he says. 
A common misunderstanding about Passivhaus is that it creates a sealed box, preventing connections to the outside environment. Not true.
 As well as overcoming NCC compliance, Steele faced a number of challenges in relation to the HRV units – especially in the apartments with street frontage. 
"The north and south facades were unable to be used as they are fire-rated walls, and cannot include any punctuations or openings," he says. "The front (east) façade presented an acoustic problem." 
The HRV vents on all front apartments were located on the rear walls to free the front face of The Fern. 
To avoid compromising the architectural quality of the lofty ceilings within each apartment, flat duct was used to minimise the service space and low bulkheads. 
"Other than providing hygienic air, the HRV system provides serious health benefits," says Steele. "It filters the air, removing dust, pollution, allergens and any other micro-particles from the outdoor air. 
"This is incredibly important at The Fern, being an urban site close to traffic pollution. One study has found a correlation between living within 100m of a main road and increased occurrence of cardiovascular health risks. HRV is a true lifesaver!" 
Split-system air conditioning has also been included in the apartments to provide supplementary cooling on extreme days. 
While the recommended unit sizing for each apartment was 8kW, extensive modelling – combined with Steele Associates' own testing – showed that 2kW, 7-star rated, energy-efficient models would be sufficient.
Net-positive
Services at The Fern have been designed to be efficient and resilient, and to take full advantage of onsite solar power generation. 
According to Steele, energy demand for the building was carefully modelled at an early stage. The idea was to ensure that all electricity used at The Fern could be supplied by the 21kW rooftop solar PV array. 
"Thanks to the fabric-first approach of Passivhaus design," Steele says, "The Fern's heating and cooling loads, and therefore electricity consumption, has been greatly reduced, enabling us to build a carbon-neutral apartment building." 
He says the quiet achiever in the development is the microgrid. This monitors solar power generation as well as the electricity consumption of each apartment for separate billing via connected software. It also offers flexibility to connect to the city's electricity grid, or to function independently in "island" mode.
"The microgrid functions via a switchboard comprising six three-phase smart meters that serve all apartments, the lift and common services," says Steele. 
"Extensive research and development were undertaken in implementing a small-scale grid in a cost-effective way, and we hope that our foray into the unknown will enable others to follow." 
The outcome is a building that Steele says generates roughly more power than it uses.
Sustainable features run deep
The Fern features several additional sustainable design features including: 
Centralised solar heat pump hot water with individual metering

5,000L below-ground rainwater tank

Green walls

Low-VOC paints and finishes

WELS 4-rated plumbing fixtures

Energy-efficient electric appliances

Material re-use and recycling.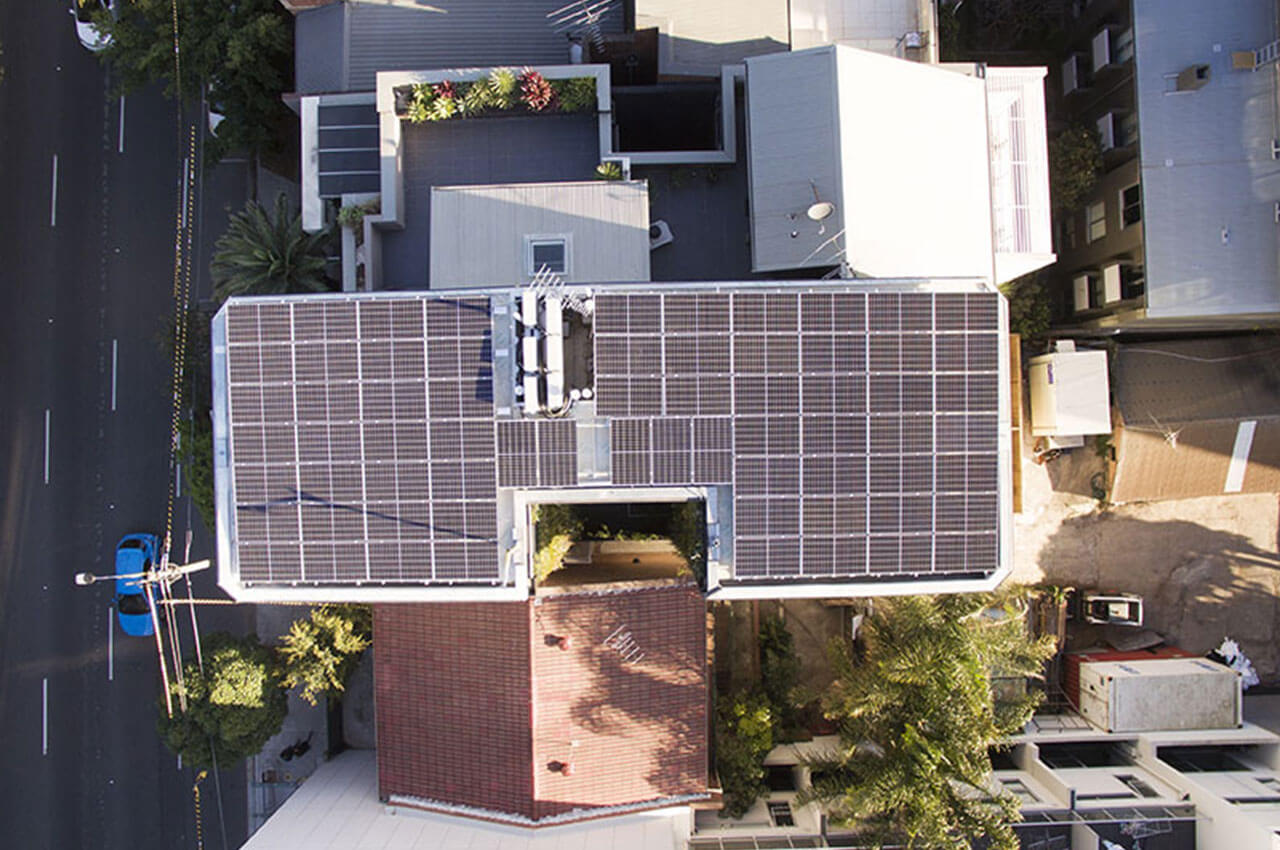 Next in line
The completion of The Fern in early 2019 remains a turning-point for the Passivhaus movement in Australia. 
According to Clare Parry, M.AIRAH, former director of Grün Consulting and founding member of the APHA, The Fern was "the" project that proved Passivhaus both in the Sydney context and in multi-unit development in Australia. 
"Oliver Steele was visionary in the way that he leveraged his design, construction and developer hats," says Parry. "And his voracious appetite for information and innovation was the key enabler." 
As one of Grün Consulting's first Passivhaus projects, The Fern presented a steep learning curve for the young practice.
 "It should be viewed as the critical precedent to other fantastic projects," Parry says, "such as Gillies Hall, Bendigo Soldier's Memorial and a multitude of buildings across Australia." 
After "working day and night" for five years to achieve the hemisphere first, Steele took a well-deserved break after settling the sale of The Fern in early 2020. 
He is now working on a project that incorporates pre-fabricated and modular building. Whether a Passivhaus project comes next is still to be determined. 
"I'd like to return to Passivhaus when the right sponsor comes along," he says. 
"But if these ideas start to propagate more widely in the industry and developers start to take energy efficiency and thermal comfort more seriously, then that would be a great measure of success for The Fern."
Project at a glance
The Personal
Architect: Steele Associates Architects
Builder: Steele Associates Construction
Developer: Oliver Steele
Mechanical engineer: Stephen Cuthbert
Passivhaus certifier: Luc Plowman
Passivhaus consultant: Grün Consulting
The Equipment
Air grilles and diffusers: Fantech
Airtightness systems: Laros Technologies
Doors and windows: Triple Glazing Australia
Fans: Aeratron
Mechanical heat recovery unit: Logikhaus and Fantech
Metering and embedded network design: SATEC
Solar heat pump hot water: Steibel Eltron
Split system air conditioning: Mitsubishi Heavy Industries
Thermal break dowels: Ancon
(Source: Steele Associates)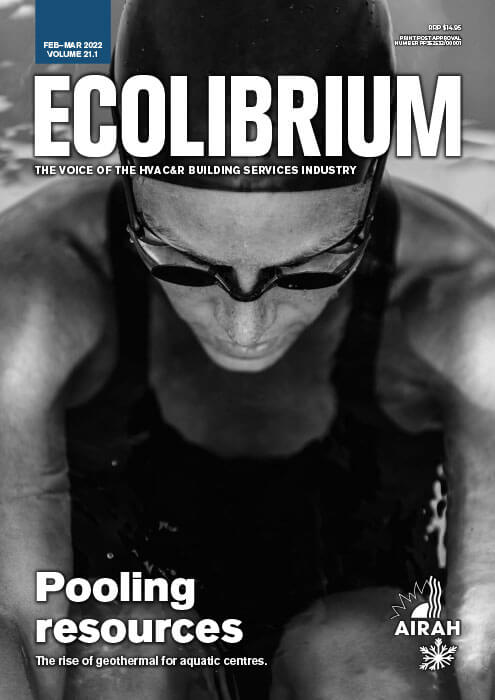 This article appears in ecolibrium's february-march 2022 issue
Want to read more?
 
AIRAH MEMBERS
Click here to view our archive of issues and features.
NON-MEMBERS