Adelaide-based David Brown, M.AIRAH, is commercial property manager for Global Intertrade. He previously served on AIRAH's SA division committee.
R

esponsibilities
Global is a private Spanish-owned company that owns a dozen buildings in and around Adelaide and a few offices in Melbourne. 
My main role is the leasing and redevelopment of the properties, but I also undertake the facility management and improvement, contracts and  financial attributes. 
Previously, as a facilities manager with another company, I became particularly interested in HVAC and fire services, and completed a Grad Cert in Air Conditioning (Code Compliance) and Grad Cert in Building & Fire Codes as additional training among other training. 
Passions
As a facilities manager, I was passionate about the mechanical and physical aspects of properties, and was fixated upon the "idealistic" needs of a building. 
However, this current role has opened my eyes to the wholistic nature of properties. 
Realistically, if you don't make a profit, there is no capital to spend, and if your tenants aren't satisfied you will lose them, and your profit will suffer. 
Therefore, healthy financials are a must before you can consider physical issues. However, in most cases, each go hand-in-hand so it's a juggle. 
F

inest professional hour
Redeveloping 30- to 40-year-old vacant buildings for an owner who wasn't happy with them cost-effectively, until they were to a safe, efficient standard mechanically and for fire safety also afforded a good tenable standard. 
The result being that the buildings have been improved significantly and still remain at a high occupation rate. 
I

mportant

career

lessons 
1) Be passionate about your work. 
2) Never say it can't be done, but realise that it may be cost-prohibitive, and know the difference. 
3) Always try your best to find a solution. 
4) Take control of the outcome. 
5) Give back to the industries that have taught and supported you. 
6) Everyone is equal (if they earn it). 
Whom do you most admire?
From a personal perspective, my father, who is now deceased. He was everyone's friend. 
Work related, two names stand out. 
One is Sid Foster, a past president and past director of AIRAH and mainstay of TAFE SA's Mechanical Section who supported AIRAH, TAFE and apprentices immensely for decades. 
The other is Dave Robinson, a past chairperson of CIBSE who supported fire system development, fire industries and Standards Australia diligently over the years and still does. And has supported me frequently also. 
"
Realistically, if you don't make a profit, there is no capital to spend, and if your tenants aren't satisfied you will lose them, and your profit will suffer
"
Dream sabbatical
Travel Australia in a caravan, and finish the restoration of a Holden HJ Sandman. 
What is your motto?
"Never give up" – to a point of sometimes being obstinate to a degree. 
F

avourite book
David Roberts' Shantaram, but I also like British crime novels such as the Angela Marsons D.I. Kim Stone series and Mark Dawson's crime thrillers. 
I read so many technical publications over the years that I find these publications a relief from the tech-related stuff and work. 
Favourite film
Young Frankenstein, a Mel Brooks film starring Gene Wilder, Marty Feldman and Peter Boyle, and The Castle, with Michael Caton, Eric Bana, Stephen Curry, Bud Tingwell and others. 
D

escribe yourself
I'm very determined, decisive and fixated on the end result. 
I'm also very analytical. That's why having a tradie background and having been able to develop into a senior position by going back to study but with a practical background has given me a good base. 
I'd say that my specialty is developing the outcome, whether it's leasing to a new tenant, providing to client needs, or upgrades to buildings and building services. 
Define

success
Being satisfied with what I've achieved. That doesn't mean that because my portfolio isn't A or Premium-grade buildings, I'm not satisfied. It's that I've been able to re-establish my buildings at a higher standard and quality than their grade in the industry. 
AIRAH membership
I was introduced by Ivan Cakebread, a past president of AIRAH's SA division to AIRAH back in 1991, which sparked off an interest in HVAC. 
I'm passionate about my work, and as an adjunct, supporting the industry that has taught me so much. I've never wanted to just do my time. 
Therefore, I've been a past treasurer and president of AIRAH SA; past national director of AIRAH; past president of IPEA SA; and am currently chair of CIBSE SA after being the secretary for a couple of years.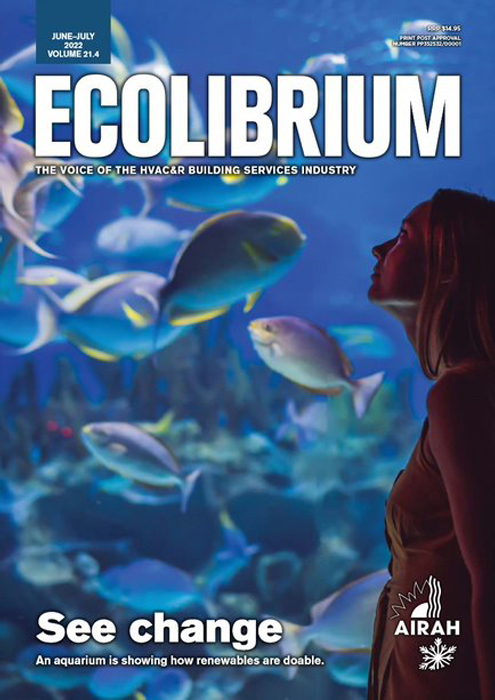 This article appears in ecolibrium's june-july 2022 issue
Want to read more?
 
AIRAH MEMBERS
Click here to view our archive of issues and features.
NON-MEMBERS