As parts of the world experienced record downpours, the Arctic ice continued its seemingly inexorable retreat.
FIRST, THE RAIN
Through mid‑October, parts of Australia were experiencing unprecedented precipitation. By October 6, Sydney had received about 2,213mm of rainfall for the year, surpassing the previous record of 2,194mm set in 1950, according to official data. This made it the wettest year for our biggest city since records began 165 years ago.
"Heading into late spring and summer, we're still in this active La Niña period, so we can expect more and more rainfall, and that does increase the risk of flooding," says BOM forecaster Jonathan How.
Sydney also recorded its wettest ever October. It was the third month this year when the New South Wales capital had set monthly records, the other two being July (404mm) and March (554mm).
Meteorologists predicted Melbourne would also record its wettest October on record.
Wide swathes of Australia's eastern seaboard experienced floods as a result of the heavy rains.
"Climate change can affect the intensity and frequency of precipitation," says the US EPA. "Warmer oceans increase the amount of water that evaporates into the air. When more moisture‑laden air moves over land or converges into a storm system, it can produce more intense precipitation – for example, heavier rain and snowstorms.
"Heavy precipitation does not necessarily mean the total amount of precipitation at a location has increased – just that precipitation is occurring in more intense events."
Australia's heavy rainfall occurred in the same year as Pakistan's record monsoonal rains, which were responsible for more than 1,500 deaths, and were made worse by the melting of a glacier.
ICE RETREAT
CONTINUES
According to satellite observations, Arctic sea ice reached its annual minimum extent (lowest amount of ice for the year) on September 18. The ice cover shrank to an area of 4.67 million km², roughly 1.55 million km² below the 1981–2010 average minimum of 6.22 million km².
Summer ice extent in and around the Arctic Ocean has declined significantly since satellites began measuring it consistently in 1978. The past 16 years (2007–2022) have been the lowest 16 minimum extents, with 2022 tying 2017 and 2018 for 10th‑lowest in 44 years of observations. "This year marks a continuation of the much‑reduced sea ice cover since the 1980s," says sea ice researcher Walt Meier from the US National Snow and Ice Data Center.
"That is not something that is random variations or chance. It represents a fundamental change in the ice cover in response to warming temperatures."
NASA says longer melting seasons are the result of increasingly earlier starts to spring melting and ever‑later starts to freeze‑up in autumn. Averaged across the entire Arctic Ocean, freeze‑up is happening about a week later per decade. That equates to nearly one month later since the start of satellite records in 1979.
ADAPTATION
Earlier this year, Texas Tech University Professor Katharine Hayhoe, a leading climate scientist, said that the world cannot adapt its way out of the climate crisis. Rather, an urgent cutting of greenhouse gases is required.
"People do not understand the magnitude of what is going on," Hayhoe told The Guardian. "This will be greater than anything we have ever seen in the past. This will be unprecedented. Every living thing will be affected."Hayoe says this not good news for humanity.
"Human civilisation is based on the assumption of a stable climate. But we are moving far beyond the stable range."
Like to know more
This month 195 countries are due to meet at COP27, in the Egyptian seaside city of Sharm el‑Shiekh.
Go to cop27.eg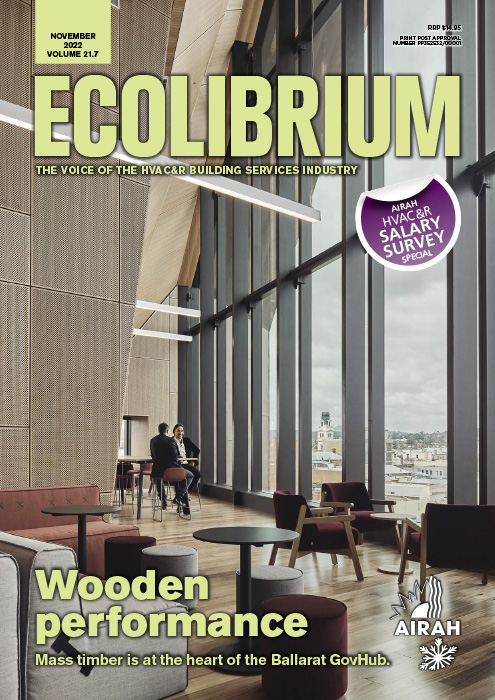 This article appears in ecolibrium's NOVEMBER 2022 issue
Want to read more?
AIRAH MEMBERS
Click here to view our archive of issues and features.
NON-MEMBERS