By embracing the Passivhaus standard, a new apartment building in Palma, Spain, classifies as an nZEB (nearly zero energy building).   
Paseo Mallorca 15 is a 10-apartment block in the main thoroughfare of Palma, capital of the Spanish island of Mallorca (Majorca), not hitherto renowned for its innovative architecture.
One of the sun-drenched Balearic islands located in the Mediterranean Sea, Mallorca is perhaps better known for its beaches, resorts, galleries and historic buildings, such as the Santa Maria Cathedral built in the 13th century.
Perhaps Paseo Mallorca 15 will help change this. Designed by Ohlab architects, the building has been noted for its sustainability, energy efficiency, urban integration, quality of materials, interior design, and level of comfort.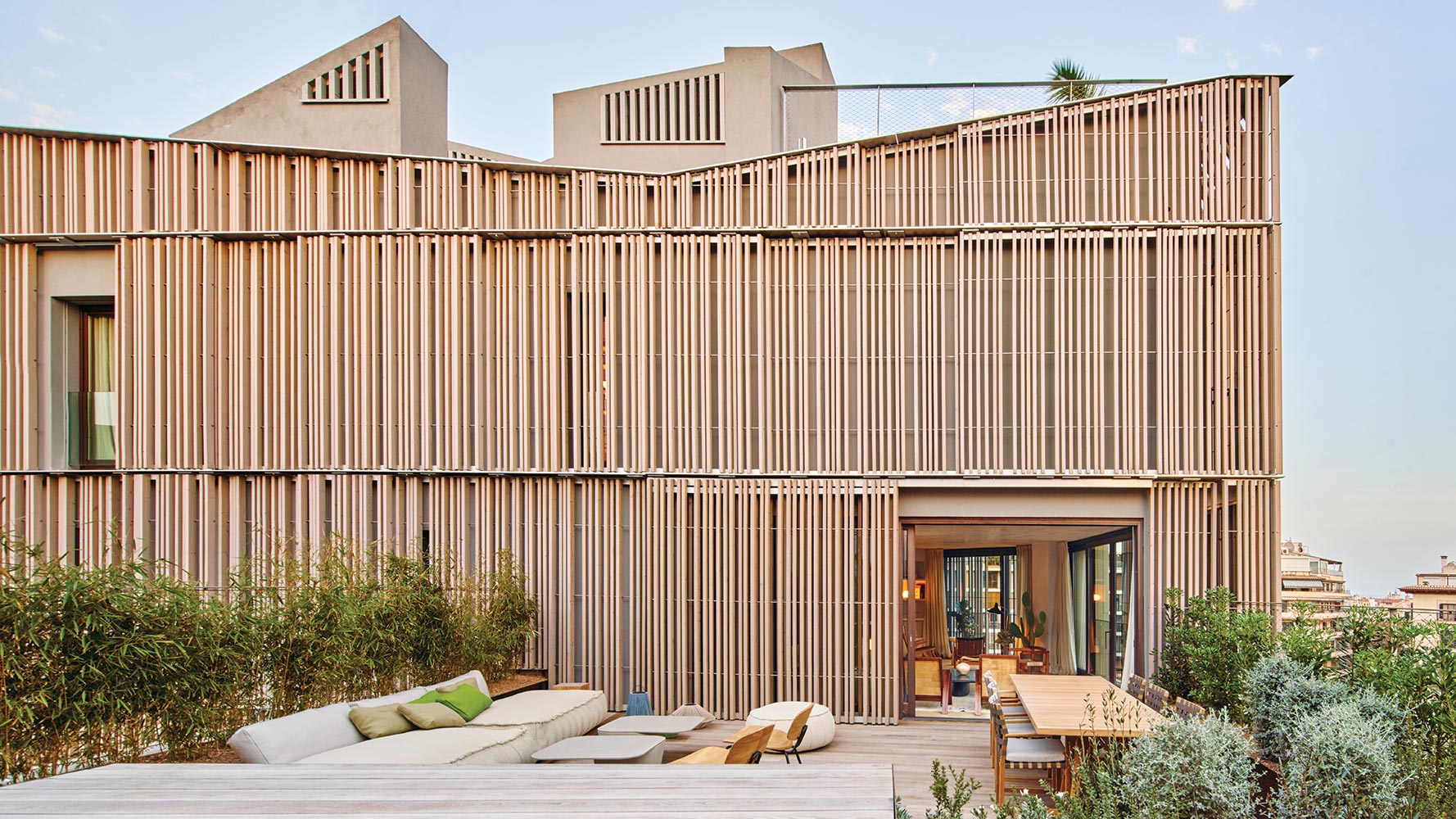 Consisting of 10 apartments, the building has been designed to Passivhaus standards.
Timber-slatted panels help soften the harsh summer sun.
In accordance with Passivhaus
"The project has been designed in accordance with Passivhaus standards to achieve maximum energy efficiency and a heating/air conditioning demand of only 15kWh/(m2y)," says Jaime Oliver of Ohlab. "This means a reduction of almost 90 per cent in terms of air heating and cooling requirements in comparison with a conventional building, resulting in extremely low energy costs for the owner and for the planet. This construction method falls within the nZEB (nearly zero energy building) standard for consumption."
The addition of sliding timber-slatted panels helps soften the harsh summer sun.
Overall, the design intent (as with all Passivhaus buildings) was to capture the sun in winter, and reduce its impact in the warmer months.
"When you live on an island you are even more aware of the scarcity of resources and the need to protect them"
Inner lungs
"The inner courtyard, with its different levels, acts as an inner lung of vegetation and trees that continues upward until it reaches the landscaped terraces with pools on the fourth, sixth, and eighth floors of the building," says Oliver, who runs Ohlab with wife Paloma Hernaiz. "The courtyard garden features a gentle waterfall that cascades to the floor below, cooling the courtyard in the summer through evapotranspiration and creating a relaxing sound."
The courtyard also connects with below, providing lighting and vegetation to the basement, which houses the residents' pool, gym, and spa. The design encourages cross-ventilation through the garden for all the apartments.
The shared heat recovery unit is located on the building's roof, with AC outlets cleverly hidden in slots in the apartment ceilings.
Particular attention has also been paid to the apartments' sensory experience. No paint has been used, with only natural finishes permitted.
"We feel a responsibility to use less energy and to convince clients that this is important," says Oliver. "When you live on an island you are even more aware of the scarcity of resources and the need to protect them."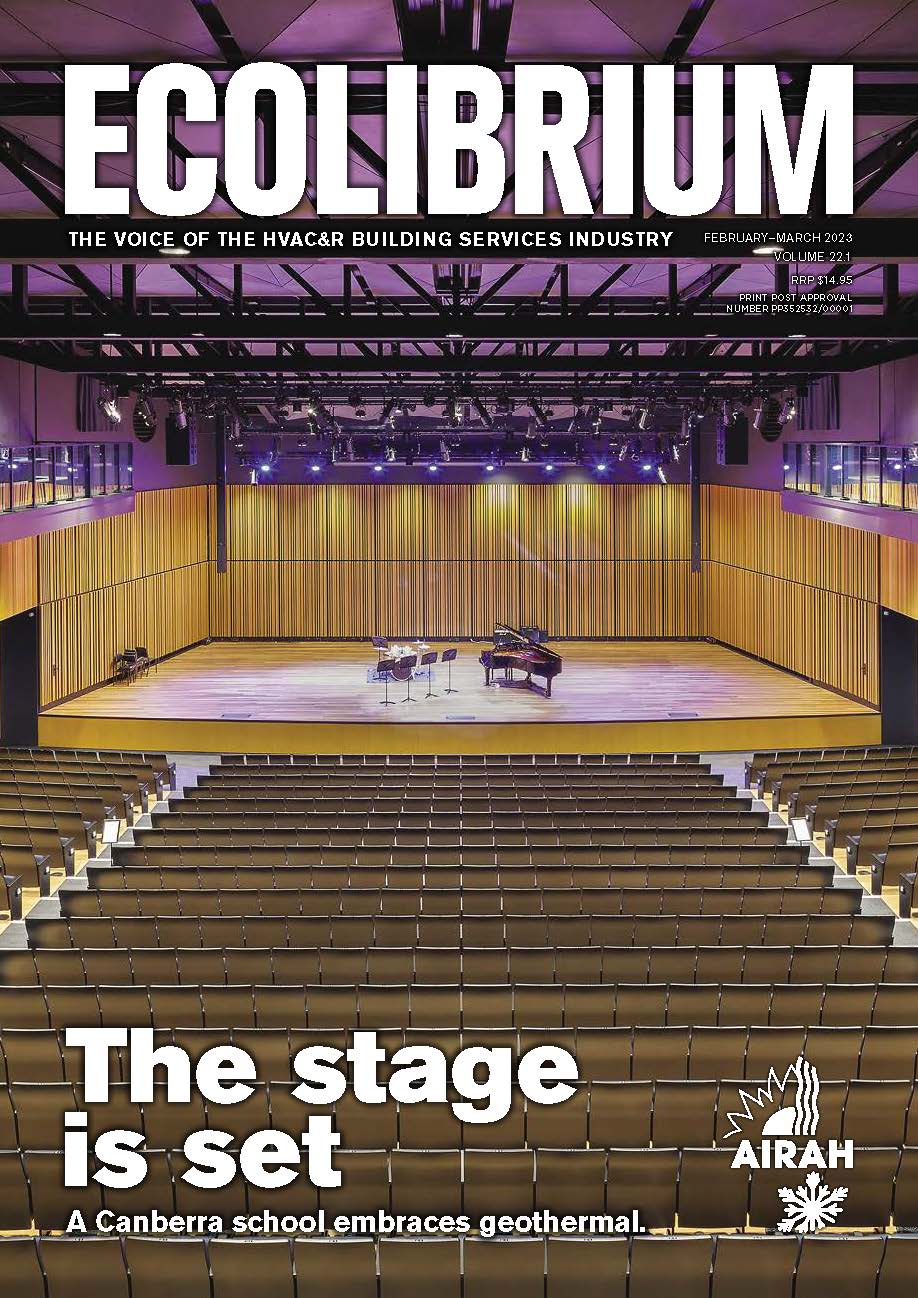 This article appears in ecolibrium's february-march 2023 issue
Want to read more?
AIRAH MEMBERS
Click here to view our archive of issues and features.
NON-MEMBERS