Ecolibrium shoots the breeze with the Melbourne-based director and founder of WRAP Engineering, Robert Holovka, M.AIRAH.
Specialty
Multi-discipline engineer, specialising in mechanical engineering.
Passions
The initial concept phase of any building design – when intelligent engineering ideas can be workshopped with the wider design team to provide the optimal impact and benefit. I am also very passionate about mentoring and developing young engineers and witnessing firsthand their progression in the industry.
Coping during COVID-19
When COVID 19 first hit we chose to take an optimistic approach and continued to align ourselves with like-minded clients – as a result we have stayed busy and grown the company to 45 staff over this period. Ultimately, we have come out the other side of the pandemic in a stronger position, and continue to build on what we have achieved over the last five years.
What do you like about your job?
The unpredictability of a working day in the construction industry. Also, the satisfaction of working with a diverse group of professionals including architects, structural engineers, ESD consultants, project managers and builders who genuinely have the common goal in delivering a high-quality building project on budget.   
The variety of the job is a key factor in my enjoyment of it. I get to work on projects in all different building sectors and scales and get to be part of a range of design teams, bringing different ideas and energy to each project.
I also really enjoy collaborating and working within the great team that we've assembled at WRAP Engineering.
Challenges
The most challenging aspect of our industry is aligning program expectations with the timeframes required to produce quality documentation.
"I get to work on projects in all different building sectors and scales, and get to be part of a range of design teams, bringing different ideas and energy to each project"
Most like that you don't have?
As a passionate West Ham supporter, I'd love to see my team winning the Premiership, which would give me bragging rights over one of my business partners who equally passionately supports Liverpool.
Reasons for optimism
The direction that the industry is taking to align building design with our federal government commitments towards global energy efficiency. There is growing momentum on designing more energy-efficient buildings, including implementation of new technologies to assist with sustainable building outcomes.
Merging with Edifice Engineering
Our previous ESD lead wanted to move to a position where he could impact ESD policy, and left consulting to take a position with the government. We needed someone who could seamlessly transition into our growing business with an existing market presence, a strong engineering knowledge base and a proven ability to build rapport with our client group. Our directors came together and compiled a shortlist of 15 potential ESD candidates considered for this important role, with Ania Hampton from Edifice at the top of the list. We met with Ania, and reached a mutually agreeable outcome to benefit both parties and were grateful that we didn't need to work any further through our list.  
The whole process has gone extremely well, with our ESD offering continuing to grow and holistically complementing our building services team.
Office, home office or hybrid?
Due to the lockdowns that Melbourne in particular endured, we have all needed to develop comprehensive home office set-ups, though that is not my preferred way to work or mentor our younger engineers and designers.
Now, it is with some relief that I can say that I'm able to work in the office full time – working mainly from our Melbourne office and occasionally from our recently opened Geelong office – and would only work from home by exception.
Favourite building or architectural style?
I've always marvelled at mid-century modernist architecture, and in part this is inspiring elements of  current architectural design. One of the early examples, which I visited last year with my family, is Rose Seidler House in Wahroonga, Sydney.     
Pet peeve
Being a business owner, I've been able to have a greater impact on the client groups that we get to work with. As a result, I get to work with amazing people, and have developed relationships that make the design and construction process as relatively smooth and enjoyable process.
I can honestly say that with the support of a high-achieving core group within our company that I'm happier now than I have been at any time in the past in my professional career.  
Thoughts on AIRAH
I have been a member of AIRAH for over 20 years, and the Ecolibrium journal is the only industry publication I look forward to reading, especially some of the monthly features – keep it up!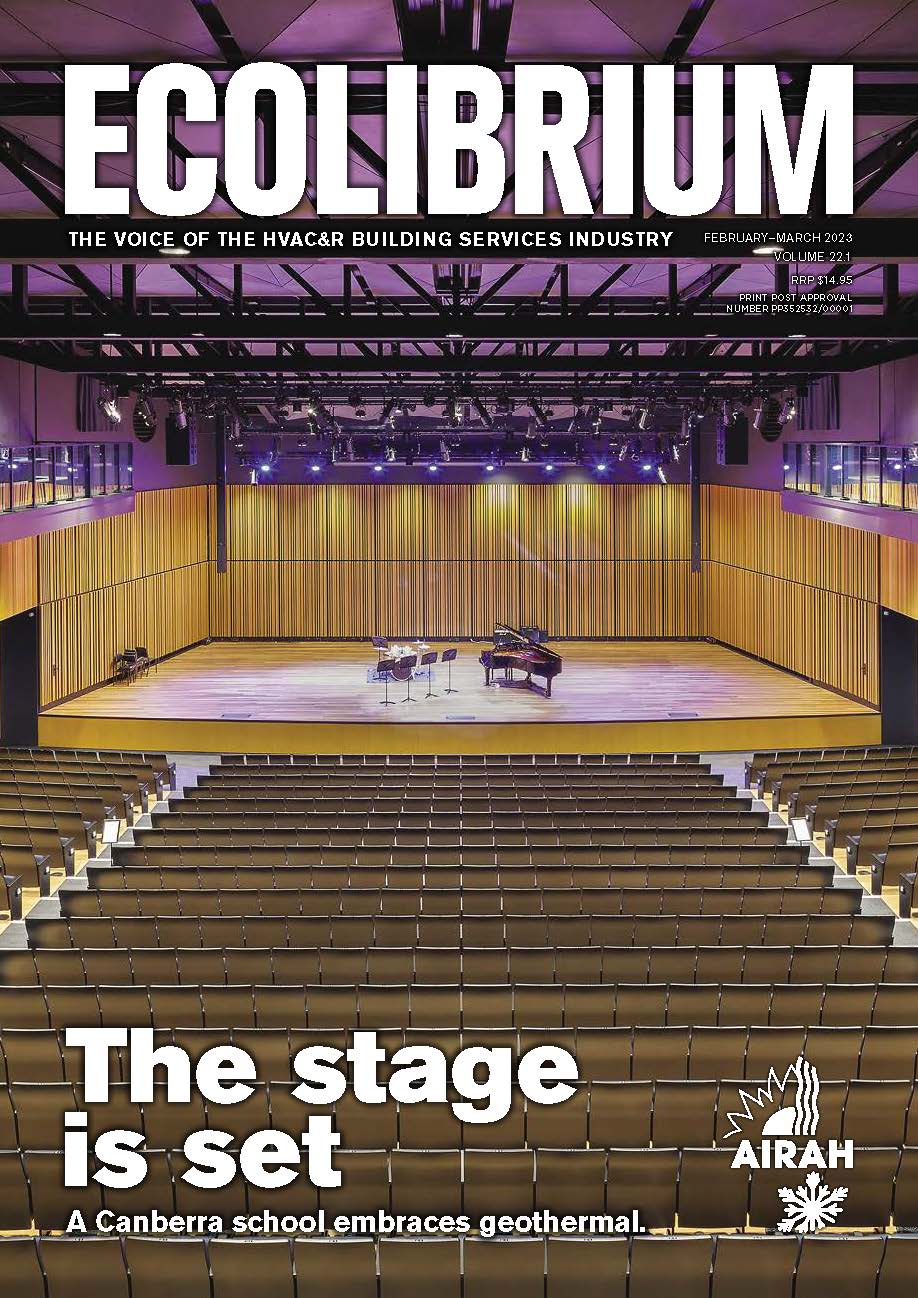 This article appears in ecolibrium's february-march 2023 issue
Want to read more?
AIRAH MEMBERS
Click here to view our archive of issues and features.
NON-MEMBERS