During my time in the employ of this venerable Institute, it's regularly astounded me how frequently our name is mispronounced. 
I mean, it's such a simple, elegant acronym. Five letters. Two syllables. Pretty had to stuff up, you'd think. 
And still some manage to mangle it. ARR-I-AH, like the music awards, is a common one. AIR-HA is one that receives an, er, airing, as if our moniker concludes with a chuckle. I-RAH is a not-infrequent utterance. 
"It rhymes with fairer," is the helpful instruction to which I usually resort, and which is met with  a nod and a "ahhh" as the penny drops. 
What makes mispronunciation of our sobriquet even harder to swallow is that there is a useful tip in the name itself if one is vaguely familiar with the industry in which we operate. 
Air. The stuff that surrounds us and on which all life depends. It's right there at the start in an almost onomatopoeic way. 
Air is our provenance, our realm and our area of interest. It's who we are and what we do. 
In this issue of Ecolibrium, you'll see there's a focus on indoor environment quality, or if you will, air. 
In "Deep breath" on p.22, you can read about the BREATH initiative led by the City of Melbourne. The program set out to test different air conditioning and ventilation rapid retrofit options that could be used to reduce the risk of aerosolised viral spread, particularly within a post‑COVID return-to-offices context. At the same time the program considered the energy, cost and thermal comfort impacts of the proposed solutions.  
Three scenarios were tested, with the results perhaps not exactly what might have been anticipated. 
In "Airing the issues" (p.43) deputy editor Mark Vender discusses all things IAQ with world-renowned expert Professor Lidia Morawska, whose name recognition has risen considerably over the past three years as airborne viruses have come to the fore. 
Mark asked Professor Morawska about our delicate moment in time, where we seem poised – possibly stalled – between what we know and what we know must be done. 
"There's a lot of interest, a lot of talk," Morawska says. "But this hasn't yet translated into action, because the action is quite complex. This is the next step: how it will translate into action, and what is our role as scientists, engineers or experts in this field to make that happen." 
Making things happen and getting things done happens to be a forte of AIRAH. Remember, it rhymes with fairer. 
Matt Dillon, Editor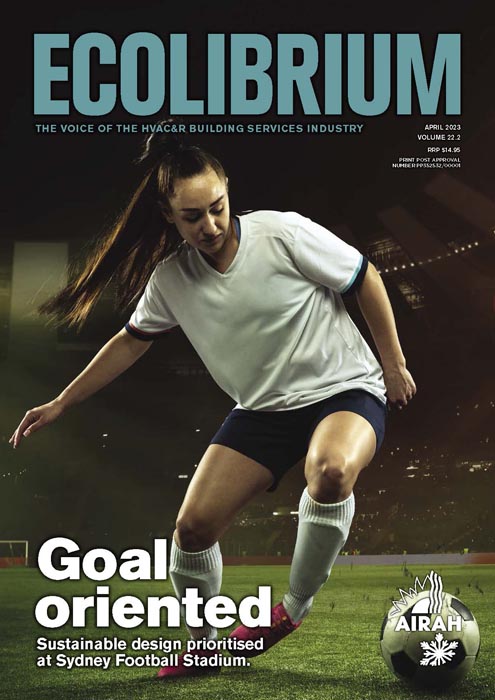 This article appears in ecolibrium's April 2023 issue
Want to read more?
AIRAH MEMBERS
Click here to view our archive of issues and features.
NON-MEMBERS