The winners of the AIRAH Awards 2022 were announced at a gala dinner on November 24 at Luna Park in Sydney.
"Looking at the winners and finalists of the 2022 AIRAH Awards, I believe the HVAC&R industry has what it takes"
On a perfect spring evening, almost 200 industry leaders and rising stars gathered at Luna Park's ballroom, looking out over the Harbour Bridge and the Opera House, to celebrate the top people, projects and products of Australia's HVAC&R sector.
Through its annual awards event, AIRAH has for many years been working to raise the profile of HVAC&R.
"For more than a decade, even when we had to go virtual because of the pandemic, AIRAH has held our annual awards," says Chief Executive Tony Gleeson, M.AIRAH.
"We are committed to shining a light on the critical and innovative work being done in our industry."
As well as selecting winners in 11 categories, AIRAH awarded the James Harrison Medal – the Institute's highest honour. Dr Stephen White, L.AIRAH, received the accolade this year for his trail-blazing work on electricity demand management, the Low Carbon Living CRC, the ASBEC Sustainable Housing Task Group, and the ground-breaking Innovation Hub (i-Hub) for Affordable Heating and Cooling initiative.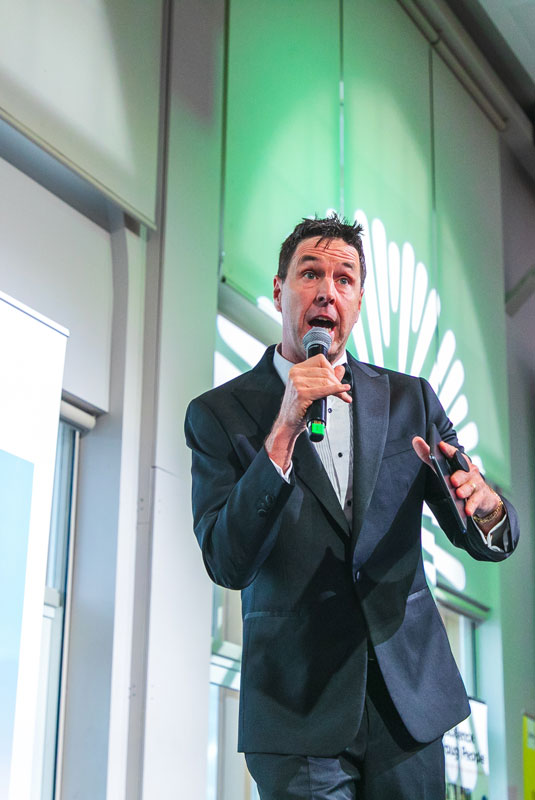 AIRAH Awards 2022 MC Donald MacKee.
Photo: Rick Clifford
Gleeson says although it has taken time for the HVAC&R industry to be properly recognised, that is set to change as we approach a climate tipping point.
"As the world begins to comprehend just how much effort is required to rein in our greenhouse gas emissions and prevent more extreme climate change, people are looking for sectors that can make a difference," he says. "HVAC&R is one of those. It's a daunting challenge. But looking at the winners and finalists of the 2022 AIRAH Awards, I believe the HVAC&R industry has what it takes."
2022 AIRAH Awards winners
BEST HVAC RETROFIT OR UPGRADE
McClintock Engineering Group – Otto Hirschfeld Dissection Laboratory AHU upgrade
EXCELLENCE IN DIVERSITY AND INCLUSION
Cundall 
EXCELLENCE IN HVAC&R RESEARCH
Conserve It – Real-time model predictive control with digital twins and edge computing technologies 
EXCELLENCE IN INNOVATION
AMP Capital – Quay Quarter Tower 
EXCELLENCE IN SUSTAINABILITY
Benmax – The University of Newcastle's Q Building 
FUTURE LEADER
Mark Elliott, M.AIRAH 
JAMES HARRISON MEDAL
Dr Stephen White, L.AIRAH 
INNOVATIVE USE OF RENEWABLE ENERGY IN HVAC&R
Conserve It – Optimal scheduling of air conditioning systems with renewable energy resource and thermal storage 
PRODUCT OF THE YEAR
Smartair Diffusion – Smartemp Helical Vari-Swirl Diffuser
STUDENT OF THE YEAR – HIGHER EDUCATION OR RESEARCH
Jason Jarvinen, Stud.AIRAH 
STUDENT OF THE YEAR – TRADE
Renzo Antonio Munster, Stud.AIRAH 
WR AHERN AWARD
"Best-practice energy performance benchmarked for refrigerated warehouses" by Stefan Jensen, F.AIRAH – August/September 2021
For more information about the finalists and winners of this year's AIRAH Awards, go to airah.org.au/awards
AIRAH thanks our 2022 AIRAH Awards sponsors
Gala sponsor: Daikin
Future Leader: A.G. Coombs
Student of the Year – Trade: LG
Excellence in Sustainability: Superior Training Centre
Excellence in Diversity and Inclusion: Standards Australia
Product of the Year: HVAC&R Search
WR Ahern Award: Ecolibrium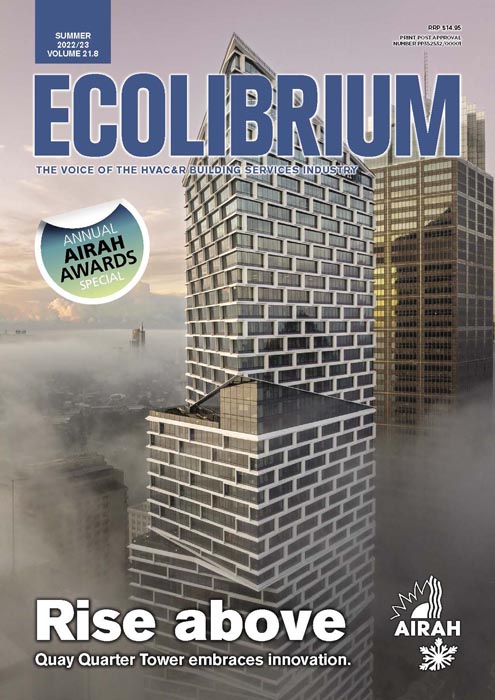 This article appears in ecolibrium's SUMMER 2022–23 issue
Want to read more?
AIRAH MEMBERS
Click here to view our archive of issues and features.
NON-MEMBERS