Though the number of women working in HVAC&R and related industries has increased over the years, as has the percentage of AIRAH members, there remains a significant disparity in gender diversity. Ecolibrium explores the issues with Norman Disney & Young (NDY) director Lisa Kelly; national director of the National Association of Women In Construction (NAWIC) Loren Hickey; DeltaQ managing principal consultant Grace Foo, M.AIRAH; Atelier Ten associate director Priya Gandhi, M.AIRAH; and Cundall HR manager Elisa Pacheco Castillo.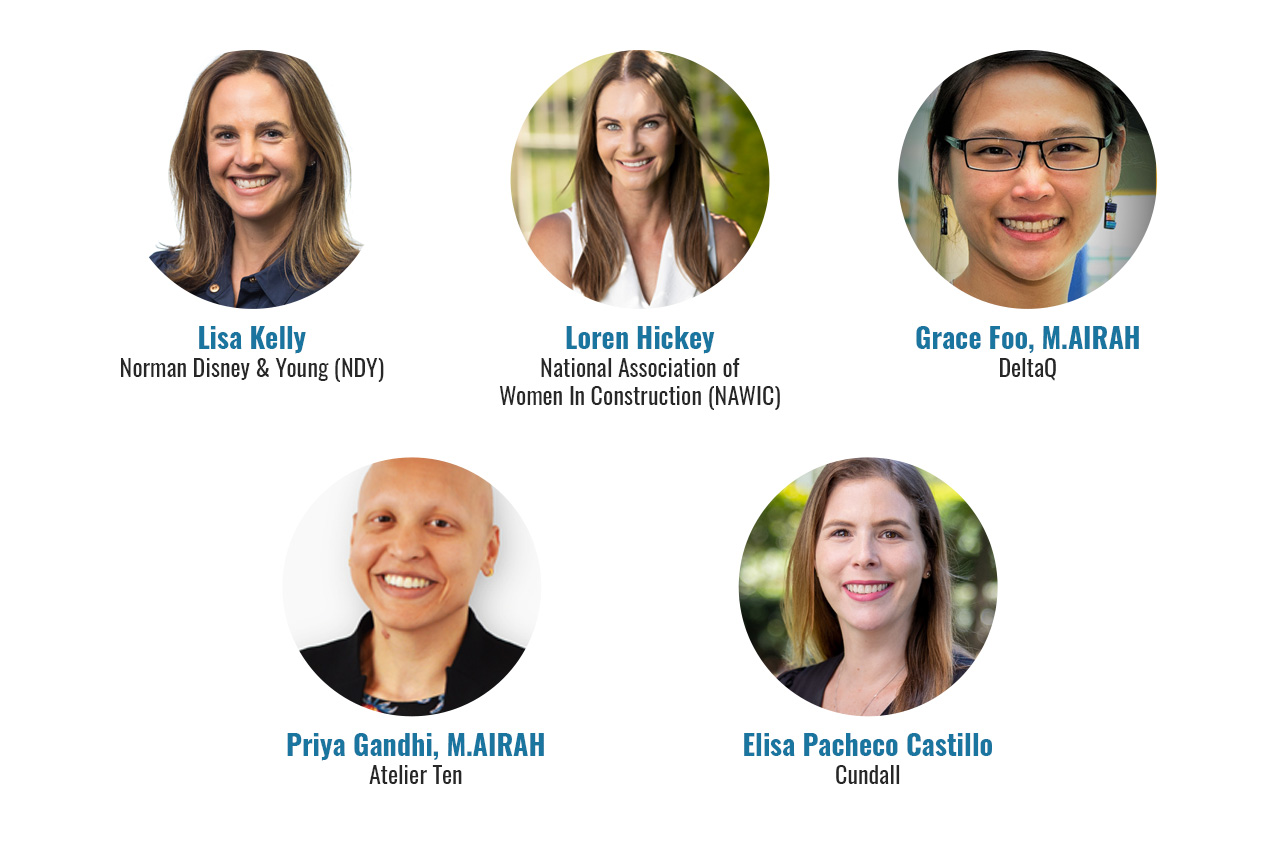 Ecolibrium: How does the disparity in gender diversity in HVAC and related industries look to women currently working in that space?
Kelly: Within the consulting engineering industry, there is of course, gender disparity. I know NDY – and the industry more broadly – has about 30 per cent female participation, and this is also the proportion coming out of a university-related path.
Having a diverse team making – and challenging – decisions, undoubtedly leads to better project outcomes. For example, how can an all-male team decide on the optimum temperature for a space when it's well-known that women feel the cold more than men?
Pacheco Castillo:  Despite more women entering the Australian workforce overall, we do continue to see a high level of gender disparity in the HVAC industry.
The relatively low representation of women in the profession is also reflected in the education sector, with the proportion of women studying STEM remaining relatively unchanged for the past decade. If we do not have women studying mechanical engineering, we will continue to have relatively few women working in the field, so it is vital we do more to encourage women into STEM fields for study, training and workplaces.
As an industry we must provide positive, relatable role models to young people and showcase the wide range of opportunities that exist. One of the best ways that we can encourage women to join the industry is by showcasing the voices of our own women.
Gandhi: I still see a big disparity in the number of women and other underrepresented groups in engineering services, especially at senior levels and those leading teams.
Thinking back to the dozens of projects I've worked on in the last couple years alone, I can count on one hand the number of senior women who led design input from an engineering services team. It's hard to tell if there is more gender diversity within the younger engineers coming into the industry or not – it depends a lot on the specific field.
Foo: If women are not visible in HVAC industries, then it perpetuates the image that HVAC is "not a woman's domain" and that "it's too hard to thrive in this industry so women seeking to progress should pursue a different career path".
Hickey: Women on the tools are still very much an anomaly in trade education environments and onsite. We know that many women feel isolated and like an outsider in their roles in the construction industry. These feelings of isolation can often lead to an early exit from our industry.
NAWIC (National Association of Women In Construction) exists so that women in construction are not alone, and to help keep those who enter our industry here for the long term to build exciting and successful careers.
Ecolibrium: In what parts of the industry is the drive to gender equity more common, and how are larger businesses and consultancies leading on this issue?
Hickey: New analysis has revealed that Australian employers awarded the Employer of Choice for Gender Equality (EOCGE) citation by the Workplace Gender Equality Agency (WGEA) are closing gender pay gaps faster, and successfully implementing work environments that support more equal sharing of "caring" responsibilities at home.
A cohort of 25 organisations have been added to the existing list of 104 citation holders today after passing a rigorous, evidence-informed evaluation of workplace policies and actions across seven key areas.
A new analysis of the workforce data reported to WGEA by employers with an EOCGE certification proves that a commitment to change is getting results.
Foo: While there are many women who are adept technically in HVAC and very handy on the tools, they tend to gravitate towards sustainability or design-focused engineering roles. You rarely see them on the installation or commissioning phases of the building life-cycle. Larger consultancies do seem to hire a higher proportion of women, and in recent years have started marketing images with women "on the tools" instead of the default "bloke in a Hard Yakka t-shirt" with a toolbox in front of chillers or switchboards.
Who we choose to portray publicly in these roles subconsciously project what the norm on these jobs are.
Pacheco Castillo: At Cundall, we are proud to have many diverse and talented female engineers across the business, each offering their best, most innovative selves every day. We are proud to amplify their voices and visibility through opportunities to speak at events, supporting membership of professional organisations, creating opportunities for senior female engineers to provide mentoring for early career engineers of all genders, producing thought leadership podcasts, blogs and eBooks and providing clear pathways for career growth.
In Australia, Cundall's global Gender Affinity and Inclusion Network (GAIN) also provides a supportive network for women, and works to influence greater gender diversity, representation and inclusion around the practice.
Kelly: Among the larger consultancies, there's a strong drive to increase female participation. At NDY, for example, this is cemented in our Diversity & Inclusion (D&I) Policy and D&I Strategy and Gender Action Plan headed up by our CEO (Stuart Fowler, M.AIRAH).
As an industry, we need to look at increasing participation of girls in STEM-related subjects at school so we can increase the number of female engineering graduates. At NDY, we engage with school programs that introduce girls to engineering consultancy and spark that interest in STEM and STEM-related industries.
An increasing number of women leaders and directors have started their own consultancies in mechanical engineering and related fields.
"Liza Taylor, M.AIRAH; Mikaila Ganado, M.AIRAH; Ania Hampton, F.AIRAH; and Jenny Edwards are some examples of women pioneers who, by virtue of what they did in setting up their own ventures, have become a shining beacon to others of what can be achieved in this industry," says managing principal consultant at DeltaQ Grace Foo, M.AIRAH.
"I'm proud to be one of the founding partners at DeltaQ, who are invested in supporting women in having a face and voice through involvement in professional bodies and lead roles in projects.
"You no longer need to be a middle-aged and balding white man to be a leader. No offence to my many lovely colleagues and mentors who might've fit this description, but this was the truth!"
Ecolibrium: Is the challenge of improving female representation in our related industries a product of girls not being introduced to STEM-related subjects at school, or is it a broader cultural issue?
Kelly: While much of the female underrepresentation in HVAC lies in underrepresentation in STEM, there are also larger societal issues that need addressing.
The dominant culture is still that dad has the career and mum looks after the kids. And often, part-time roles are full-time roles squeezed into fewer days. We need to continue challenging the way things have always been done to forge new paths that make it the norm for women to pursue a career.
Foo: Yes and no.
Broadly within STEM, we've worked hard at fixing problems of gender equality. There is still an obvious gap for hard engineering and trade industries – 90 per cent of construction meetings I attend are still dominated by male builders, electricians, HVAC technicians, plumbers etc.
Gandhi: The problem with the gender gap in HVAC starts well before the hiring process. I see it as two major issues – the first being a leaky pipeline causing women to leave the industry at higher rates, and the second being hiring practices that preference the status quo.
Like other STEM industries, HVAC needs to fix the leaky pipeline of talented and interested women. We will not get more women engineers without more women engineering students, and we won't get more engineering students without more school-aged girls encouraged to pursue their interests in STEM.  It is a complex problem to solve and requires a combination of actions, such as outreach programs in primary and secondary schools, more visible diversity and representation in industry leadership, and men putting in the work to improve diversity.
In relation to hiring practices, here is a lot of research about language used in job ads that discourage women from applying due to how they are written. I have encountered this myself in various ways throughout my career.
I have worked hard to ensure that when we put out job descriptions, we are communicating the right way to attract diverse talent. It isn't easy and you are bound to make mistakes, but I encourage anyone involved in their company's hiring process to do the research and critically assess how to get your message across to all groups, not just [the] usual ones.
Editor: For the sake of clarity, Priya wanted it to be known that when using "women", it stands for underrepresented groups that may include other gender identities, and "men" refers to the majority.
Ecolibrium: Are gender representation targets common?
Kelly: I'm not aware of gender representation targets for hiring within our industry. At NDY we believe people need to be hired on merit rather than gender. I would hope, if there are any targets, that they are focused on ensuring there's reasonable gender representation in shortlists, so that women are at least being considered for roles.
At NDY we have a 20 per cent target of female representation in recruitment shortlists across all job families and a 30 per cent female representation target for our Group Executive.
Foo: I don't believe gender representation targets are common in our industry.
Pacheco Castillo: We are committed to substantially increasing the proportion of women within our leadership roles as part of our 2019 to 2025 Sustainability Roadmap and our 2020 to 2025 Valuing Diversity Strategy. There are currently two female chartered engineers at associate or associate director level in the Australian business. We are also committed to taking proactive recruitment and selection measures to increase the diversity of representation, our recruitment and selection policy outlines some steps to address this.
Hickey: Gender-based targets vary greatly from non-existent to 50/50 depending on each company's strategic direction.
So, what can those in positions of power within the industry do to increase opportunities for underrepresented groups and fix the imbalance?
Atelier Ten associate director Priya Gandhi, M.AIRAH, says as a senior woman in the field, she is regularly asked to provide input on the topic.
"I want to share my experiences and I hope that by increasingly my visibility, I am helping younger women see opportunities for themselves," Gandhi says. "Of course, it is important to hear from women on this topic – no mansplaining please!"
But Gandhi says it is equally important that men put in the extra work.
"For the next International Women in Engineering Day (June 23, 2023), why not ask the men in your organisation to highlight the awesome women they work with, rather than asking only women to record videos or share their experiences?"
"Are you a man who has been invited to speak on a panel with only other men?  Refuse to be a part of a "manel" and tell the organisers why. Or were you in a meeting where a woman made an insightful comment that was ignored, only to be rehashed by a man later to much appreciation? Speak up on her behalf – not because she can't, but because you are her ally. Be an ally."
Ecolibrium: What other industries is HVAC competing against, and what makes those industries a more compelling choice for professional women?
Foo: Sustainability is an obvious one.
In the built environment, HVAC can be anywhere from 40 to 70 per cent of energy consumption. So, if you understand HVAC systems, sustainability roles – be it client-side, consultancy, or government – is the path of least resistance, with greater benefits, better work-life balance and always credits a woman's abilities, voice and opinions with greater respect.
Hickey: In the construction industry, we have seen initiatives in high schools emerge from plumbing, carpentry and electrical industry representatives (traditional trade-based careers). Making young women aware of opportunities in the HVAC industry is the first step to encouraging them to enter the industry.
Kelly: In terms of engineers, there are a vast number of industries and engineering disciplines that compete with HVAC for professional women. One of the great things about being an engineer at NDY is that we can transfer from one discipline to another relatively easily, building our skills and experience.
I started out in fire engineering, before moving to mechanical, sustainability and finally asset performance, where I've been for the last seven years.
Ecolibrium: Does the HVAC and related industry do enough to promote itself to secondary and tertiary students?
Foo: No. We need to form partnerships with the Education Directorates and local schools so we can tell young women what we do on a day-to-day basis and normalise the role of women in HVAC.
We can learn a lot from Robogals and Engineers Without Borders in this respect.
Kelly: The industry could definitely do better.
The HVAC consulting engineering space is changing a lot, especially with the impact of climate change and smart building technology. It's important that we continually promote the nature of the work we do to secondary and tertiary students, showing its diversity and the many opportunities it offers.
Hickey: NAWIC encourages proactive education of primary and high school students about career paths in all areas of the construction industry, including HVAC. Awareness of the roles available is an early hurdle for our industry, and children are not always aware or understand the roles and opportunities available to them in the construction industry including specialist areas such as HVAC.
Despite the HVAC industry traditionally being male-dominated, Cundall Australia HR manager Elisa Pacheco Castillo says there are several things the industry can do to encourage more women to enter the field.
Education and training
Encouraging more women to enrol in STEM degrees and providing them with the necessary training and work experience placements to excel and grow.
Mentorship and support
Offering mentorship programs and support for women within the industry can help build confidence and provide guidance to navigate some of the main challenges. Having a woman as a role model also inspires someone to see what they themselves can become.
Diversity in the industry promotion
Showcasing more women from a range of backgrounds across age, ethnicity/culture, and lifestyle in the HVAC industry via events, blogs, media articles etc.
Equal pay and equal career opportunities
Working towards closing the gender pay gap – ensuring women are compensated equally and are offered the same career progression pathways as their male colleagues. And being particularly cognisant of minimising the impact of parenthood and/or maternity leave on a woman's career prospects.
Flexibility at work
Ensuring working arrangements facilitate effective balance between work responsibilities and any caring responsibilities including raising children and/or caring for family members such as a partner with disability, aging parents or a family member undergoing health treatment. This emphasis on balance applies to staff of any gender, and is part of the shift required in not assuming that only women may have these responsibilities.
"Often professional services and STEM fields have an expectation of 'always on' and a culture of constant overtime," says Pacheco Castillo. "It is in the interests of both gender equity and overall workplace health and wellbeing that we consciously address this."
Ecolibrium: Has the COVID-19 pandemic, and the changes since, played any role – positive or negative – on the number of women entering the industry?
Gandhi: I've read studies documenting how the pandemic decreased the number of women participating in the workforce and in academia.
Foo: I don't think COVID impacts are gender specific. It is a positive thing that flexible working arrangements and implicitly, trust in our workforce, has burgeoned. I have many colleagues and friends who are fathers in the HVAC industry who can now be part of their children's lives, allowing their spouses to continue to pursue their professional career.
Kelly: Increased flexibility following COVID, and the ability to effectively work from home, has made a big impact on the workplace as a whole. Flexibility has always been a policy at NDY and COVID just normalised it.
It's now easier for women with children to work, allowing both parents to work flexibly, share the domestic duties and look after children. I know, in my experience, my husband is now able to pick up kids from school and take them to activities one or two nights a week, allowing me to work a full day in the office.
Pacheco Castillo:  By normalising hybrid, remote and flexible work across most of the Australian economy, the pandemic has made it more realistic for women to negotiate effective flexibility with employers. It can't be said anymore that being in the office all day, every day and for long days is the only way a STEM career can progress.
Employers like Cundall who offer flexible and hybrid working as standard will have an advantage in recruiting and retaining talented women, or anyone who needs to balance work and personal responsibilities effectively. It's also worth noting that the flexible/hybrid work model is also often more inclusive for people with some forms of disability and for some neurodiverse persons.
Hickey: Post-COVID, many Australians struggle with sharp increases in the cost of groceries, energy, fuel and housing. NAWIC is calling attention to the disproportionate effect the persistent pay gap has on Australian women in construction.
An important part of promoting gender equality at work is allowing flexible work practices, portable long service leave, and carers leave. This includes supporting men as carers and parents, and making flexible work OK for them too. We can do this by providing affordable childcare with hours of operation aligned to construction workplaces and by creating job-share arrangements, including staggered shifts that make construction industry roles part time and more flexible for women and carers.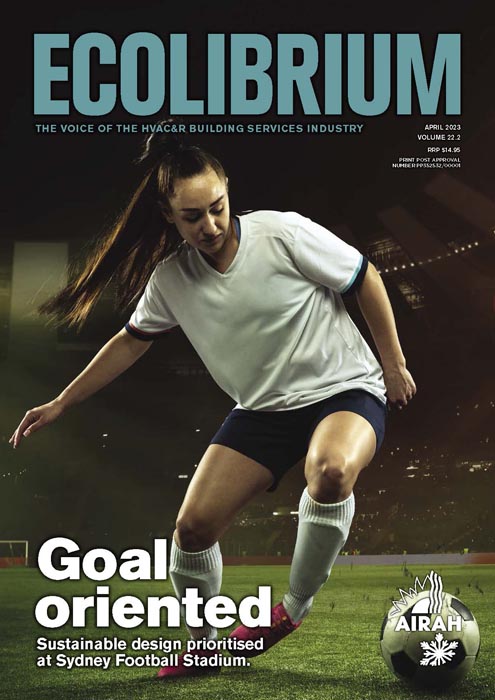 This article appears in ecolibrium's APRIL 2023 issue
Want to read more?
AIRAH MEMBERS
Click here to view our archive of issues and features.
NON-MEMBERS