How do we unlock geothermal energy potential in high-performance buildings? Plumbing Industry Climate Action Centre CEO Shayne La Combre has some thoughts.
Geothermal is an abundant, renewable energy source. But the theoretical heat potential that exists underground must be proven, and gaps in our predictive analysis have held us back from embracing geothermal at speed and scale. How can we be sure geothermal energy systems deliver? A research collaboration between PICAC and Deakin University set out to answer this question, using one of Australia's most advanced sustainable buildings as a test case. 
When the Plumbing Industry Climate Action Centre (PICAC) was established in 2009, our goal was to help HVAC specialists and plumbers to stay ahead of the sustainability curve. As a unique collaboration between key industry stakeholders in the plumbing, fire protection and HVAC industries, we saw an opportunity to bring training to life in buildings that act as living laboratories.  
Our buildings make a clear statement about PICAC's commitment to sustainability and to our role showing the industry where green technology can take us. Our first training centre in Brunswick was an early lighthouse project for the Green Star rating system, and pushed best-practice benchmarks for water-sensitive design. The more recent Queensland Apprentice Centre at Beenleigh – backed by a $20 million investment from the Queensland government – is home to the industry-first Hydrogen Centre of Excellence. 
Today, our five campuses in Victoria, New South Wales and Queensland deliver more than 330,000 hours of training to 7,000-plus apprentices and post-trade learners each year. PICAC's buildings anchor our industry training, but they are also test beds for innovative research projects that can help Australia move more rapidly towards net zero emissions.   
Drilling down
When it opened its doors in September 2019, PICAC Narre Warren was the first net zero energy education and research facility in Victoria. The $35 million building uses a combination of renewable technologies, including geothermal and solar, to deliver net zero emissions in operation.  
PICAC Narre Warren was also one of the first buildings in Australia to use foundation screw piles for geothermal energy generation. Built on a flood plain, the building's design – and specifically the structure of its foundations – required a pile system. Drilling 220 geothermal energy wells at varying depths could, therefore, be achieved relatively cost-effectively. Energy modelling found the supply of geothermal and solar energy generated onsite would meet the demands of the entire building. 
But how much geothermal energy does the building actually generate? And how do we monitor this over time to optimise our systems? With the support of funding from the Australian Renewable Energy Agency (ARENA) and others, we asked Deakin University to find out.
"

Australia's geothermal energy generation potential is enormous.

Geoscience Australia

suggests that just 1

per cent

could supply Australia's total energy requirements for 26,000

years

"
Geothermal unearthed
Geothermal technologies use the Earth's natural internal heat to generate energy. Some countries generate significant amounts of geothermal energy, such as Iceland, where around a quarter of total electricity generation is from geothermal sources. In comparison, Australia's Clean Energy Council estimates that geothermal energy accounts for less than 0.1% of our total clean energy generation. 
Australia's geothermal energy generation potential is enormous. Geoscience Australia suggests that just 1 per cent could supply Australia's total energy requirements for 26,000 years. Despite this, the uptake of geothermal energy in Australia is limited, and PICAC Narre Warren is one of a handful of buildings to use geothermal energy.  
Ground-source heat pumps (GSHPs) are more energy-efficient than other HVAC technologies and are cheaper to operate. GSHPs work by transferring ground thermal energy into a building by way of ground heat exchangers in boreholes or trenches. The cost of drilling these trenches can make GSHPs more costly than traditional systems.  
Government incentives could play a role in making GSHPs a more competitive solution. But deploying GSHPs at scale also demands precise performance simulation. Everyone from building designers to owners, system installers to accreditation bodies, need to know how much geothermal energy is being harvested. And yet, there is no clear global set of principles for the design and operation of GSHPs.  
Flaws in well-known simulation tools prevent us from accurately assessing ground thermal performance or the interaction with ground heat exchangers. There is no global framework to guide monitoring – and monitoring of long-term performance is essential to avoid potential problems, such as insufficient thermal energy or frozen pipes.  
"

There is no

global framework to guide monitoring

– and monitoring of long-term performance is

essential to avoid potential problems

"
Solutions at scale
Led by senior lecturer Dr Hong Xian Li, Deakin's research team referred to the US National Renewable Energy Laboratory guidelines and developed a customised sensor-based monitoring system. We then monitored the GSHP system over July 2021, a typical winter month in Victoria.  
The research team used a reliable approach to simulate thermal energy generation and compare that with the actual monitored data from the building. They found a small difference in gross thermal energy production, with 2.2 per cent less energy generated than what was modelled and a smaller difference of 0.92 per cent in inlet temperature.  
Deakin University's research, published in a Nature Portfolio journal, Scientific Reports in January, advances the industry's knowledge in geothermal monitoring and simulation, and can help us make more reliable evaluations of geothermal energy. 
This research lays a foundation for the industry to implement geothermal energy for sustainable buildings. We hope it also lays down a challenge to our peers and partners across the industry, and gives the industry greater confidence that geothermal energy can translate into high-performance operations.  
The possibilities are only limited by our imagination, so let's be open to opportunities that allow us to experiment, innovate and build the skills to deploy the right solutions at scale.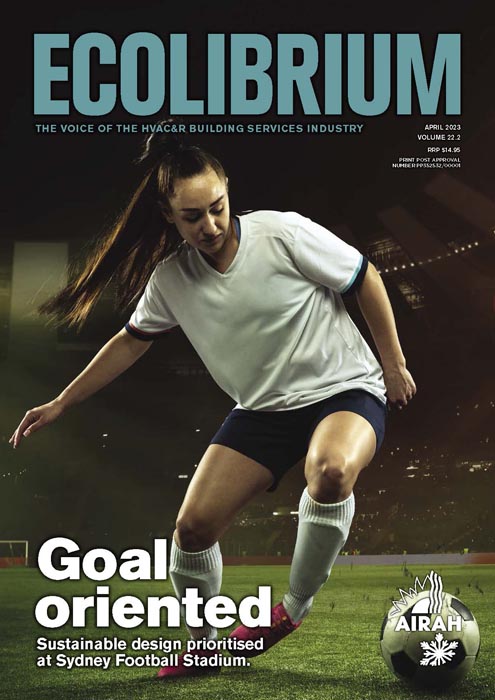 This article appears in ecolibrium's april 2023 issue
Want to read more?
AIRAH MEMBERS
Click here to view our archive of issues and features.
NON-MEMBERS