An innovative research project initiated by the City of Melbourne has increased energy efficiency in office buildings while also decreasing COVID-19 transmission. Louise Belfield reports. 
The City of Melbourne is facing a twofold challenge. The first is to achieve zero carbon emissions by 2040. The second is to help save small businesses by attracting up to 40,000 office workers back to the CBD following COVID-19 disruptions. At first glance, one seems incompatible with the other. 
Data from the Property Council of Australia shows Melbourne's CBD occupancy rate dropped from 49 per cent to 38 per cent in July 2022 – far lower than in all other capital cities. Understandably, retailers in Melbourne's CBD are desperate for more workers to return to offices to help boost trade. Melbourne Lord Mayor Sally Capp says unless the return-to-office rate improves, business owners are "running out of choices" with many "on their last legs, trying desperately to stay alive". 
But how to convince workers that it's safe to go back into the water? 
A breath of fresh air
Enter the Building Retrofit for Efficiency, Air Quality, Thermal Comfort and Health (BREATH) project – a research pilot project initiated by the City of Melbourne in collaboration with Cbus Property, the University of Melbourne, A.G. Coombs engineering, SEED engineering, Aurecon, Cundall, and Westaflex Australia. 
The aim of the project was to test different air conditioning and ventilation rapid retrofit options that could be used to reduce the risk of aerosolised viral spread, particularly within a post-COVID return-to-offices context, while also considering the energy, cost and thermal comfort impacts of the proposed solutions. It was conducted in an office space donated by Cbus specifically for the project.  
The pilot test evaluated three different ventilation systems on the first floor of the vacant CBD building over three months. These were:  
Displacement ventilation air conditioning

 

In-ceiling HEPA air filters

 

Natural airflow through open windows. 

 
"Both retrofit solutions were compared against the baseline scenario of utilising openable windows in conjunction with the base building's conventional mixed-air overhead air conditioning system," explains Andrew Nagarajah, senior engineer of sustainability at building services and HVAC specialists A.G. Coombs. 
"Here, the openable windows were operated in accordance with ASHRAE recommendations as the 'conventional' solution (in the context of the project) to minimising aerosolised viral spread." 
Project findings
Cundall associate Amin Azarmi, M.AIRAH, says all three options demonstrated improvements for reducing airborne virus spread compared to business as usual. 
"The key finding was that it is possible to retrofit improvements to ventilation systems that will improve worker safety and indoor air quality while also ensuring energy efficiency," he says. "The research also showed the assumption that opening windows would be a suitable solution counter-intuitively increases energy consumption by between 10 and 20 per cent, as the HVAC system needs to address resulting thermal comfort issues." 
In summary, the project found: 
All three ventilation systems reduced the potential transmission of airborne viruses when compared to standard ceiling-based air conditioning, improving safety for office workers

 

Displacement ventilation air conditioning – which supplies air from floor level –  was the most effective and energy-efficient system tested, reducing COVID-19 transmission by 83 per cent, while also reducing energy consumption by 20 per cent

 

Displacement ventilation is the most expensive to install, but there are no additional ongoing maintenance costs

 

In-ceiling air filters reduced virus transmission by 49 per cent but resulted in a minor increase in energy consumption

 

Opening windows reduced virus transmission by 53 per cent, but increased energy use by up to 20 per cent with seasonal temperature variations

 

Opening windows is not available to all office buildings and is not always a viable solution due to Melbourne's climate.

 
BREATH project key outcomes
System

 

Impact on transmission

 

Installation cost per m

2

 

Energy use – cost per m

2

 

Changes to energy use and NABERS

 

Opening windows, standard heating, ventilation and air conditioning operations

 

Approximately 53 per cent less infections 

 

Nil

 

Costs $6/m

2

 per year 

 

10–20 per cent increase in energy use, loss of up to ½ NABERS star 

 

In-ceiling air cleaner, HEPA filtration units

 

Approximately 49 per cent less infections 

 

$28/m

2 

with maintenance costs of $1.5–3/m

2

per year

 

Saves $4.21/m

2

per year 

 

2 per cent increase in energy use, no impact on NABERS 

 

Displacement ventilation air conditioning

 

Approximately 83 per cent less infections 

 

$170/m

2

with no additional ongoing maintenance costs 

 

Saves $10.67/m

2

 per year 

 

10–20 per cent reduction in energy use, addition of up to ½ NABERS star 

 
Making the invisible, visible
"The challenge with understanding airborne infection is that it cannot be seen, and so is forgotten or ignored," says Peter Mathieson, F.AIRAH, from Aurecon, who peer reviewed the project, as well as reviewing the team's approach onsite, and the final report. 
"BREATH provided a visual appreciation of infection movement in a space, and a comparison of the effectiveness of its removal, building on an important body of previous research work. This visualisation is a vehicle to improve our understanding of the science of successful space air delivery and exhausts systems and so funding of further research an important opportunity for education of the HVAC industry." 
Cundall's Azarmi says the project provides the necessary evidence that base contractors, consultants and HVAC professionals can use to improve the quality and performance of air conditioning and ventilation in cost-effective ways.  
"By giving clear metrics on the relationship between equipment type, equipment configuration, energy requirements, indoor air quality and operational costs, technicians and consultants can present clients with stronger business cases for retrofits."  
A.G. Coombs' Nagarajah says HVAC&R technicians, engineers, consultants and contractors should be willing to question directives for conventional indoor air quality improvement solutions – such as simply increasing outside air rates, improving filtration arrestance or retrofitting air disinfection devices. 
"They should also feel confident to cite research such as the BREATH project to landlords and facility managers," he says, "for their consideration of alternative air distribution solutions that could also reduce operational energy consumption."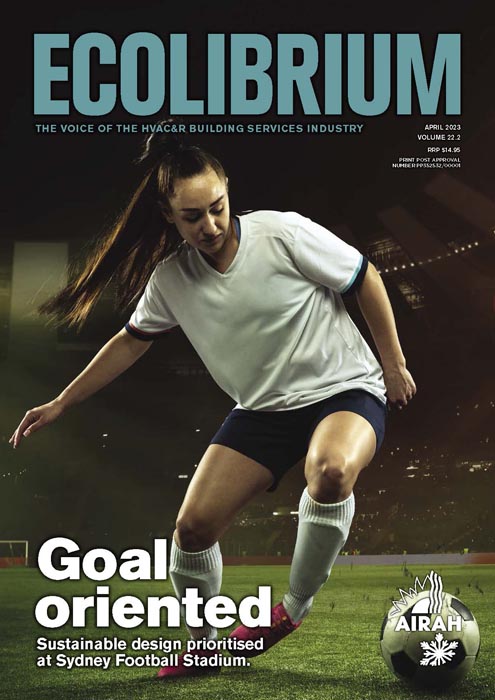 This article appears in ecolibrium's APRIL 2023 issue
Want to read more?
AIRAH MEMBERS
Click here to view our archive of issues and features.
NON-MEMBERS