An impending lease expiry, predicted growth in headcount and a desire to improve the workplace experience of its staff led SEEK to look beyond its existing office space and set out on a path towards its own, custom-designed environment. Sean McGowan reports on that seven-year quest, which led to a high-performing, comfortable and naturally lit space. 
"SEEK's requirement was for a workplace that reflected its people – a warm, welcoming and connected space"
A recognised name in online employment marketplaces, SEEK was founded in Melbourne in 1997, with its online platform launching soon later. Twenty-five years on, it has grown to become a Top 100 ASX-listed company.  
Operating in 10 countries across the Asia-Pacific region and Latin America, SEEK employs more than 3,500 people worldwide – about 1,200 of whom are employed in Melbourne. 
The majority of those staff are based at the company's new $150 million headquarters in Cremorne – an emerging tech precinct just a few kilometres east of the CBD. 
The base building, which occupies a 6,734m² site at 60–88 Cremorne Street, was designed by Hassell and constructed by Built for developer Cremorne Properties. 
Instantly recognisable due to its gabled twin peak, Hassell's design reflects its vision of a "contemporary warehouse" that references the rich industrial heritage of the area.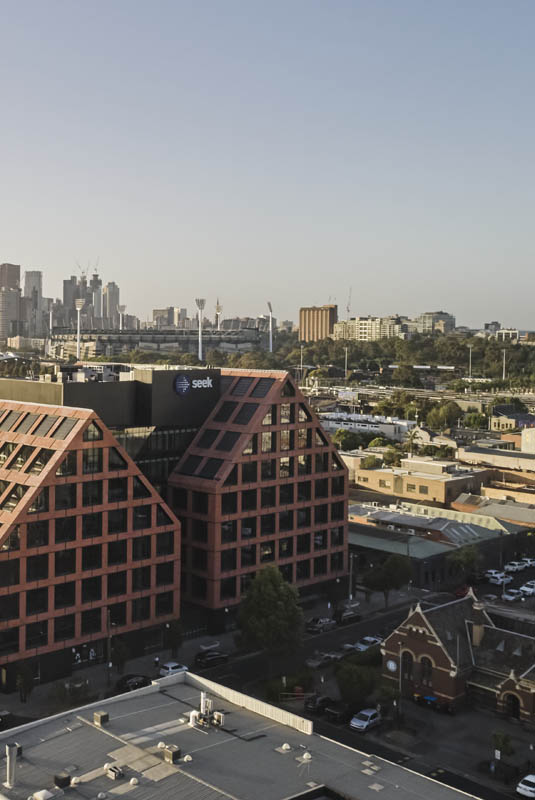 The new SEEK campus is in the emerging commercial district of Cremorne, on the edge of Melbourne's CBD.
The 20,000m² PCA A-Grade commercial office building features winter gardens, a cantilevered feature staircase, a roof-level terrace, end-of-trip facilities, and a vast atrium that reaches all seven storeys. 
Yet it is the future-focused workplace environment created within this that really makes this building stand out from the crowd – and, in a post-COVID world, is drawing SEEK staff back to work in the office.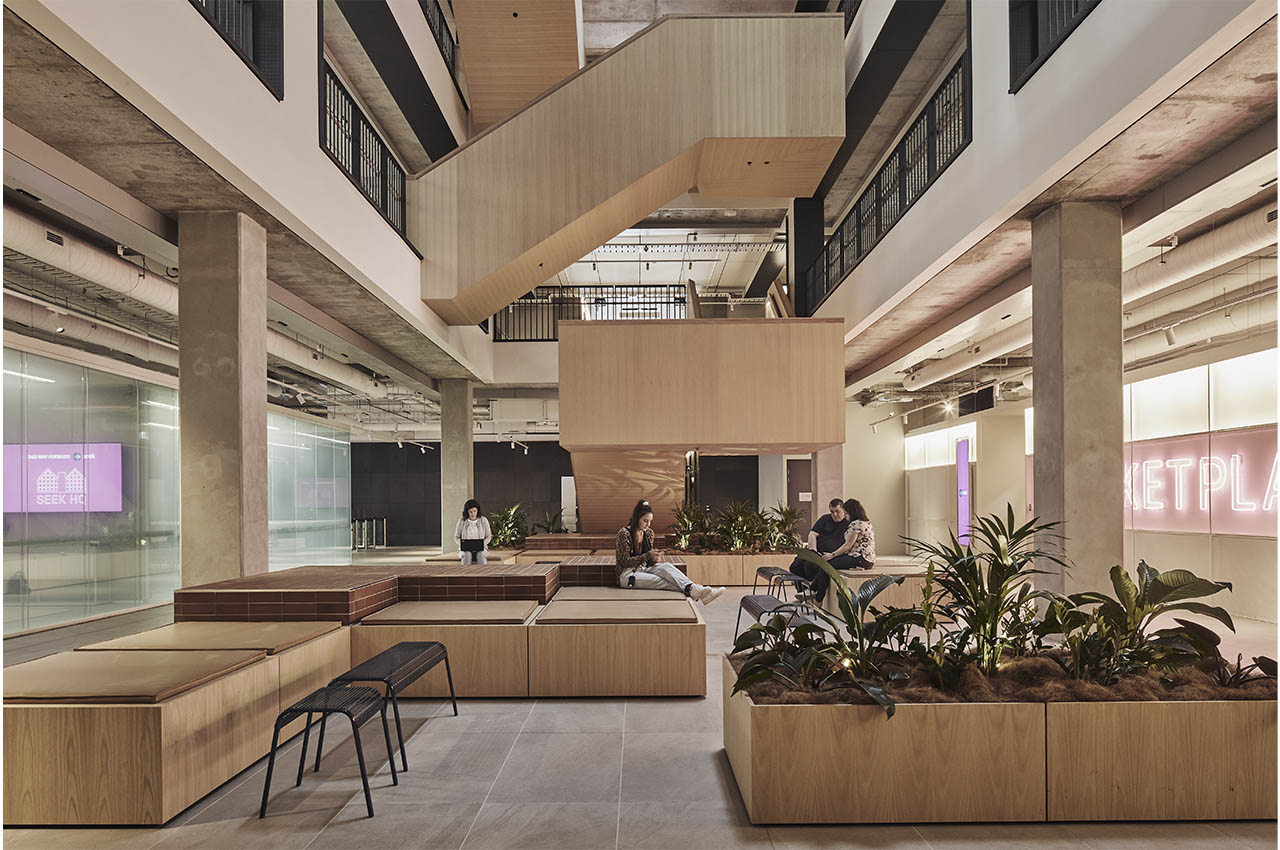 No ordinary space
When SEEK began exploring options for new office space in 2015, it did so on the back of an impending lease expiry on the 8,000m² tenancy on St Kilda Rd it had called home for 13 years. 
Having predicted strong growth in its Melbourne-based team, SEEK's high brass had wanted to provide an improved workplace experience that reflected the company's identity and character. 
Management soon reached the conclusion that a custom-designed space was what it wanted, and set out on a site-selection process for new premises. 
This led to Arup being engaged in 2015 to help explore future workplace options, and undertake briefing and benchmarking. This work ultimately informed a developer brief, which included input across building services, sustainability, security, communications, acoustics, audio visual, fire engineering and structural engineering. 
"SEEK's requirement was for a workplace that reflected its people – a warm, welcoming and connected space," says Nick Adams, M.AIRAH, associate principal at Arup. 
"The space needed to be flexible for future change, provide a healthy environment, and assist in attracting and retaining the best talent while being capable of expansion or retraction." 
Working with SEEK, Hassell and CBRE (the fitout project manager), Arup helped define the building's key "bones".  
These included large, contiguous, 4,000m² floorplates for connectivity and generous 4.1m floor-to-floor heights for improved daylight, with exposed soffits to allow for greater volume. An underfloor air distribution system was recommended to provide excellent indoor air quality while enabling full flexibility in cabling layout and potential future upgrades. 
A central, vertically connected volume to maximise visual connection and daylight penetration was also included in the brief. 
"SEEK was looking for the best possible indoor environment quality for its people," says Adams. "In particular, it was attracted to access to natural light, high levels of fresh air, openable windows and/or naturally ventilated spaces. 
"Innovative or creative ways to incorporate these aspects were encouraged." 
The sustainability strategy for the building also responded to this desire for an excellent indoor environment quality for staff. It is also designed to minimise natural resource consumption in the building's operation. 
"Sustainability rating tools were selected only where they demonstrated real benefit and tangible confirmation of building performance," says Adams. 
With this in mind, the requirements the tenant team put to the developer market included 5 star Green Star Design and As Built (v1.1) ratings, a 5 star NABERS Base Building and Energy rating, and 4.5 star NABERS Indoor Environment rating.  
Over six sites were assessed for suitability, with Cremorne Properties' proposal at Cremorne ultimately determined as the preferred location and building design. 
"During the accommodation search, Arup's insightful commentary on the pros and cons of each proposal was a critical factor in our site-selection decision making, including input on environment quality, maintainability, flexibility to future change, security, staff experience and fire safety," says Brigid Carey, group head of workspace strategy at SEEK. 
The selection of the site led to a separate Arup team being engaged by Cremorne Properties to provide base building services, fire engineering, vertical transport, façade and ESD consultancy. 
As work commenced on the construction and fitout of SEEK's future headquarters at Cremorne, the company began to outgrow its existing St Kilda Rd premises.  
This led to Arup undertaking a redesign role to provide short-term capacity that would support growth in staff numbers and improve amenity. Targeted building upgrades were also undertaken to increase the provision of outside air and cooling capacity, as well as improvements to lighting and acoustics.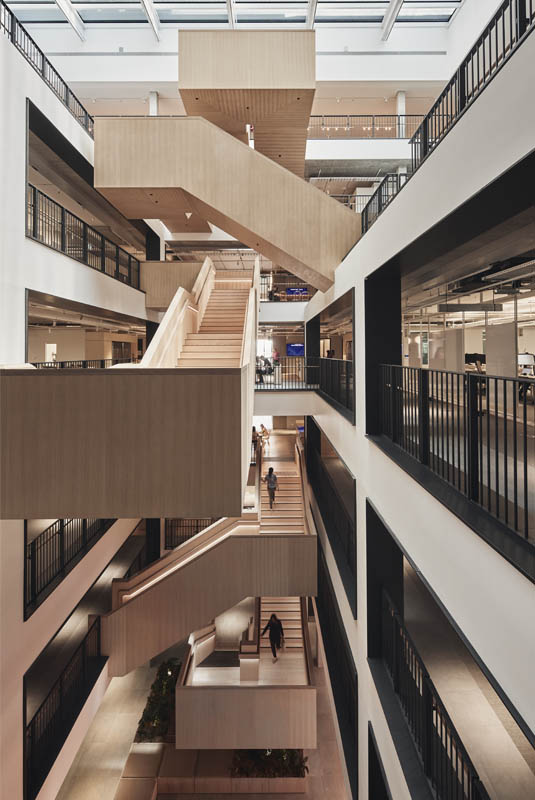 The seven-storey atrium brings daylight deep into the space.
Airtight
The building's façade has been designed to be airtight far beyond what is typical practice, thereby reducing unwanted air infiltration and saving energy. 
Arup says the building achieved an airtightness of 6.1m³/hr/m² – three times better than Green Star Design and As Built minimum requirements.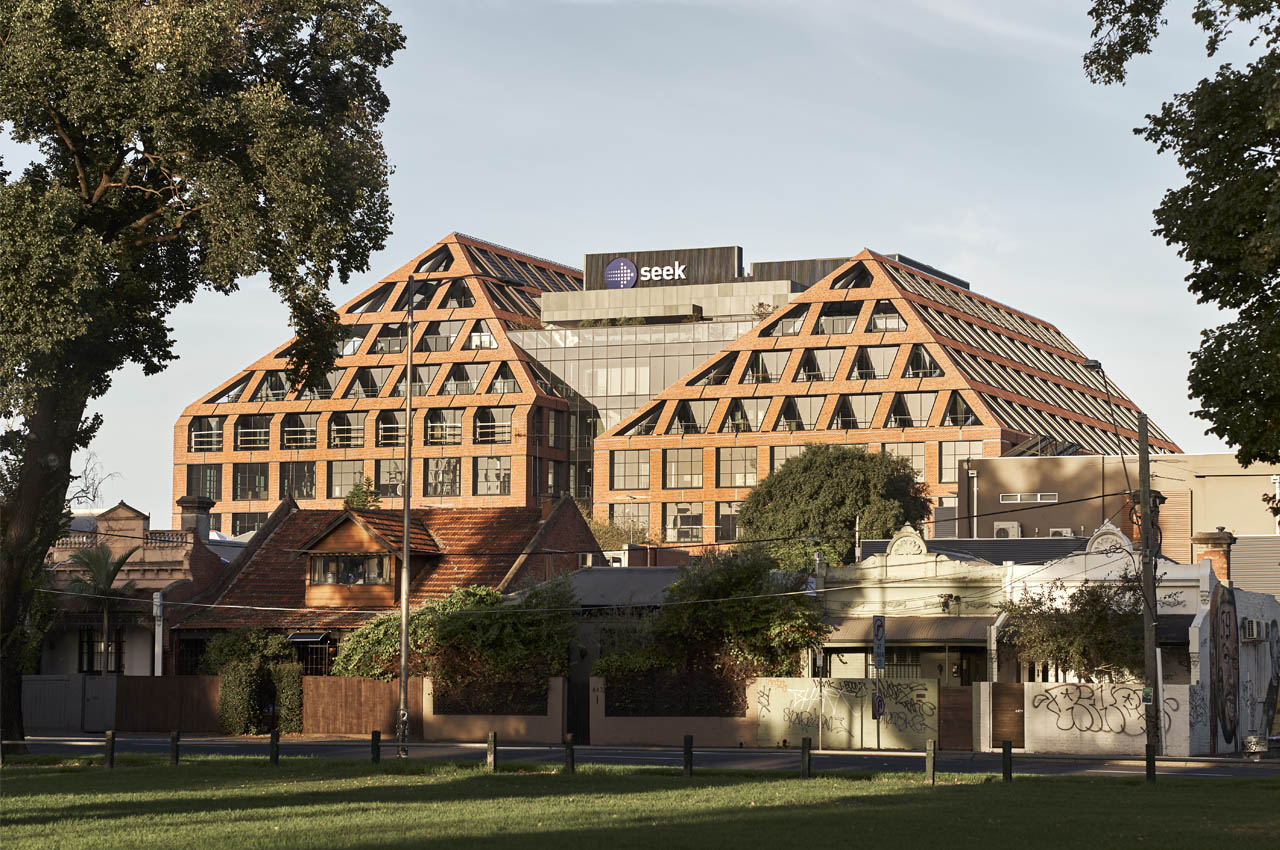 Innovative solar shading manages solar heat while avoiding glare and overheating.
Outperforming the brief
In response to the indoor environment and sustainability brief, the design team developed a design that ultimately led to the project outperforming the brief. In fact, expectations are that it will earn ratings of 6 star Green Star Design and As Built (v1.1). The project has achieved 6 star NABERS Indoor Environment and 5.5 star NABERS Energy ratings. 
A key feature of the building design that contributed to these ratings include the seven-storey atrium, which brings daylight deep into the space. Another feature is innovative solar shading provided to the roof glazing to manage solar heat entering the atrium, while avoiding glare and overheating. 
"With a void of 235m² at its largest, the generous proportions bring visual connection and transparency between the floors, and allow a means of connection that encourages walking rather than taking lifts to move vertically through the space," says Adams. 
Natural light is also a key feature of the skygarden workspace space on Level 6. Perimeter spaces, meanwhile, comprise lighting that dims in response to ambient light conditions, thereby minimising lighting energy consumption. 
A careful façade design has enabled the building to achieve a daylight autonomy rating of above 50 per cent for 80 per cent of the year. This means that more than half of the primary spaces will be adequately lit with daylight for 80 per cent of occupied hours. 
T

HE DEVELOPER BRIEF

– AN EXTRACT
"The new SEEK workplace should be a people-focused place. It should represent the interests, character and identity of SEEK's current and future workforce. As such, it should be a warm, welcoming, creative, engaging, dynamic, inventive and practical place that encourages fulfilling lives. It is NOT an ordinary office building. It is a place with character, authenticity and meaning. It needs to be a place that people will love."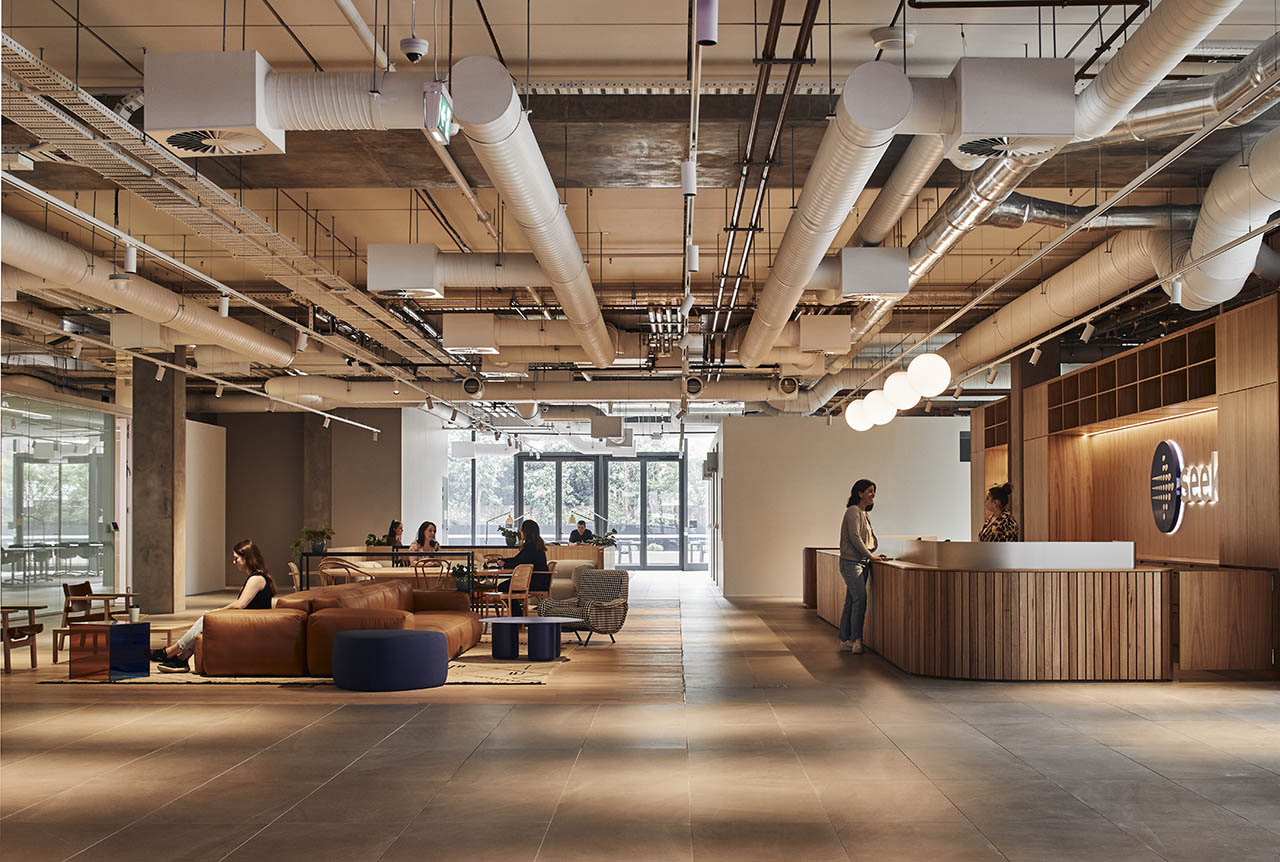 Air is returned from rooms at ceiling level.
MULTI

DISCIPLINARY BENEFITS
According to Arup's Nick Adams, M.AIRAH, Arup's role on the base building and tenant side across multiple disciplines allowed for multiple benefits. One of these was a better integration across disciplines and across contractual demarcations.  
For example, he says the seven-storey atrium was a key requirement for SEEK in order to maximise visual connection through the workplace, connectivity of staff, and natural light deep within the building.  
"This required application of holistic, performance-based fire engineering to support the provision of fully open void edges at all levels with fire curtains, solar and daylight modelling – and control to manage heat loads, and acoustic control to minimise distracting noise from the stairs," says Adams. 
SEEK also introduced a requirement for a 400-person event capacity space on Level 6 during the site phase, which exceeded the deemed to satisfy (DTS) fire egress capacity. Arup developed a fire engineered strategy providing a pressurised lift lobby, carefully timed stair pressurisation controls, and a dedicated fire evacuation lift to enable this.  
"The integration of the sustainability and mechanical strategies led to the selection of higher floor-to-floor heights, the central atrium, the UFAD system and the winter garden approach," Adams says. " It was an approach that was made far more effective by collaborative arrangement of all disciplines under the one roof." 
UNDERFLOOR DELIVERY
The air conditioning system selected for SEEK's new headquarters is an underfloor air distribution (UFAD) system, which Adams says provides excellent indoor air quality, better air distribution, and enables future flexibility for change through the raised floor system. 
"Outlets are at floor level and are adjustable to allow users to manage temperature and air flow locally, enhancing thermal comfort," he says. "Air is returned from rooms at ceiling level, taking advantage of the natural buoyancy of warm air. This helps remove the heat produced by office equipment and occupants, as well as removing air contaminants from the office space more effectively." 
The supply air temperature in cooling is also higher than an overhead system (around 15–16˚C), therefore economy cycle can be used more often, providing a double benefit of more outside air and less mechanical cooling.  
Indeed, the UFAD system ensures that for a large portion of the year, it will provide 100 per cent fresh air under an economy cycle. 
The system is served by central, economy-cycle air handling units (AHUs) located in basement and Level 7 plant areas, which are zoned to serve the perimeter and centre zones. 
Air distribution to floors is achieved via risers on the east and west cores of the building. Local underfloor variable air volume (VAV) systems supply conditioned air to occupied areas on each floor via floor voids that are zoned using underfloor baffles. 
Air is delivered to occupied areas via swirl-type floor diffusers.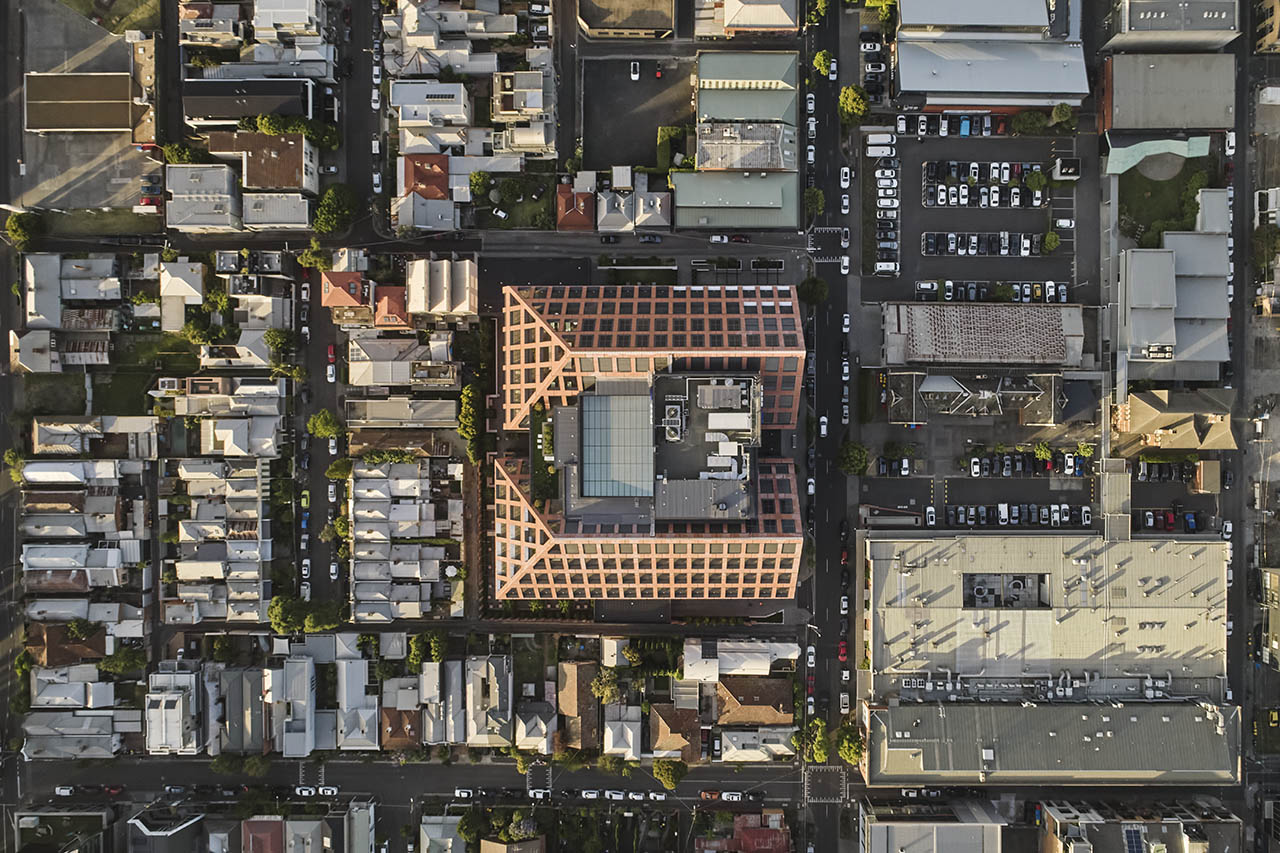 Despite being a historic area that has played a pivotal role in Melbourne history, Cremorne only officially became a suburb in 1999.
LEARNING

LESSONS
Associate principal at Arup, Nick Adams M.AIRAH, shares some of the lessons learned from the design of the SEEK headquarters at Cremorne. 
Integration

 preferred
"Due to timing factors, the building was largely delivered as a warm shell, with some specific integrated elements. This meant that the base building contractors needed to commission the UFAD system, including pressure testing of the raised floor to demonstrate compliance with the brief. The fitout contractor then needed to pull up the raised floor, install tenancy cabling and services modifications, then reseal the floor, leading to double handling. 
"Ideally the fitout would be delivered in an integrated fashion. However, this does mean that the tenant is locked in earlier than usual to key decisions of layout, head count and technology, which can lead to some compromises in the fitout. 
"There is no easy answer to this, and I would recommend that the balance of integration and non-integration needs to be carefully considered. We were also fortunate to have the services of an independent commissioning agent across both tenancy and landlord designs. This was very important to take a holistic view to the commissioning, working alongside both Built and Buildcorp." 
Baked-in design

 
"The high ceilings, exposed soffits, central void and high–performance façade make a substantial impact when you are in the building, giving a sense of volume, light, space and connection. These are key success factors for the project, and it was really important to bake these into the design from the outset with a clear brief."  
Strong relationships

 
"A relationship based approach to the project was so important. There were many challenges along the seven–year journey – not least a global pandemic – and all members of the client, development, design and construction team worked together for the benefit of the end project, making it a really enjoyable project and successful end result."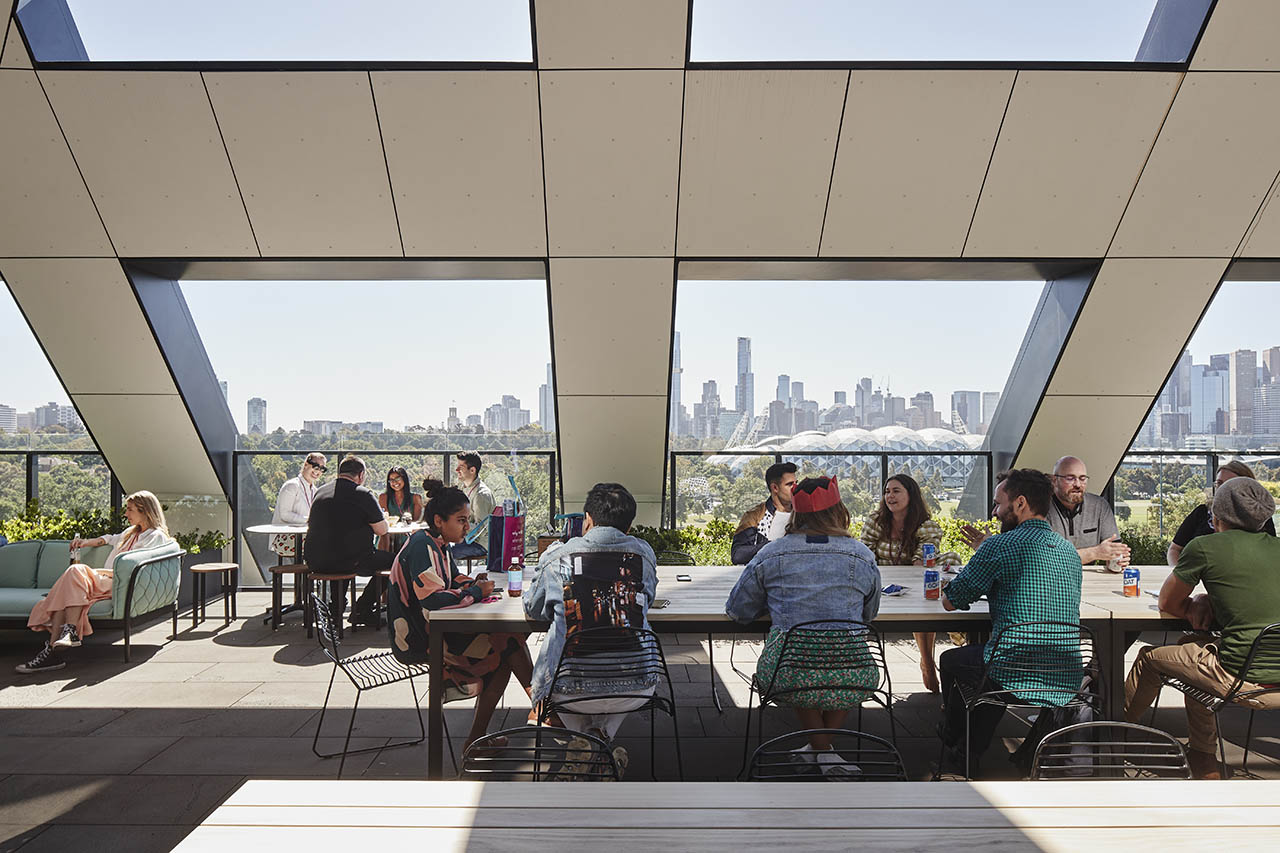 Fantastic light and views are a feature at SEEK HQ
Future focused
In terms of flexibility, the raised floor void provides an easily accessible service plenum for power and communications cabling, enabling future changes more readily than an overhead system.  
Return air is collected at high-level return-air branches from the east and west cores, and subsequently distributed via risers/shafts to the plantrooms and so ducted back to the AHUs. 
The system also features CO2 sensors in the spill path, while the AHUs have minimum outside air dampers that modulate to provide demand-controlled ventilation to the floors. 
Adams says UFAD systems are often difficult to use in commercial buildings for a variety of reasons, including the requirement for a higher-than-normal floor-to-floor height. The central air plant and risers required also take up more space due to the lower delta T on the air-side supply air temperatures. 
"UFAD systems are harder to integrate … when the building cooling load is dominated by façade solar loads," he says.  
"This building was unique, however, in that the floor plate is very large, and the façade performance excellent, so the average cooling load was quite low. The building was not as height-constrained either – being on the edge of the CBD – enabling the 4.1m floor-to-floor heights that help the stratification effect of the UFAD."  
The site location, just beyond the fringe of the CBD, also provided opportunities to the design team that are not always available. 
Fresh air to the building is increased 50 per cent above typical office design to provide better air quality and ventilation effectiveness. Meanwhile, 3,000m² of wintergardens are integrated across Levels 1 to 5 – representing a significant proportion of the building. 
"The air is cleaner in the suburban location, which allowed us to integrate winter gardens onto every level from Levels 1 to 5," says Adams. "These allow staff to open windows directly to the outside for a better connection to the outdoors and to provide an alternative work setting." 
Air conditioning to these areas is turned off automatically when the windows are opened to further reduce energy consumption. 
The office space located on the ground level is served by dedicated minimum outside air and recirculating four-pipe fan coil units (FCUs). The atrium is served by an economy cycle AHU located on Level 7. 
Chilled water is provided by two 865kW variable-capacity, centrifugal, magnetic-bearing water-cooled chillers located in the basement chiller plantroom. This chilled water is distributed via a variable primary pumping configuration.  
The condenser water system consists of two 1340kW base building cooling towers located on the Level 7 mezzanine. This includes both base building and tenant condenser water requirements. 
Heating hot water is generated by two 600kW gas-fired non-condensing boilers located in the Level 7 HHW/DHW plantroom. 
"With the design for this system completed seven years ago, natural gas heating was business-as-usual," says Adams. "This would now be provided as an all-electric heating system [if we were designing it today]." 
A 40kW rooftop solar PV array provides 4.4MWh of electrical energy each year, offsetting 6 per cent of the building's total energy consumption.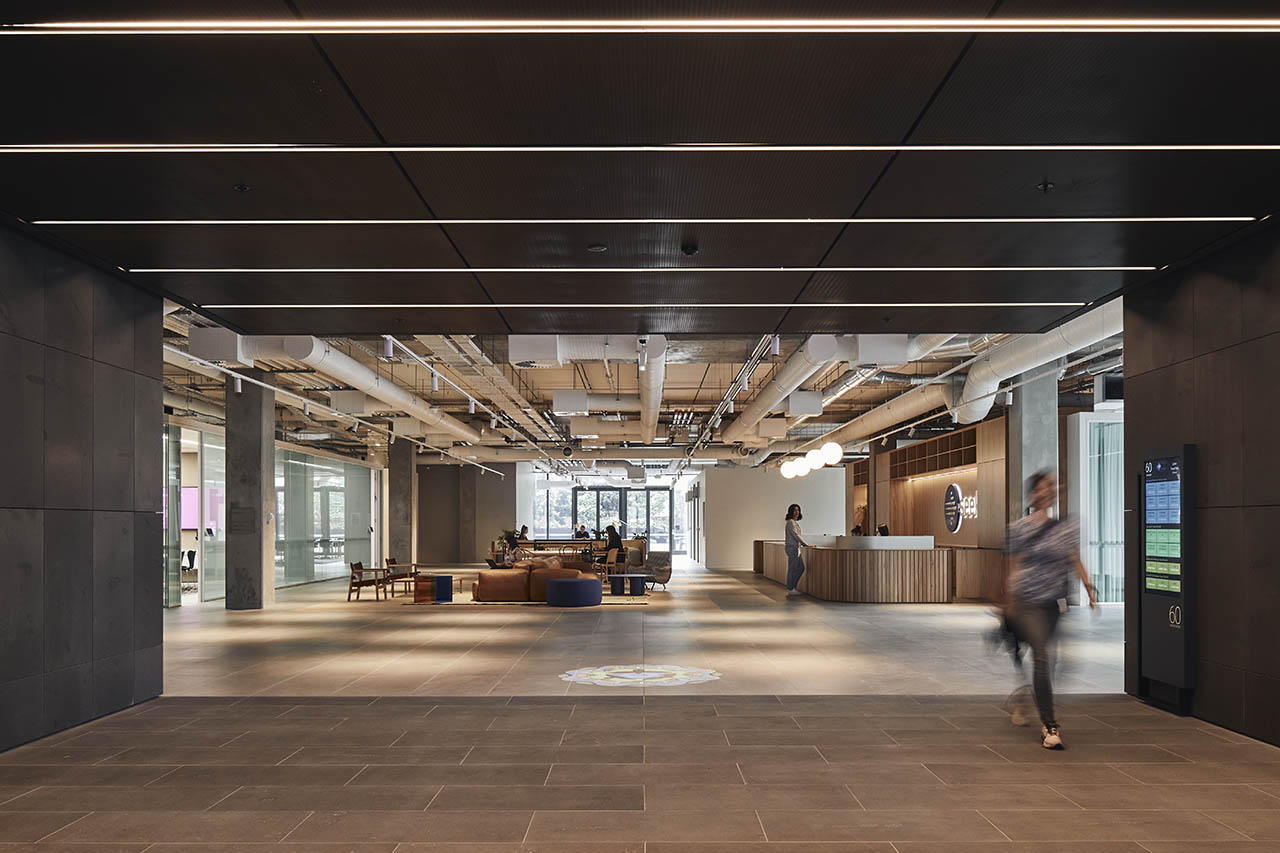 The floorplans are wide, accommodating and flexible.
Covid Impacts
The base building form and infrastructure enabled the workplace design to take full advantage. 
Included in the fitout is a fully reconfigurable 1,000-person community space created on the ground floor, a 400-person event space at Level 6, a commercial kitchen, social hubs, and highly flexible open-plan work floors. 
The base building design was largely complete prior to the COVID-19 pandemic impacting Australia in March 2020 – and remained largely unchanged post-COVID. However, the pandemic did bring some focus to the value of excellent indoor air quality. 
"The vision of the design brief came to the fore," says Adams. "The UFAD system was designed for a 50 per cent increase in outside air above typical office design to provide better air quality and ventilation effectiveness. The higher supply air temperature also enabled a greater proportion of economy cycle operation, allowing for 100 per cent outside air for much of the year. 
"If we were to design an air conditioning system with COVID in mind, we would have arrived at the system provided for SEEK HQ." 
A welcome return
Practical completion of the base building at Cremorne was reached in 2020, and was largely delivered as a "warm shell" before workplace (fitout) construction by Buildcorp commenced in January 2021. 
Completion of the fitout was reached by July 2022, with SEEK occupying its new headquarters from late 2022. 
"The Arup team's depth of experience and expertise, coupled with their collaborative culture meant that any output was well-rounded and considered across all relevant factors," says SEEK's Carey. 
"The team's high level of passion, and innovation along with a deep understanding of our aspirations and way of doing things, resulted in an engaged team producing well- considered, pragmatic, customised advice and technical designs." 
At a time when Melbourne-based employers saw their staff continue to work from home, the many design features of the SEEK headquarters that contribute to an excellent indoor environment had the company well placed for a "return to the office" of its staff. 
And Adams says occupancy rates since moving into its new building have been well above that of the average Melbourne CBD commercial office building. 
Project at a glance
The PersonNEL
Airtightness testing: Efficiency Matrix
Architect: Hassell
Client: SEEK
Consulting engineer (multidisciplinary): Arup
Developer: Cremorne Properties
Head contractor (base): Built
Head contractor (fitout): Buildcorp
Independent commissioning agent: Greg Morley
Mechanical services contractor (base): OP Industries
Mechanical services contractor (fitout): Ellis Air
Project Manager (base): Case Meallin
Project Manager (fitout): CBRE
The Equipment
AHUs: CTA International Group
BMS: Alerton
Boilers: Simons Boilers
Chillers: Daikin
Cooling towers: Pacific Heat/BAC
CRAC units: High Technology Control
Duct: Ductworks/Celcius Sheetmetal
Fans: Fantech
Grilles: Holyoake
Heat exchangers: Mitsubishi Electric
Pumps: Masterflow/Baker
VRF units: Mitsubishi Electric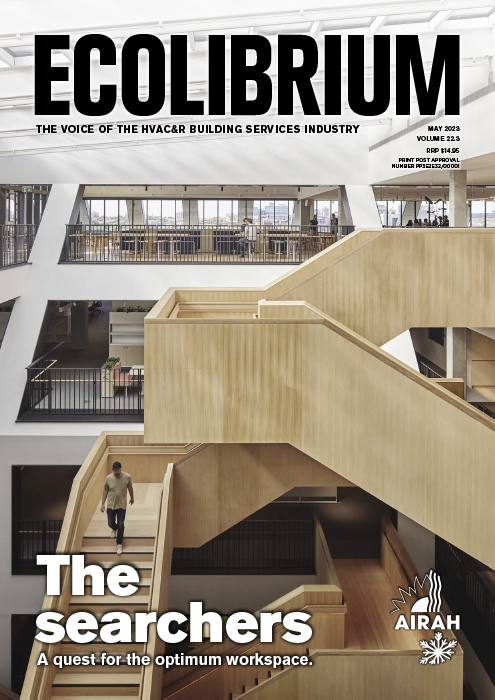 This article appears in ecolibrium's May 2023 issue
Want to read more?
AIRAH MEMBERS
Click here to view our archive of issues and features.
NON-MEMBERS