Convention, intention, and what's next 
Hello and welcome to the latest edition of Ecolibrium.  
As I approach the six-month mark as CEO of AIRAH, I'm even more excited about our future than when I started. The reason? Convention and change!  
In May, AIRAH held its annual Convention. Don't be fooled by its name. The AIRAH Convention is a coming together of many of Australia's leading and progressive professionals in building technology and services for indoor environments with one purpose – answering the question "What's next?"   
For those familiar with popular political TV drama The West Wing, you'll have heard the President say "What's next" many times as a way of moving the agenda forward to stay on top of emerging issues and get ready for what the future brings.  
Attended by 40 of our members, this year's Convention didn't disappoint. The day started with an exploration of what the profession will evolve into as we head for 2050. Spoiler alert! The consensus is that society will need to be living with net-zero impact (carbon and circular economy), with healthy indoor environments a standard expectation.  
Digitalisation will have transformed what we do and how we do it; however, the core ability to apply the laws of physics and science means demand for AIRAH members can only grow.  
For some, this future scenario planning can seem a little farfetched, but it is seen as the best way to plot a change path for any organisation to meet "what's next" and succeed. Take digitalisation as an example. It can have a significant impact on the way projects are designed, constructed, and operated, including:  
Improved efficiency and productivity through automation, standardisation and optimisation of processes and workflows  

 

Enhanced quality and safety through better monitoring, control, and feedback mechanisms  

 

Increased innovation and creativity through data-driven insights, simulation, and experimentation  

 

Greater customer satisfaction and loyalty through personalised, responsive, and sustainable solutions. 

 
However, digitalisation also poses some challenges and risks for the sector, such as the need to:  
Reskill and restructure the workforce to adapt to new roles, tools, and methods 

 

Invest in digital infrastructure, security, and governance to enable data sharing and collaboration 

 

Balance the benefits and costs of digitalisation with social and environmental considerations. 

 
Digitalisation is an exciting opportunity. But to realise the opportunity we'll need to embrace the change needed to develop new skills and competencies, such as digital literacy, collaboration, and innovation.  
Of course, the Convention covered more than just this. It explored education needs and career pathways, membership value, and the role of AIRAH in supporting and advocating for the profession through the changes ahead. AIRAH President Paul Jackson, F.AIRAH, and I will cover these in future issues of Ecolibrium. But for now, with the Convention run and change afoot, I am excited for "what's next".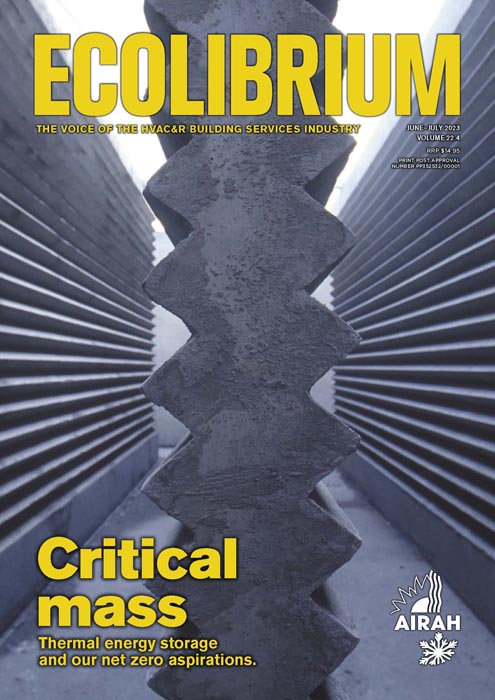 This article appears in ecolibrium's June-July 2023 issue
Want to read more?
AIRAH MEMBERS
Click here to view our archive of issues and features.
NON-MEMBERS