Fantech has recently moved into a new Group HQ, close to its previous premises in Melbourne's outer south-east. Ecolibrium chats with Leigh Howard to get the lowdown on the motivation behind the move and what went into creating the new digs. 
Ecolibrium: Why did Fantech need a new factory? Had the company outgrown its old home?  
Leigh Howard: Fantech occupied the Pound Rd facility for approximately 13 years. Known to many of its customers simply as a fan manufacturer and supplier, Fantech is actually a fast-growing, very diverse and forward-thinking company. Growth and diversity require space.  
Eco: Could you provide an overview of the design and construction process. Was there a tight brief? 
LH: The building was built by Pellicano Builders, who remain the owners. Our CEO and ops director had approached Pellicano with a bit of an overview in terms of size and shape. The Pellicano team advised on locations available to site a building of this scale, and the block at 63 Vision Street, Dandenong South was chosen. It's the Innovation Park estate, which is still being developed, and feels really new and fresh.  
The building footprint was agreed on at 17,500m2 of warehouse/production space and 2,500m2 of office space over two floors floors vs Pound Road's 10,000m2 and 1,500m2, respectively. For an idea of perspective, the Vision Street property is 1,220m2 bigger than the playing surface of the MCG.  
It was an unusual build for the Pellicano Team, as buildings in the 20,000m2 range are generally built as warehouse space only and require very little office space by comparison. The entire block including hardstand and driveways is approx 26,200m2.  
Fantech's Brad Ackehurst and Kalvin Nicholls-Harris put together an operations user group to streamline their already-efficient warehousing and production practices. Kalvin produced a very precise 3D model demonstrating the rationale behind what became the optimum layout.  
To accommodate the number of racking isles and the spacing between them, we altered the structural design to include an additional portal frame and therefore, an additional grid line so as to have the structural columns "embedded" between the back-to-back racks as opposed to in the aisles.  
For the offices, amenities and lunchrooms, etc., we wanted open-plan, fresh and colourful. The lunchroom for example, has a large stone island bench, a 75″ Smart TV and all-round high-quality finishes, with ample double-door fridges. It seats 80 people, which is more than adequate and is open for everyone to use.  
We wanted users to feel like they had left the premises and gone to a trendy cafe for their lunch. To achieve all this, we enlisted the help of an interior designer. Kasia Muller at Mindful Interiors took care of this. While we knew roughly what we wanted, it paid to get an expert involved. She did a fantastic job and achieved the brief with ease.  
Fantech do a lot for staff wellbeing, and in keeping with this, had some recreation space set aside from the early design stages. We now have a 93m2 rec room, with two pool tables and a ping pong table and a 65″ Smart TV that leads through to a 154m2 gymnasium, which is fully fitted out with commercial-grade equipment, Smart TV and Blue Tooth Sound System. Both are heavily used by staff.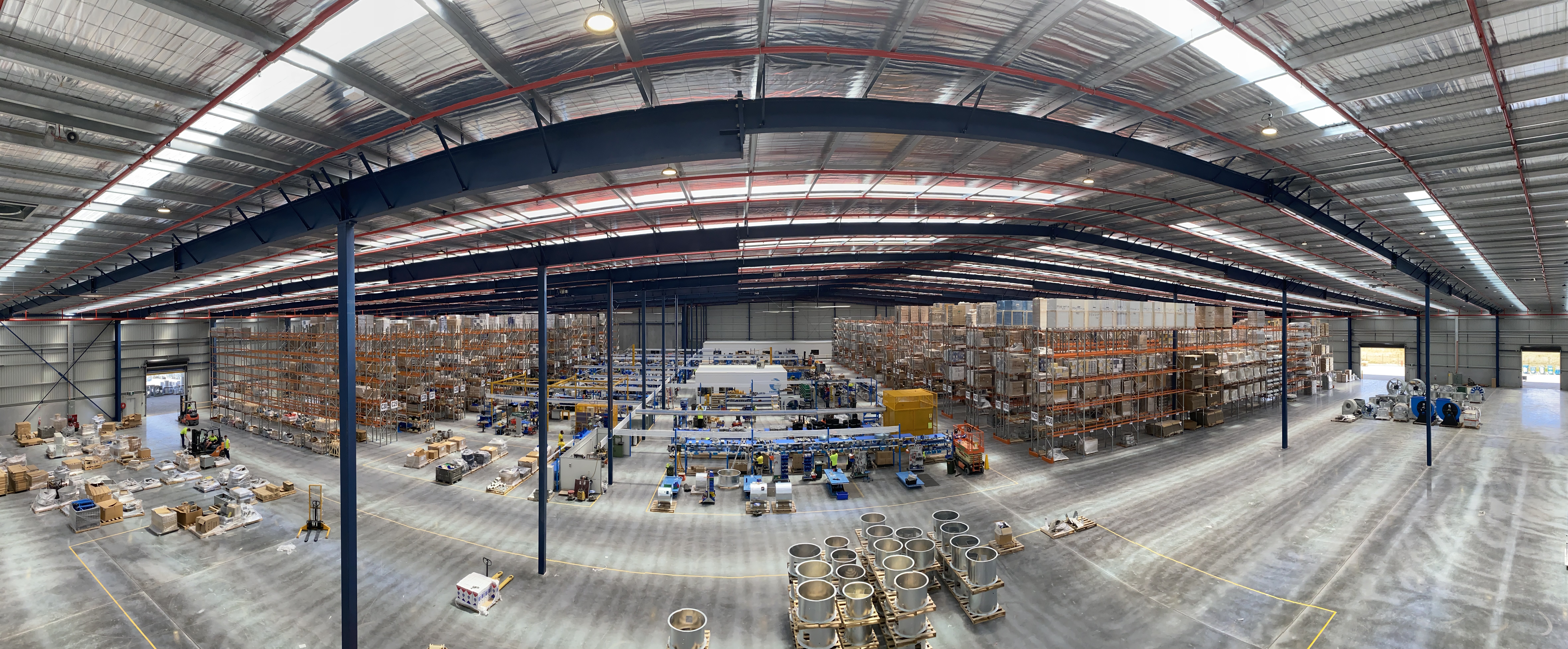 The Vision Street property is 1,220m² bigger than the playing surface of the MCG.
Eco: Were there any limitations in terms of budget, timeline or site size?  
LH: With the build costs and land/building size all agreed up front, we created a fitout budget that the senior management could live with. COVID did have a monetary effect on this, but Fantech's management recognise this and remained flexible. Time was the biggest issue, with COVID also being the cause.  
At one stage, Pellicano Builders had over 70 people onsite, but then restrictions were announced that cut that number down to nine. We had a lease end date agreed at the Pound Road property that had to coincide with the Vision Street completion date. Somehow the Pellicano team managed to get it done and handed over to us on time. A fantastic effort.  
Eco: Was a sustainability rating such as Greenstar or LEED pursued?  
LH: I'd have to check with Pellicano Builder what Greenstar Rating was achieved. We have a 100kW solar system made up of 277 panels on the north-west corner of the main roof and separate to the 540,000L sprinkler tank we have a 24,000L rainwater tank that is used for toilets and irrigation. Building aside, Fantech have always run a comprehensive recycling program.  
Eco: How is the space performing?  
LH: The building is performing perfectly, with no complaints. It pays homage to the 18 months of pre-planning and engaging professionals at the right points in the process.  
Eco: What did you most enjoy about working on the project?  
LH: The blank canvas. Being involved in a design process and seeing ideas come to life isn't new to me, but I've never really done it as a client/end-user employed liaison or occupier – it becomes a lot more personal. That said, the ease with which we managed this was new to me. I credit this purely to the communication between the Fantech and Pellicano teams for the structure and mech/elec services and requirements as well as the Fantech and Mindful Interiors team for the internal fit-out. The building has the kind of personality you'd expect from a company like Fantech. It's a really good fit.  
Eco: What lessons did you learn?  
LH: Team spirit still exists. Fantech's Group HQ was built during the worst of COVID lockdowns, with the horizon changing week by week. There were times it seemed impossible to maintain programs. Despite this and while working under heavy restrictions the Pellicano team pulled one out of the hat while we made sure our own preparations didn't skip a beat.  
The whole experience proved that quality organisations can pull together and push through tough challenges when faced with them. I felt privileged to be right in the middle of it all.  
"We set a goal of being pound for pound the best fan manufacturing facility in the world"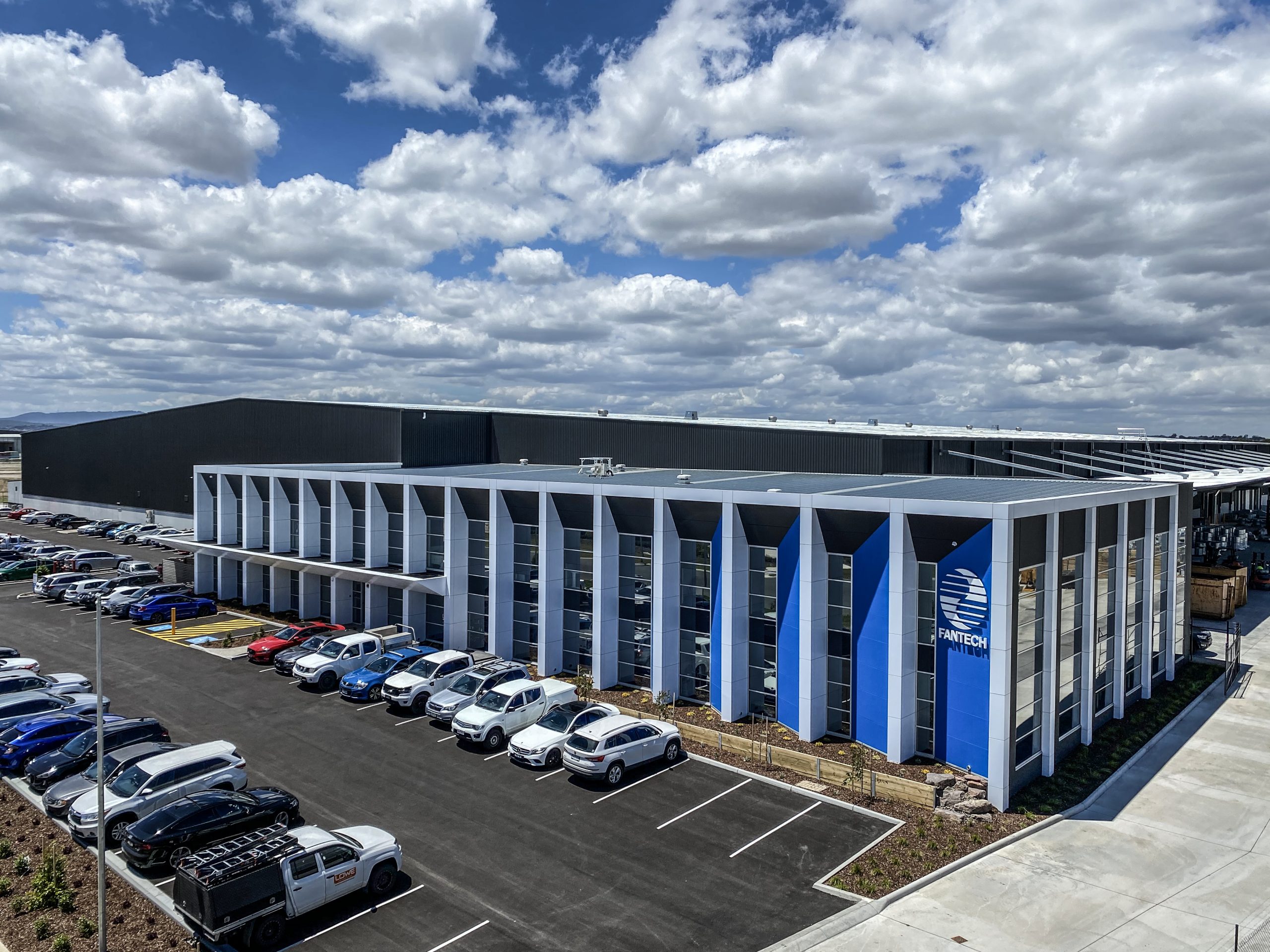 The building was constructed by Pellicano Builders, who remain the owners.
Operation execution
Fantech's Victorian operations manager Kalvin Nicholls-Harrison talks us through the nitty gritty of setting up new manufacturing systems.  
Ecolibrium: How did you go about designing the warehouse cell, workstations, pallet-racking layout and the like?  
Kalvin Nicholls-Harrison: We established a warehouse design team, which consisted of our operations leaders and a production engineer, and started work on the design 12 months before the relocation. After visiting some of the world leaders in fan manufacturing in Europe we set a goal of being pound for pound the best fan manufacturing facility in the world. 
As a team we started with some rough layout concepts, which focussed on achieving optimal product flow throughout the factory, trying to limit the distance in which product would have to travel though components to production to warehousing and despatch.  
Once we had decided on the overall layout, using 3D modelling software we began to draw the factory, which enabled us to get into incredible detail and build a working 3D factory environment. While designing the racking layouts we ran into a challenge with the column placements. By identifying this early we were able to alter the design to the structure of the building to accommodate optimal rack spacing.  
The 3D model gave us the ability to do virtual factory tours well before the factory was built, which gave a great feel for how the design was going to work. 
Along with designing the new factory, we also designed and implemented a customised warehouse management system to help us achieve a high level of stock control. 
Eco: How much of the old facility did you replicate?  
KNH: After researching and trialling some alternative assembly area and despatch picking concepts, we found that our existing work areas were best suited for our products. However, the new factory layout focused on a more linear approach to work area designs to improve flow and ultimately gain efficiencies in the work areas. 
Eco: Were you able to develop warehouse production efficiencies in the new facilities?  
KNH: Design improvements such as optimising the component layout in production, linear product flow, and using the ABC method when lcaying out the warehouse has helped us gain efficiencies and increase our overall capacity. The improvements to the new factory design have helped to increase our service levels to our customers.  
The Equipment
The Office
Ventilation system: Fantech Airlink and Rickard Ventilation system 
The Equipment
Fans: Fantech 7.3m Hunter HVLS 
(Source: PDF Engineering)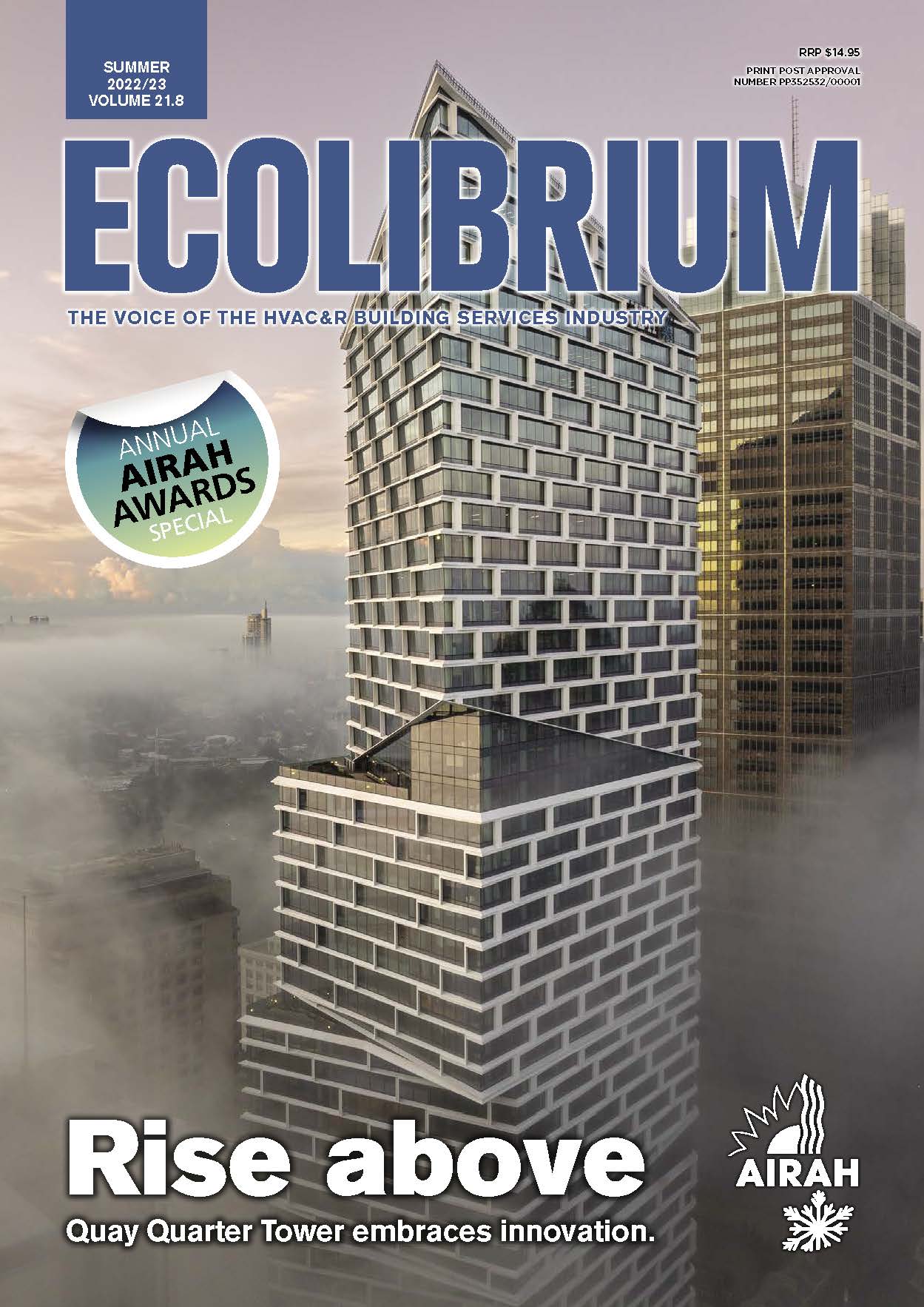 This article appears in ecolibrium's summer 2022-2023 issue
Want to read more?
AIRAH MEMBERS
Click here to view our archive of issues and features.
NON-MEMBERS